'Tiger King': Jeff Lowe Addresses Rumors That Joe Exotic Killed Protestors and Buried Them on His Property
Jeff and Lauren Lowe are two of Tiger King's "villains," after dissolving Joseph Maldonado-Passage's (aka Joe Exotic) G.W. Zoo and taking ownership of the property. The two are still largely unaccepted by the Tiger King fanbase. In a new interview, the Lowes clear up a few lingering rumors — including the one about "Joe Exotic" burying protesters' bodies on the property.
Jeff and Lauren Lowe are rebranding the G.W. Zoo in Oklahoma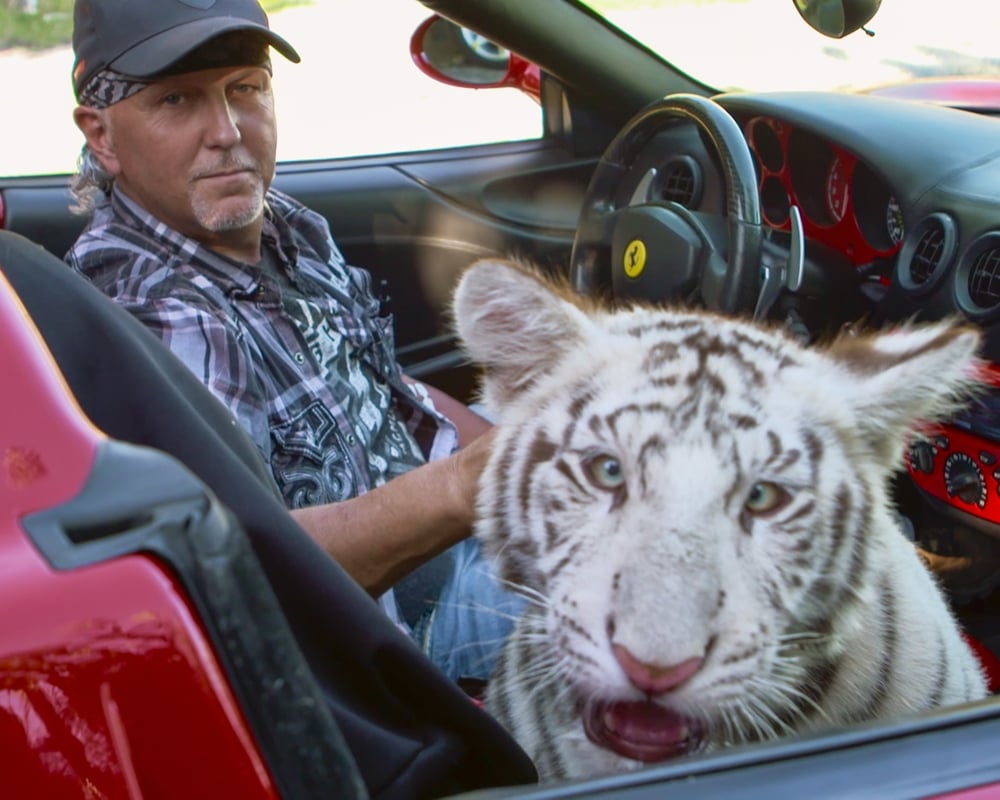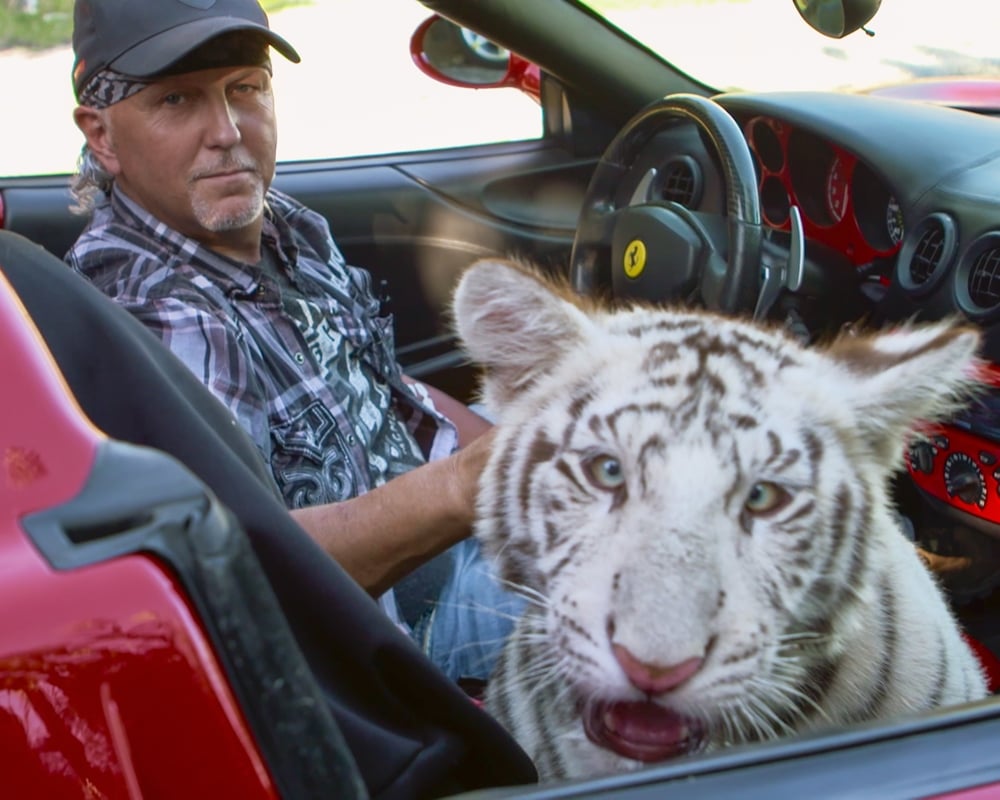 In Netflix's Tiger King: Murder, Mayhem, and Madness, Maldonado-Passage (aka Joe Exotic), owned and operated the Greater Wynnewood Exotic Animal Park in Oklahoma.
The zoo, as stated in the seven-part docuseries, was created in memory of Maldonado-Passage's late brother. He died in a car accident in the late 1990s.
Also shown in Tiger King is Jeff Lowe sweeping into Maldonado-Passage's rescue when he hit financial troubles. In turn, Jeff and Lauren Lowe became the new owners of the zoo to protect Big Cat Rescue owner, Carole Baskin, from obtaining it in lawsuits.
All the big cats were left behind when Maldonado-Passage was arrested. He was sentenced to 22 years for an alleged murder-for-hire plot to kill Baskin.
Now, the Lowe's are rebranding the zoo into something without Maldonado-Passage's namesake or likeness. The two reopened the park in 2018, but it's currently closed due to the coronavirus (COVID-19) pandemic.
Tiger King creator, Eric Goode, told Entertainment Weekly the state of the zoo since Maldonado-Passage's exit.
"All I can tell you is that he [Jeff Lowe] is basically operating on fumes. No one is going now and there's no source of income, and that's been going on for a long time," Goode said. "It's not something that has just happened because of what's happening in the world today."
The Lowe's plan to move the park to Thackerville, Oklahoma sometime in 2020.
Here's what Lowe said about rumors 'Joe Exotic' killed protesters and buried them on his property
Amidst rumors of nearly all of Tiger King's cast, Jeff and Lauren sat down with Radio.com's Channel Q to clear up a few things. They revealed that producers "fed them lines" to "project" Jeff as a womanizer, they said. Jeff also denies any involvement in the attempt on Baskin's life.
"Joe has been threatening to kill Carole Baskin since 2011, and it just kind of escalated after we got here," he said. "He was my employee, I could have fired him and kicked him off this property anytime I wanted."
Perhaps the most interesting revelation includes Jeff's thoughts on those rumors Maldonado-Passage buried bodies of dead protesters on zoo property.
"It's an opinion of mine and it was credible enough that when the authorities looked into it, it was credible enough for them to ask me for consent to search authorization which we gave them," he said.
He added they brought in bone specialists from Virginia and multiple divisions of authority to investigate. "They searched to see if this was a plausible story and if it's a plausible story they would try to determine how hard it would be to excavate that much land with that many carcasses,"
Jeff said that's where [Maldonado-Passgae] buried his animals.
"They came, they saw, and they did determine that it would cost hundreds of thousands if not millions of dollars to hand-sift and excavate this property," he said. "It's not for me to determine whether it's legitimate or not."
He said four others, including the employee known as Saff, corroborated the idea that this might be true.
Lowe and Maldonado-Passage have equal amounts of scrutiny
As with much of the headlines coming out about Tiger King castmates, take each claim with a grain of salt. Maldonado-Passage serves time for his alleged crimes.
Lowe's had his own laundry list of misgivings, including an outstanding bench warrant for the party bus/cub-petting operation he ran in Las Vegas. He was also previously charged with mail fraud and multiple zoning ordinance violations. There was also a time Prince sued him for selling merchandise with Prince's logo.
We may never know what is really true or the Lowe's or Maldonado-Passage, and what is not. The point is, Tiger King is one wild ride and all participants have their own baggage Netflix used for our entertainment.
Tiger King: Murder, Mayhem, and Madness is available on Netflix now.