No, Netflix's 'Tiger King' Joe Exotic Didn't Record the Vocals for His Country Songs
Netflix's docuseries Tiger King: Murder, Mayhem, and Madness has exposed the dark underworld of big cat lovers. The seven-part series follows Joe Schreibvogel — better known as Joe Exotic, the "Tiger King" — who ran the G.W. Zoo in Oklahoma before being arrested and convicted of murder-for-hire.
Many of the details the show revealed were disturbing — including the way these wild animals were treated in captivity and the accidental death of one of Exotic's husbands.
Other details, like Exotic's country music career, are just plain confusing. Contrary to what Exotic would have you believe, he was not a successful country singer. Musicians Vince Johnson and Danny Clinton — both of whom are listed in the credits of the series — are responsible for Exotic's country music songs.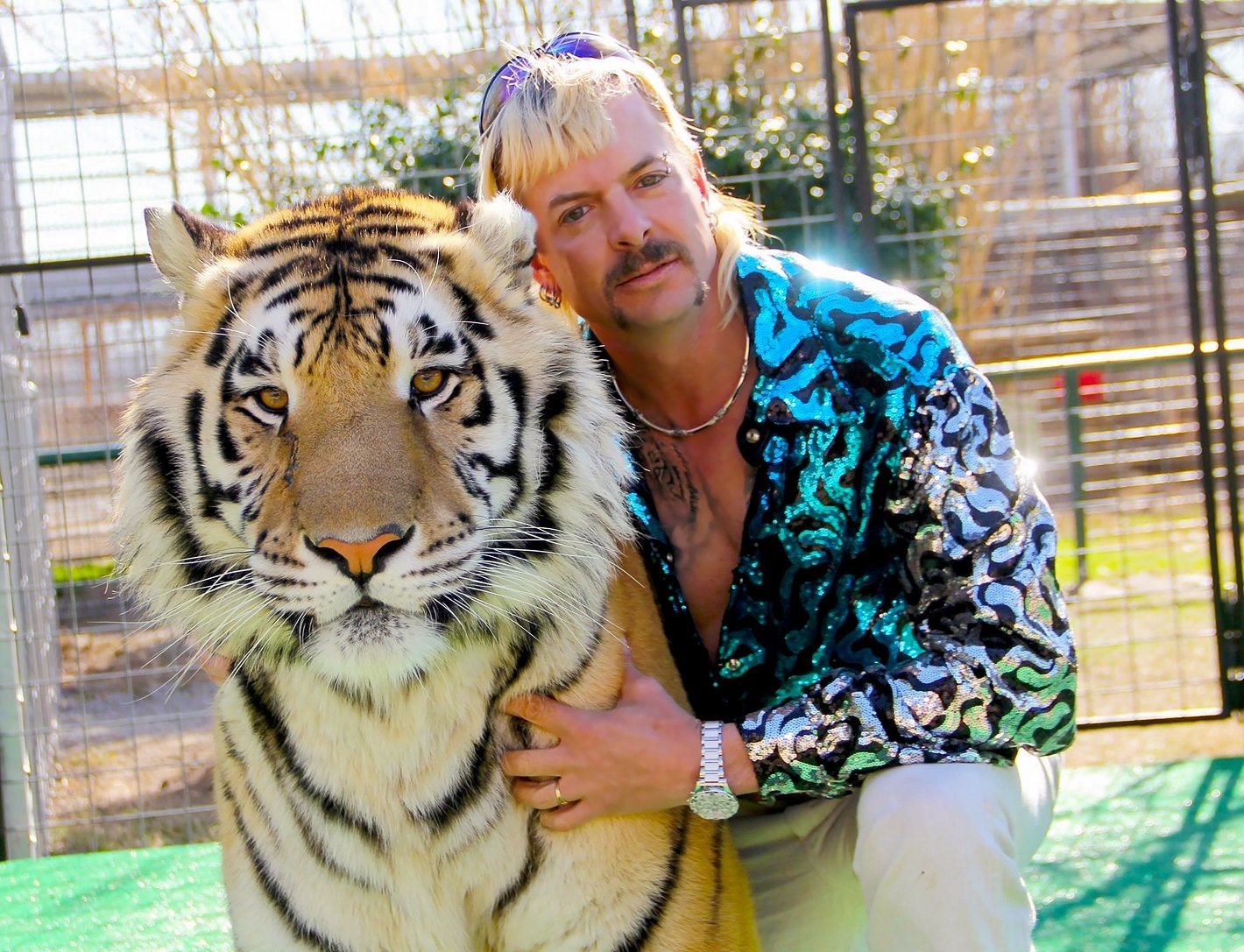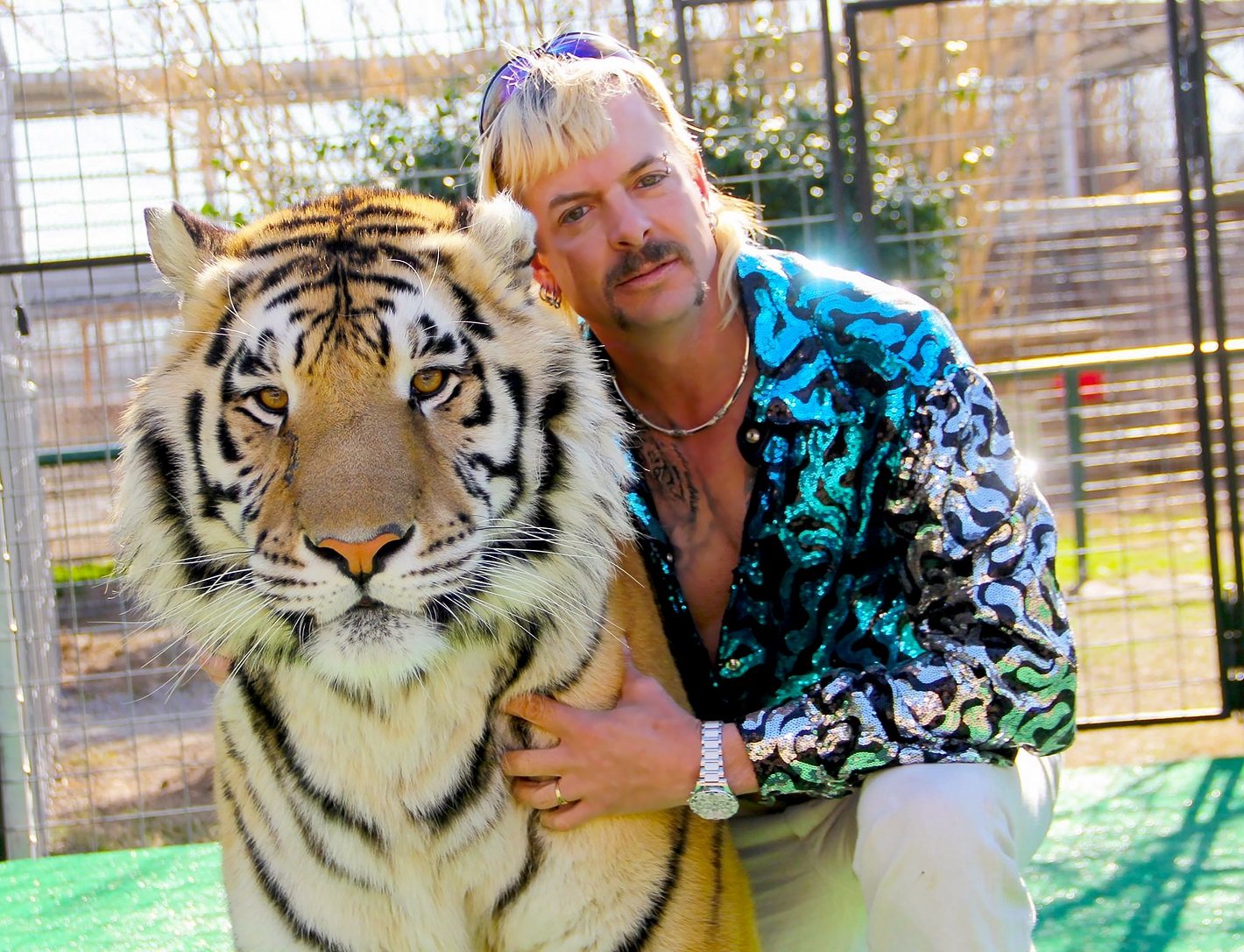 The 'Tiger King' Joe Exotic's Country music career
Exotic was a man with many talents. In addition to running the G.W. Zoo, he hosted an online television series, Joe Exotic T.V. Later, Exotic went on to run for president. When that fell through, he decided to run for governor of Oklahoma (and lost).
One of his most prized possessions — second only to his big cats — was his career as a country music singer. Exotic is responsible for songs like "I Saw a Tiger," an ode to his life passion, and "Here Kitty Kitty," a song about Carole Baskin and how she presumably fed her missing husband, Don Lewis to tigers.
Johnson and Clinton's role in creating Exotic's music was one of the many secrets he guarded fiercely.
The musicians responsible for Joe Exotic's country songs
Johnson explained to Vanity Fair how Exotic tracked the Clinton Johnson Band down and convinced them to produce customized cat songs — for free.
In 2010, the Washington state duo known as the Clinton Johnson Band was named as local artists to watch for their music featured in a straight-to-DVD film, Nude Nuns With Big Guns.
The Clinton Johnson Band become known for writing songs personalized to their client's needs, including one about Meineke's poor service. Since Exotic was a big cat enthusiast and owner of a private Oklahoma zoo, there was plenty of content for the songwriters to use for inspiration.
Exotic was looking for someone to write music for a reality series that was supposedly in a bidding war between Animal Planet, Discovery, and National Geographic. Believing they would gain exposure from working with Exotic, Johnson agreed to work pro bono.
Johnson told Vanity Fair he didn't know Exotic was going to "Milli Vanilli the songs." In an email to Vanity Fair, Johnson explained:
It was a couple of months and two or three songs [into the collaboration] when I was on YouTube one night and just happened to look up Joe Exotic. And there he was, lip-syncing and acting like the ghost of Elvis [in these music videos]. I called him up, I was hot…And he bamboozled me about his reality show—that it was coming soon and he would make everything right as rain. I just wanted the proper credit.

Vince Johnson, Vanity Fair
Soon, it became clear that the Clinton Johnson Band wasn't going to gain exposure beyond Exotic's low-budget videos for his YouTube channel. In the end, Johnson chalked their collaboration with the "Tiger King" up to fate: "We all get what's coming to us in the end, be it good or bad," Johnson said. "Joe, all in all, was likable. Most people just bore the hell out of me. They have the personality of a lobster. He's a seedy shyster, but he's got personality," Johnson concluded.
According to Rick Kirkham, Joe Exotic can't sing
Rick Kirkham is a former reality television producer who sought to make millions on a "Tiger King" reality series. He told Vanity Fair that Exotic "couldn't even hold a tune." Kirkham explained further:
It was absolutely ridiculous. Joe got a little bit drunk and high, and we actually coaxed him into singing part of one of the songs. He couldn't even hold a tune. It was just so ludicrous. It was a big joke within the crew and staff that it wasn't him [singing in the videos]—but he was damned insistent to anyone and everyone, including us and my studio crew, that that was him.

Rick Kirkham, Vanity Fair
Kirkham spent years living on the G.W. Zoo property, filming Exotic's every move for a show he hoped would earn him his "retirement money." All of his footage was lost in the mysterious arson fire covered in the series.
Joe Exotic sang on 'certain songs'
In an interview with the Los Angeles Times, Tiger King creators Eric Goode and Rebecca Chaiklin addressed that Exotic did sing on certain songs, but it "became super confusing."
They struggled with determining which songs he was featured on, but admitted that a fact-checker told them Exotic was singing on certain tracks. Goode also mentioned a scene that was cut from the docuseries where Exotic commented: "Of course not every singer sings all his songs, that's just how it's done." Exotic was of the belief that you could be both a musician and a singer, but never sing.
The "Tiger King's" music career may have been somewhat of a farce, but you have to admit — his tunes are pretty catchy.