'Tiger King': Joe Exotic Songwriter Releases New Song Calling Carole Baskin a Killer
One of the most bizarre aspects of the docuseries Tiger King: Murder, Mayhem and Madness was Joseph Maldonado-Passage, aka Joe Exotic's music career. He didn't actually sing his songs. He just lip synced to them in the video. The Clinton Johnson Band wrote and performed all of Maldonado-Passage's music, and now surviving member Vince Johnson has released a song about Maldonado-Passage's rival, Carole Baskin.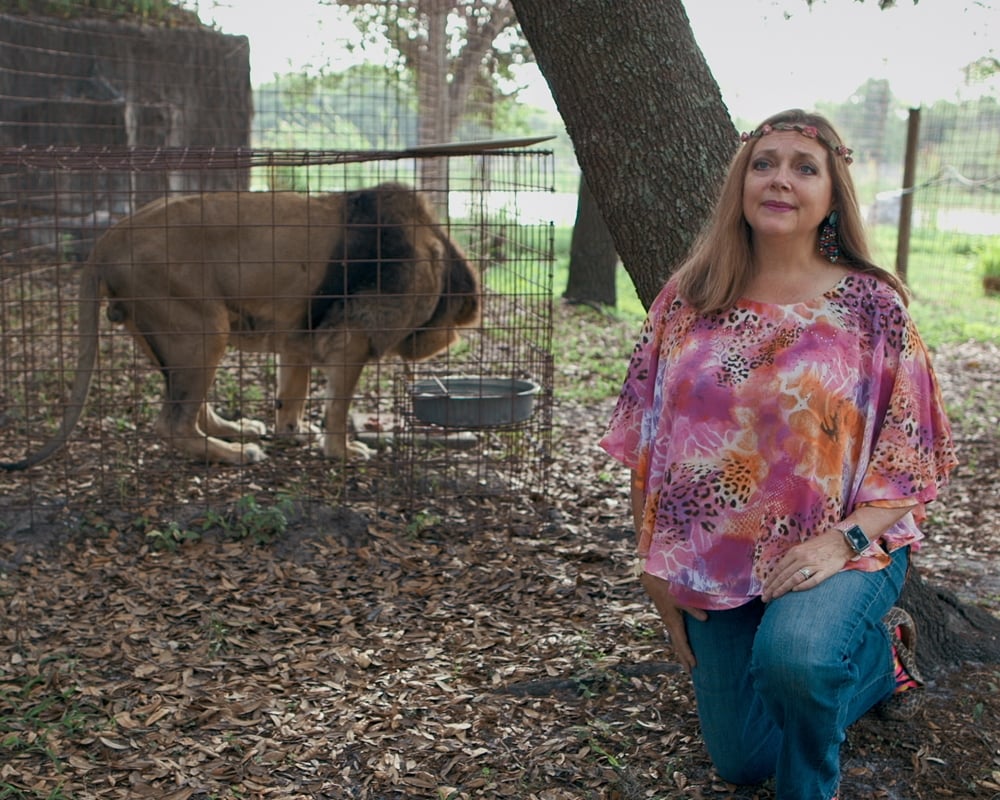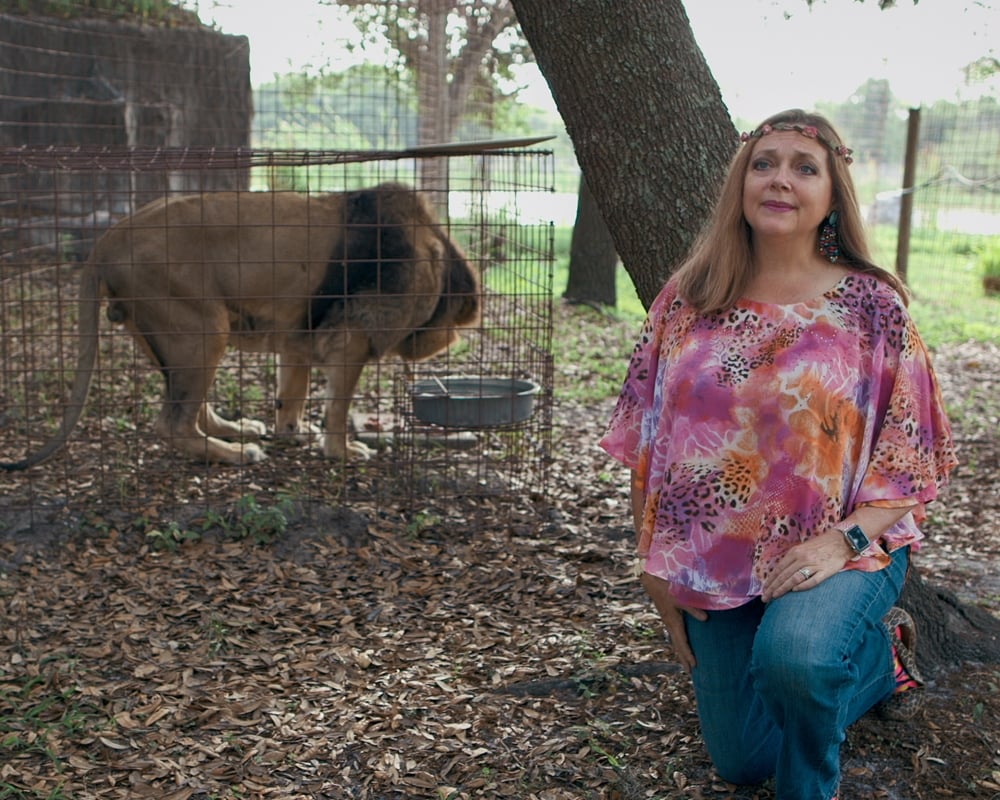 In the ongoing Tiger King saga, Baskin just received the Greater Wynnewood Memorial Zoo, which Maldonado-Passage owned, in a court judgment against him. On June 5, the Vince Johnson Band released the track "Killer Carole." Read the lyrics and watch the whole video below.
After 'Tiger King,' The Vince Johnson Band could sing about Carole Baskin
Before Tiger King, Maldonado-Passage was controversial for keeping tigers in captivity and breeding cubs for visitors to pet. He was also a gubernatorial candidate, recording artist and eventually convicted of hiring a hitman to kill Carole Baskin. His songs like "I Saw a Tiger" supported his big cat interests.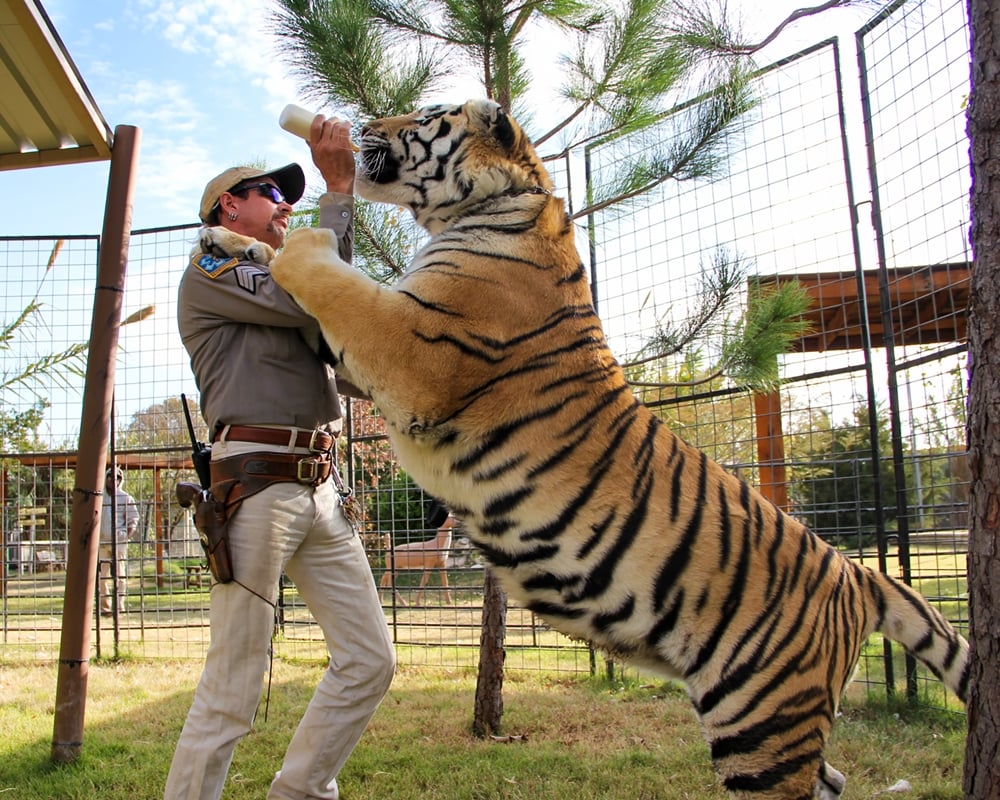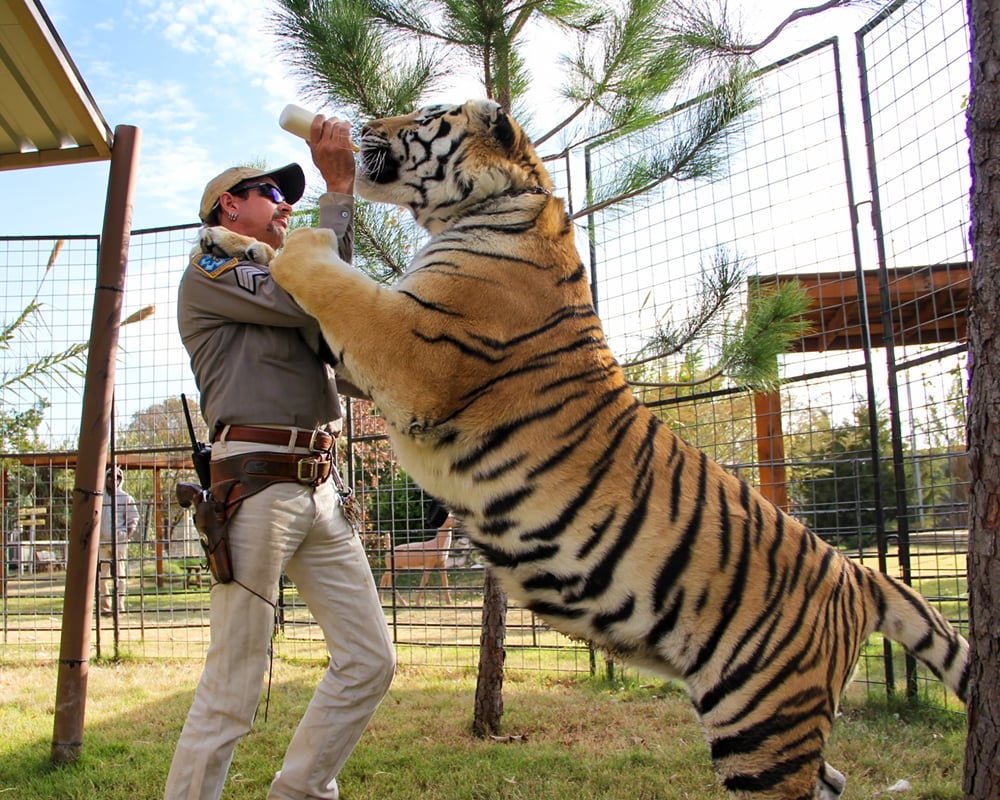 Now, Johnson has a record deal with BMG. His first song under that contract is "Killer Carole." In two and a half rockin' minutes, Johnson outlines his theories about how Baskin allegedly murdered her husband, Don Lewis. 
'Killer Carole' fuels this 'Tiger King' theory
Baskin was married to Don Lewis before her current husband, Howard Baskin. Lewis went missing in 1997. Tiger King addresses this, but Johnson begins his song with the backstory on Lewis. The video even prints the lyrics on screen to make sure everybody sees them.
"Don filed an injunction 'cause he feared for his life," Johnson sings. "He had a little monster in his own pretty wife. Was he murdered for the money by a woman who's insane? Were you born without a conscious? Baby, what a bloody shame."
Many Tiger King viewers believe she killed him and fed him to her Bic Cat Rescue tigers to dispose of the body. The chorus of "Killer Carole" alludes to this. 
"Is the body buried deep?" Johnson sings. "Is the body underground? Tell me, Killer Carole, where the body can be found. Was it chewed in little pieces in the belly of a beast? Tell me Killer Carole, baby, how you gonna sleep?"
Vince Johnson has some more Carole Baskin theories
"Killer Carole" doesn't stop at the tiger feeding theory. He lists a bunch of other ways Baskin could have done away with Lewis.
"Was the weapon a meat grounder, a bullet or a bat?" Johnson sings. "Would a woman kill her man to feed him to her cat? If they never find a body then I guess they'll never know. It's a scary little story out of Edgar Allen Poe?"
"Killer Carole" concludes with Lewis's children's plea for answers. Lewis's daughter Donna Pettis told TMZ she believed Baskin forged her father's will, a theory which Florida sheriffs proved.
"Was he thrown out in the glades, maybe alligator bait?" Johnson sang. "God, his children want to know how their daddy met his fate."