'Tiger King': This Joe Exotic Update on Prison, Rival Carole Baskin, and a New Venture Is a Lot to Take in
It's been over a year since Netflix debuted the hit docuseries Tiger King: Murder, Mayhem, and Madness. Star Joseph "Joe Exotic" Maldonado-Passage (née Schreibvogel) has been busy. Despite serving time in prison, he remains active on social media, has new business ventures, and more. Rival Carole Baskin is also still speaking out about Maldonado-Passage. But this time, it's not what you think. Here's everything we know about Maldonado-Passage's current situation.
'Joe Exotic' attorney said 'Tiger King' star is in 'living hell' while others profit off his name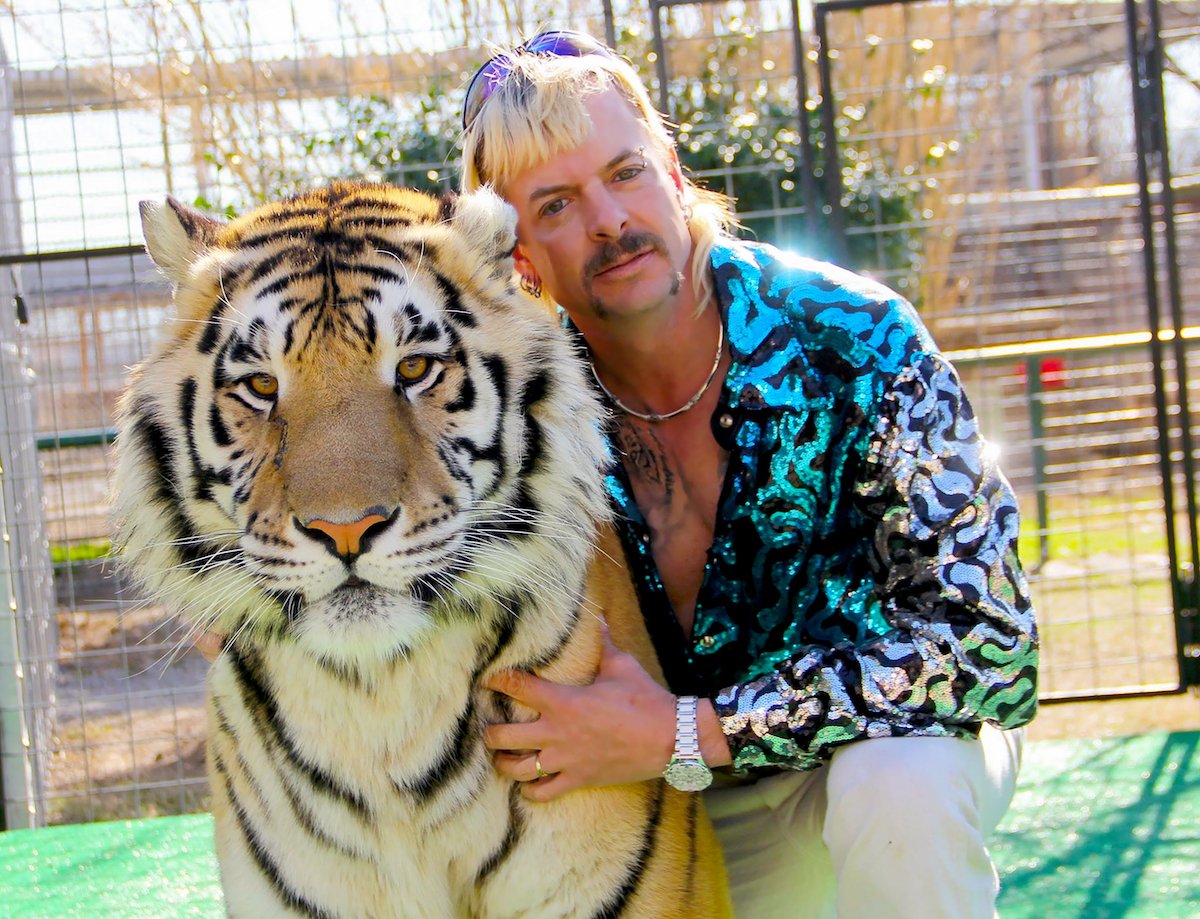 In 2019, Maldonado-Passage was found guilty of a 2017 murder-for-hire after he paid Allen Glover $3,000 to kill Big Cat rescue owner — and longtime rival — Baskin. He's currently serving a 22-year prison sentence at the Federal Medical Center in Fort Worth, Texas for this and federal wildlife violations.
Maldonado-Passage's attorney John M. Phillips spoke to TMZ in March saying his client has had a rough time since Tiger King's premiere.
"It has been a year of hell," Maldonado-Passage said to Phillips. He added that many are making a profit off Joe Exotic's name.
"The truth will come out. Come hell or high water, they will all answer to perjury at some point," Maldonado-Passage said. "I'm a political prisoner in America for an animal rights agenda."
Federal agents seized Maldonado-Passage's animals from Jeff and Lauren Lowe
During Maldonado-Passage's incarceration, federal agents seized 68 lions, tigers, and other big cats from Jeff and Lauren Lowe — the married pair that took over "Joe Exotic's" Oklahoma zoo. They, too, were featured in Tiger King and have been found in contempt "for violating an order about the big cats and their care," NPR states.
"This seizure should send a clear message that the Justice Department takes alleged harm to captive-bred animals protected under the Endangered Species Act very seriously," said Jean E. Williams, the acting assistant attorney general for the department's Environment and Natural Resources Division.
The big cats will be rehabilitated back to health.
Rival Carole Baskin offered to help, Maldanado-Passage accepted
The ongoing feud between Baskin and Maldonado-Passage may have come to a truce. In an interview with Mirror, Baskin's husband Howard revealed they would help with Maldonado-Passage's early release if he would support the Big Cat Safety Act. The bill, passed by the House of Representatives in Dec. 2020, prohibits private ownership of big cats. "Joe Exotic" publically accepted the offer.
"It is time for Carole and Howard to put up or shut the hell up because I'm accepting their offer," he said via Entertainment Tonight. "I'll testify in front of the Senate, I'll testify in front of the House, they want to end big cats in America and they want to end the exploitation of them, I'm the man to do it."
He added his own caveat for taking them up on the deal which is proving his innocence.
"Other than that, they need to stay the hell out of the news with all their crap just to get their name in the paper because I just called their bluff," he added.
Baskin weighed in saying, "I wouldn't seek a reduced sentence for Joe based upon him just saying he'd help end cub handling. I think he'd say anything, but not actually do it. He'd have to actually work with authorities to bring all of his buddies to justice and work with legislators to end cub handling. Then, I'd want him to be rewarded for having done the right thing."
The 'Tiger King' believes he has cancer, asks for another presidential pardon
On May 14, the Tiger King star wrote on Facebook he believes he has prostate cancer because his PSA (prostate-specific antogens) numbers are high.
"My body is tired, I have lost a tremendous amount of weight, the mouth sores are out of control, I throw up more than I eat," he wrote. "I don't want anyone's pity. I need the world to … get President Biden, VP Harris and the Attorney General to listen to the evidence and see that it's not just city cops out of control with corruption, but his very own Department of Justice."
Maldonado-Passage's attorney told TMZ in that same interview that [Joe] hasn't been diagnosed by a medical professional but the prison agreed to further testing.
This isn't the first attempt at a presidential pardon. He first asked former president Donald J. Trump but told TMZ they "used me for advertisement and then left me here."
It's unclear if he'll receive any such request at this time. However, some are leery about the cancer revelation, pointing out he claimed to have prostate and bone marrow cancer once before. In a series of tweets related to the podcast Joe Exotic: Tiger King, host Robert Moor posted a photo of a sickly-looking "Joe Exotic" in a hospital bed with an oxygen tube. He claims the Tiger King told people it was from cancer.
Moor stated Maldonado-Passage wanted to raise money with the photo but alleged "Joe Exotic" did not have cancer.
'Joe Exotic' has new ventures — from prison
Despite being in prison, the Tiger King star has two new business ventures. According to his new entertainment attorney Brad Small, Maldonado-Passage partnered with Tango Hotel Charlie Group, LLC and Cannaxxs LTD to launch Joe Exotic Cannabis. The products will include CBD edibles available in California, Colorado, and Oklahoma. Maldonado-Passage's profits will go to "captive tiger care."
He also previously announced the development of a new crypto asset called "TKING." The new and improved website tiger-king.org states that the project will feature non-fungible tokens (NFTs). Proceeds will help with Maldonado-Passage's legal fees and tiger rescue funding.
He and his husband Dillon Passage are getting divorced
If all of this isn't enough, "Joe Exotic" and husband of three years Dillon Passage have split.
"To answer the main question the public wants to know, yes, Joe and I are seeking a divorce," Passage said on Instagram. "This wasn't an easy decision to make but Joe and I both understand that this situation isn't fair to either of us. It's something that neither of us were expecting but we are going to take it day by day."
He continued: "We are on good terms still and I hope it can stay that way," he continued. "I will continue to have Joe in my life and do my best to support him while he undergoes further legal battles to better his situation."
The two married on Dec. 11, 2017. The ceremony took place two months after Maldonado-Passage's other husband, Travis Maldonado, died.