'Tiger King': Joe Exotic's Former Flame Is Serving a Life Sentence for Murder
'Tiger King' explored Joe Exotic's relationships. However, there's one the series left out. Here's what we know about the ex serving a life sentence.
Fans of Tiger King: Murder, Mayhem, and Madness may think they know the extent of Joseph Maldonado-Passage's (aka Joe Exotic) relationship timeline, but there's actually a lot more to it. Some of the Netflix docuseries covered the zookeeper's polygamy, but it only scratched the surface. Not only did Maldonado-Passage have a child with a woman, but one of his exes is currently serving a life sentence on murder charges.
Netflix's 'Tiger King' explored some of Joseph Maldonado-Passage's relationships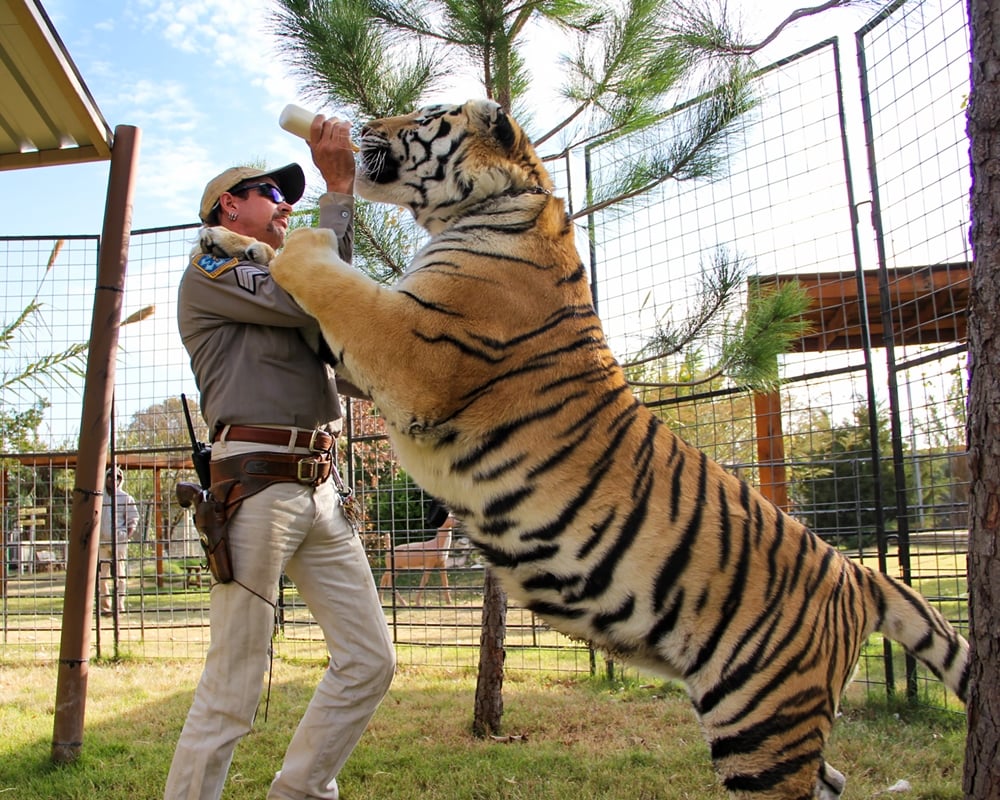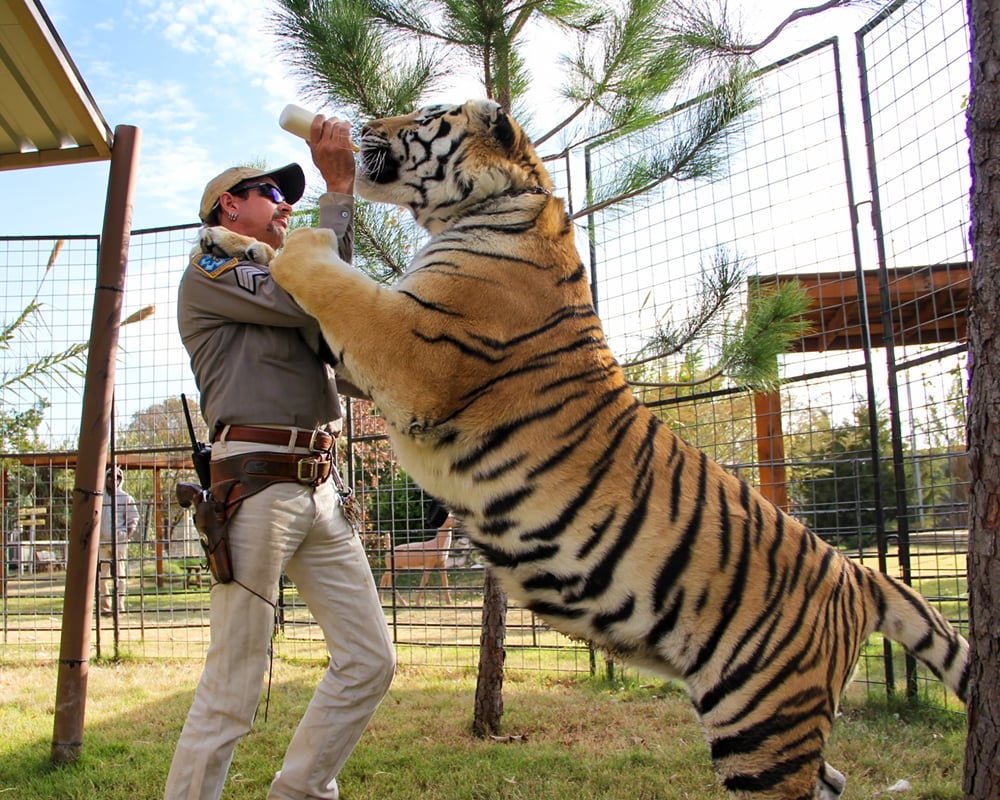 Joseph Maldonado-Passage (né  Shriebvogel) may be the "Tiger King" who married two men at once, but it took the former Eastvale chief of police awhile to feel comfortable in his sexuality.
In the late 1980s — and as discussed in Tiger King — Maldonado-Passage struggled with being gay. His father didn't accept him, causing him to attempt suicide by driving off a bridge.
Maldonado-Passage eventually healed and got a job at a pet store, which led to the discovery of his love of exotic animals. Around this time, Maldonado-Passage met and unofficially "married" Brian Rhyne, according to Texas Monthly.
Though not discussed much in Tiger King, the couple bought an Arlington pet store and seemed to thrive — until Maldonado-Passage's brother, Gerold, died in a 1997 car accident.
Rhyne and Maldonado-Passage opened the G.W. Zoo in Gerold's honor. Then, in 2001, Rhyne died from complications due to HIV. Within a year, Maldonado-Passage had a new lover also not mentioned in Tiger King.
Who did Maldonado-Passage date before John Finlay?
After Rhyne's death, Maldonado-Passage entered into a relationship with a 24-year-old named J.C. Hartpence, who helped with "Joe Exotic's" traveling animal magic show. The relationship was not discussed in Tiger King.
By using various stage names, Maldonado-Passage toured "malls and at fairs across Texas and Oklahoma and as far north as Green Bay, Wisconsin, where a newspaper ad described him as "Master Illusionist Joe Exotic,'" Texas Monthly explained.
In 2003, Maldonado-Passage hired 19-year-old John Finlay to help at the zoo and with roadshows. The outlet stated the relationship with Hartpence had begun to fall apart. Within a month, Maldonado-Passage and Finlay were in a relationship. The two eventually married in a three-way ceremony along with Travis Maldonado.
Why did the relationship with Hartpence end?
The outlet reported that Hartpence allegedly became addicted to drugs and alcohol. He and Maldonado-Passage also didn't have the same vision for the zoo's future. Hartpence wanted a "rehab-and-release sanctuary, with large enclosures where the animals had room to roam." Maldonado-Passage had begun "buying new animals from breeders and breeding animals of his own for profit."
As their relationship deteriorated, Texas Monthly revealed one of the final encounters between the two saying Hartpence "pointed a loaded .45 and a .357 Magnum at his partner's head" and said he wanted out. Maldonado-Passage called the police which led to Hartpence's arrest. He never returned to the zoo again.
Now, Hartpence is serving a life sentence for a murder he committed years after their relationship ended. In 2015, Hartpence "admitted to first-degree felony murder in the shooting death of Curtis Shelton, Kansas Attorney General Derek Schmidt said in a news release," via The Witchita Eagle.
"He originally was charged with second-degree intentional murder, according to district court records," the outlet added. He made a plea bargain to a life sentence without parole eligibility for 20 years. His crimes are not related to Tiger King or his relationship with Maldonado-Passage.
Tiger King: Murder, Mayhem, and Madness is available on Netflix.