'Tiger King' Star Joshua Dial Says He Has PTSD From Witnessing Travis Maldonado's Tragic Death: 'I Have Nightmares About It'
'Tiger King' revealed the tragic death of Travis Maldonado. Campaign manager, Joshua Dial, witnessed the death. Here's how he's doing now.
One of the most shocking, heartbreaking pieces in Tiger King: Murder, Mayhem, and Madness is the accidental death of Joseph Maldonado-Passage's (aka Joe Exotic) husband, Travis Maldonado. The death happens just outside of the camera's frame, catching Maldonado-Passage's campaign manager, Joshua Dial, by complete surprise. The scene tragically unfurls in the seven-part Netflix docuseries. How is Dial doing now? Here's what we know.
Who is Joshua Dial?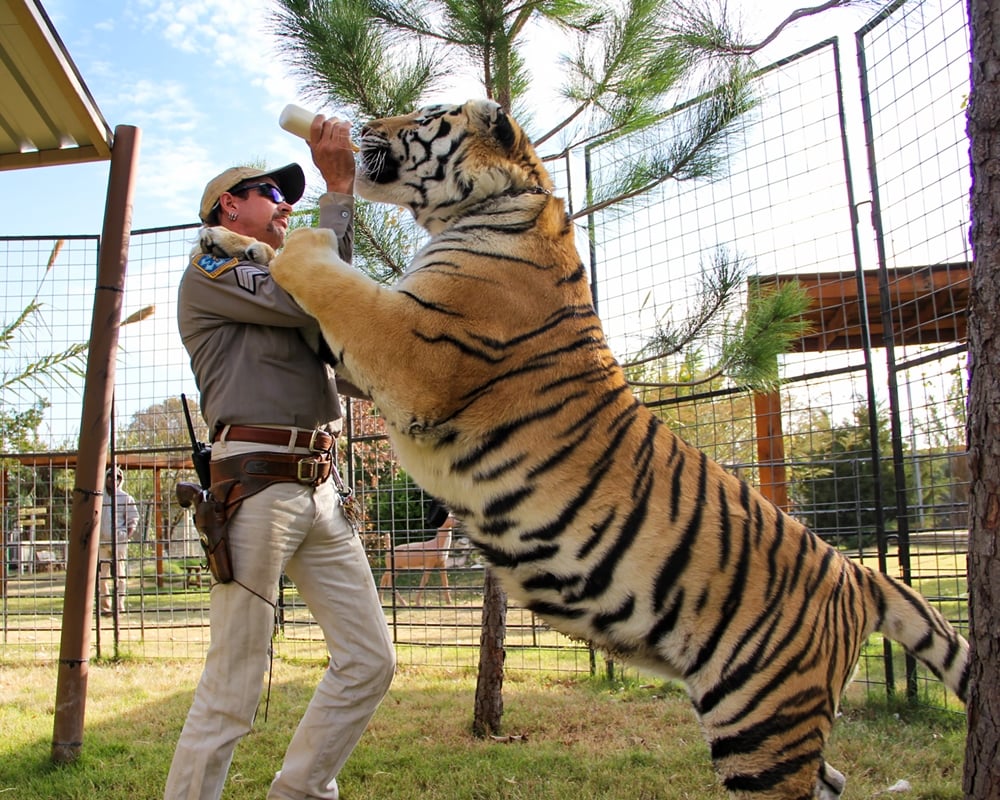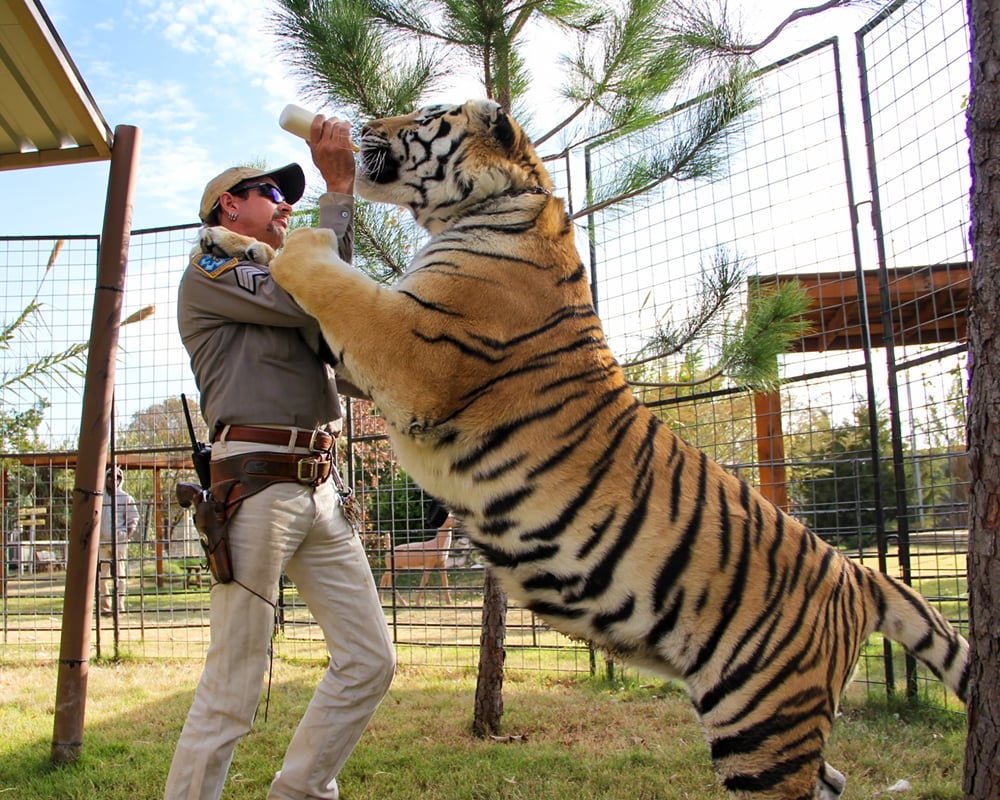 Tiger King has many different, wild threads to follow. The series itself focuses on eccentric G.W. Zoo owner, Joseph Maldonado-Passage (aka Joe Exotic), his polygamy, big cat ownership, and ultimately, his alleged involvement in a murder-for-hire plot that landed him behind bars.
The second part of the hit series focuses on Maldonado-Passage's 2017 bid in the political world. At the time, Joshua Dial was Maldonado-Passage's gubernatorial campaign manager. Dial moved to Wynnewood to live at the zoo and deemed that time "the worst two years" of his life.
Maldonado-Passage ran for governor as a libertarian. However, Dial eventually left the campaign in June 2018 — months before Maldonado-Passage's arrest on the murder-for-hire plot (among other charges).
While Maldonado-Passage is serving a 22-year sentence, Dial is struggling to come to terms with Travis Maldonado's accidental death, which Dial witnessed.
Dial witnessed Travis Maldonado's accidental death
As told by Dial in Tiger King, Maldonado was a gun enthusiast who got a kick out of pointing his guns at people, particularly by waking Dial this way.
"What Travis would do in the mornings is he would kick down the door, point a gun at you," he said. "That very day he did that to me. He broke in my room, pointed that new gun that he said would not fire without a clip at me, and asked me to wake up. I'm lucky to even be alive."
On the day of Maldonado's death, the two were in Dial's office at the Greater Wynnewood Exotic Animal Park.
"He said, 'Hey, did you know a Ruger won't fire without a clip?'" Dial explained. "I said, 'Really?' He put the gun to his temple at that point and pulled the trigger. The second he pulled the trigger, I knew he was dead. You don't come back from something like that."
Dial watched 23-year-old Maldonado shoot himself in the head and now, he's struggling with the trauma of it all.
"I definitely have PTSD," he told People. "There was no preparation for what I saw in that office. It was so shocking. I have nightmares about it."
Afterward, Dial said Maldonado-Passage allegedly blamed employees for not doing more to save Maldonado. He then, as Dial said, forced them to watch a video of a fellow staffer getting attacked by a tiger, which led to amputation.
How is Dial coping now?
Something as tragic as an accidental death isn't something most can just get over. Dial posted on his Facebook page a year after he left Maldonado-Passage's campaign.
"This month will make one year since I resigned as campaign manager for Joe," he wrote. "After watching his husband kill himself in my office, it's understating the matter by saying it was a rough campaign to work. In the past year, I've been doing some political soul-searching."
Dial revealed Maldonado-Passage attempted to make contact from Grady County Jail. Dial is trying to move on with his fiancé, Jackie Long. The two became engaged in 2019 and Dial said he has not watched Tiger King.
"I have tried to move on, and I have been successful so far. I was given a new life and a second chance when I met my fiancé; I have no desire to bring any of that pain into my life," he told Oxygen.
He's currently raising money on a GoFundMe page to help him pay for counseling to work through his PTSD. An update revealed he's nearly achieved his goal and "has found a provider and is currently being seen."
"I've just been grateful for the support of people that are trying to get me help for counseling," he told People.
"I don't want to have to ask for help, but I know that everything I went through, especially working over a-year-and-a-half looking at that bullet hole thousands of times, I need help. It's been a hard realization for me to come to. To watch someone take their own life is a violation against nature. It's not something that the human brain is meant to deal with."
Tiger King: Murder, Mayhem, and Madness is available on Netflix now.