'Tiger King': Rex Lawhorn Ran Against Joe Exotic for Governor, Explains What Netflix Didn't Cover
Once upon a time, Joseph Maldonado-Passage (aka Joe Exotic) ran for governor, and then for president. His campaign is covered in Netflix's Tiger King: Murder, Mayhem, and Madness. Still, there's more to the story than seven episodes allowed. Former opponent, Rex Lawhorn, is speaking out about his experience with Maldonado-Passage. Here's what he says Netflix left out of the hit docuseries.
'Joe Exotic' joined the political race, as shown in 'Tiger King'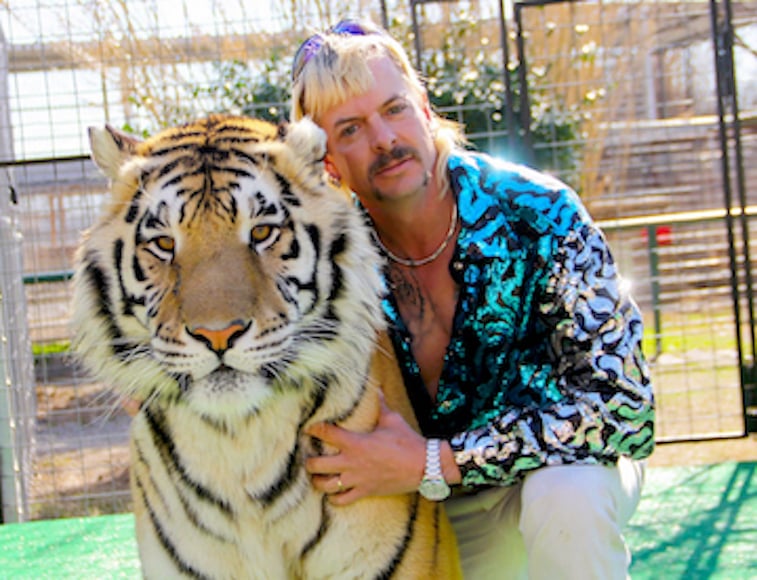 One thing Tiger King succeeded at was exploring multiple threads at once. As the star of the docuseries, Maldonado-Passage took up the most screen time within the seven parts, and understandably so. He has a lot of stories to tell, including his run for a place in the political offices.
In 2016, Maldonado-Passage threw his hat into the political ring with an Independent-turned Libertarian Party run. He developed a cult following online via Joe ExoticTV and his traveling animal stage shows.
"Joe Exotic" became known long before Tiger King as the "openly-gay, gun-toting, tiger owning, pot supporting, unabashed libertarian candidate for governor," among opponents and voters in Oklahoma.
"I learned more in 11 months in running for president than I did in 12 years of school," Joe Exotic said at the time, per Fox25. "I was like, I can't keep my mouth shut for four more years."
He continued: "You know I've experimented doing a lot; I could be politically correct and I could be polite and I could lay it all out on the line and nobody listens."
Maldonado-Passage's frustration led to his run
Maldonado-Passage always felt himself to be an outsider, as portrayed in Tiger King. He ran his campaign with the help of fellow Tiger King star, Joshua Dial.
"All the rights for all the people all the time," he said, per Fox 25. "Every time the politicians up at the capitol screw up and ain't got no money it's the citizens that pay the price by higher taxes our private property is our private property."
The outspoken former zookeeper tackled other key issues, such as mental health, criminal justice, and teachers' pay.
"We've got to do something about mental health in this state and we don't take enough care of our old people," he said. "We could take nonviolent drug people and take them out of prison and put them through a work program and a drug program for 60 days and give them a chance to get clean and back out in society."
At the time, Maldonado-Passage was determined to stay in politics for the long haul.
"I just feel strongly about it's your life, you own it, and as long as you don't hurt anyone else you should have the right to do whatever you want," he said.
However, he lost the election. Now, former opponent, Rex Lawhorn, describes what the "Tiger King" is really like, and what Netflix failed to say about him.
Here's what opponent, Rex Lawhorn, says about 'Joe Exotic'
During Maldonado-Passage's run for governor, opponent, Rex Lawhorn, got to know a different side not shown much in Tiger King. He recently told Reason.com what really went down.
"Joe's health care policy was socialized medicine, straight out of the Bernie Sanders playbook. His environmental policy was to shut down any businesses that pollute—period," he said.
"His immigration policy was to sell citizenship: 'Charge 'em 60 bucks for a visa. Make 'em spend thousands on citizenship. We don't want their poor people. We want their rich ones.'"
That mindset, plus Maldonado-Passage's personality are what made him a "media magnet," according to Lawhorn.
"This, I decided, was a threat," he said. However, Maldonado-Passage felt the opposite and welcomed Lawhorn "with open arms at his zoo."
"We spent several afternoons at his animal park, walking around, talking about politics, philosophy, and life. He seemed like a nice guy," he said. "He's friendly and engaging, he's sincere in his beliefs, he listens when you speak, and his comments are usually thoughtful, even when they're also off-color or extreme."
Lawhorn explained what Netflix left out. Maldonado-Passage's passion for big cats, their genetics, and "environmental specialization's contribution to tigers' near extinction," was omitted from the series, according to Lawhorn.
He continued: "One thing the Netflix series didn't cover was his cooperation with research facilities around the country to find ways to help cats survive in more diverse environments," he said.
"Thanks to Netflix, we know that his treatment of the animals was sometimes questionable, even criminal. But I can't dispute his devotion to the species."
Lawhorn came in second place to Chris Powell, with Maldonado-Passage in third. Perhaps it's for the best considering where the "Tiger King" is now — behind bars.
Tiger King: Murder, Mayhem, and Madness is available on Netflix now.