'Tiger King' Star Joe Exotic's 1999 Emu Incident May Have Caused the Closure of His Pet Store
Before "Joe Exotic" got his moniker as an Oklahoma big cat zookeeper, Joseph Maldonado-Passage (né Schreibvogel) owned a Texas pet store. This tidbit wasn't explored in the Netflix seven-part docuseries, Tiger King: Murder, Mayhem, and Madness. Still, it's an important part of Maldonado-Passage's history with animal ownership. One incident may have foreshadowed future animal abuse alligations and it involves a flock of emus on the loose. Yes, emus.
'Joe Exotic' owned a pet store before the G.W. Zoo, but claimed he was harassed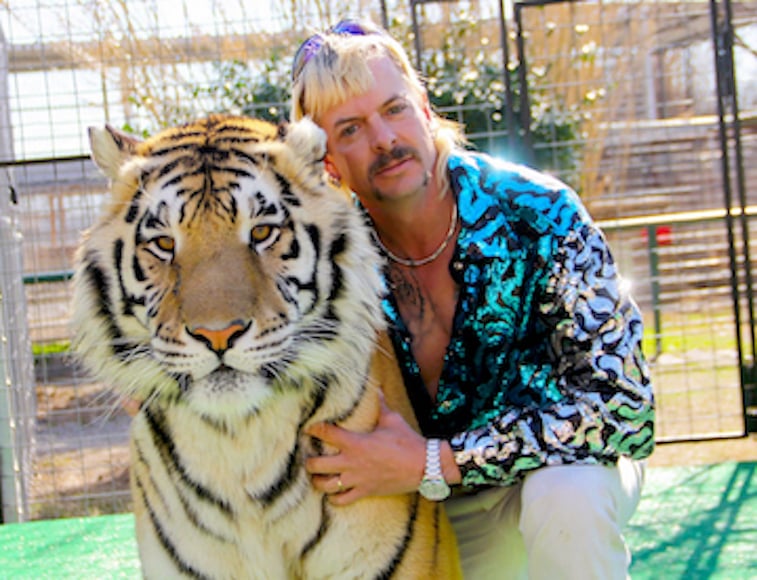 Long before the G.W. Zoo came into place, Joseph Maldonado-Passage (aka Joe Exotic) worked at Pet Safari in Arlington, Texas's Fielder Plaza. He later bought the store and became subject to a snake burglary, and yes — you read that right.
Tiger King couldn't possibly fit in every piece of Maldonado-Passage's past. However, his pet store days set the precedent for what would become of the zoo.
The Dallas News previously reported that, "in the summer of 1993, his store was the target of two snake snatchings." Seven snakes were taken from the pet store. This included a red-tailed boa constrictor and six pythons. Maldonado-Passage slept in the store with loaded guns in the event it happened again.
An 18-year-old male was eventually arrested for the crime and three of the snakes were recovered. Years later, Maldonado-Passage claimed he'd become the target of homophobic harassment. A slew of reports flooded city officials' offices about the pet store for various violations.
"The prejudice needs to stop. Why shouldn't gays enjoy a family day without prejudice?" he said. "You don't choose this life. This is the way you're born."
The alleged harassment ultimately forced Maldonado-Passage to close Safari Pets. He later opened a similar pet store, Super Pets, in the same plaza, but said he received even more warnings and citations thereafter.
"It's a shame that they're homophobic," he said. "They're trying to find any excuse to run me out of business."
Officials told Dallas News at the time they were enforcing the ordinances Maldonado-Passage violated. The interactions may have led to Maldonado-Passage's complex relationship with the law, including a controversial emu incident that took place in 1999.
Here's what happened with that 1999 emu incident
In Feb. 1999, animal welfare investigators stumbled onto a malnourished emu and dozens of other dead birds in Red Oak, Texas. Maldonado-Passage offered to take the emus in at his zoo in Oklahoma in honor of his late brother whose "lifetime dream was to go to Australia," Maldonado-Passage said at the time.
However, the emus didn't make their capture easy. With volunteers, police, members of the Red Oak High School Future Farmers of America, and Maldonado-Passage, rounding them up, they "found themselves struggling against birds almost as tall as humans and capable of tremendous kicks with taloned feet," The News reported.
The big birds caused numerous injuries and nine of those captured died due to stress and overcrowding in transport trailers. The following day, Maldonado-Passage was caught on videotape shooting several emus with a shotgun. He claimed it was "more humane than putting them through the ordeal of being captured and moved."
"You can't come out here and say, 'I'm going to save all these birds,' then say, 'I've got to kill them because I'm getting tired,'" Red Oak police Chief Doug McHam, said.
Maldonado-Passage signed over rights to 160 surviving emus to various sources where they'd be taken care of. The case was then referred to a grand jury, but Maldonado-Passage was not charged with animal cruelty.
The events followed Maldonado-Passage
It didn't take long before Maldonado-Passage closed his pet store. He said the negative press from the emu incident "hurt his business." He moved to the Oklahoma zoo and the rest is Tiger King history.
In an ironic twist, Maldonado-Passage's arrest on a murder-for-hire plot against animal rights activist, Carole Baskin (as well as other animal abuse charges), took him back to North Texas where he's currently serving a 22-year sentence.
Tiger King: Murder, Mayhem, and Madness is available on Netflix.