'Tiger King': What Happened to Carole Baskin's Other Husband, Michael Murdock?
One of the many many bizarre aspects of Tiger King: Murder, Mayhem, and Madness is the arc of animal rights activist, Carole Baskin. The subject of Oklahoma zookeeper Joseph Maldonado-Passage's (aka Joe Exotic) obsession has a wild history of her own. Baskin is currently on her third marriage. Her second husband went missing in 1997. What happened to her first husband, Michale Murdock?
'Tiger King' star Carole Baskin has been married three times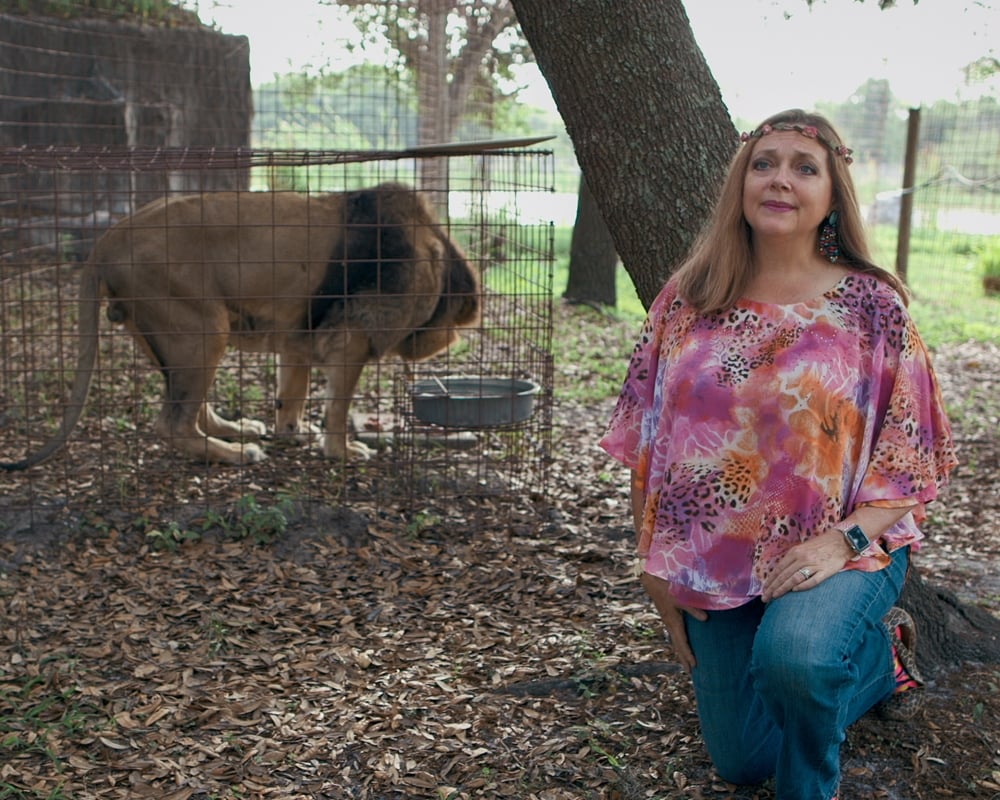 Carole Baskin, known to many as the villain in Tiger King, has just as wild of a backstory as the "Tiger King" himself, Joseph Maldonado-Passage. Baskin may be happily married to her third husband, Howard Baskin, now, but what became of her other two husbands?
Since 2004, Baskin and her current husband, Howard, have made a life for themselves, as shown in the Tiger King docuseries. Before Howard, [Carole] Baskin was married to Don Lewis — the subject of a missing person case that goes back to 1997.
When Baskin met Lewis, she was married to a man named Michael Murdock. As described in Tiger King, their relationship was allegedly abusive and toxic. Where is he now?
Who is Michael Murdock and where is he now?
Baskin described her marriage to Michael Murdock as "abusive," claiming he was "controlling" and wanted to know everything she was doing at any given time. She goes into further detail in the series stating the two had one daughter together, Jamie Murdock.
"He was Jamie's father and he was extremely abusive. But the idea of leaving and having to raise a child on my own was terrifying," she said.
Details on Murdock's whereabouts or opinions on the docuseries are unknown at this time. Baskin detailed how she eventually left Murdock, which only came when she met an already married father, Jack Donald "Don" Lewis, when he picked her up on the side of the road. They married in 1991.
"I was 20 when I met Don and 24 before I left my husband," she said. "Don had a fascination with animals, so we made a great team."
Joseph Maldonado-Passage (aka Joe Exotic) spread the idea that Baskin killed Don and fed him to the tigers. He even made a country music video, "Here Kitty Kitty," that portrays the alleged events.
Fans of the hit seven-part docuseries know that Maldonado-Passage is serving a 22-year prison sentence for, in part, an alleged murder-for-hire plot against Baskin. However, the remains of Lewis have yet to be found.
Police are asking for new leads in Lewis case
Now that Tiger King is out in the world, many side with Maldonado-Passage's idea that Baskin killed Lewis. He was last seen on Aug. 18, 1997. Investigators found his van at a private airport and looked into the possibility he'd gone to Costa Rica, as Baskin suggested.
"Don was not easy to live with and like most couples, we had our moments. But I never threatened him and I certainly had nothing to do with his disappearance," Basking said in response to Tiger King.
Lewis was declared legally dead in 2002 but the case is still open. Hillsborough County Sheriff, Chad Chronister, tweeted that they're looking for new leads in Lewis's disappearance. Fans of Tiger King weighed in with their unfiltered opinions.
As for whether Baskin is guilty or not, Howard has a different perspective than the public.
"Relative to most animal people, I would characterize her as reasonably rational," Howard [Baskin] said of his wife on Tiger King. "My number one goal in life is going to be to make this woman happy."