'Tiger King': Why Carole Baskin Spoke Freely About Her Missing Husband, Don Lewis
One of the prominent storylines in Tiger King: Murder, Mayhem and Madness was that Carole Baskin killed her ex-husband, millionaire Don Lewis. Joseph Maldonado-Passage, also known as Joe Exotic, dedicated much of his life to making Baskin pay for her supposed crimes.
But, if Baskin really did have anything to do with the disappearance of Lewis, why was she so willing to discuss him in the docuseries?
According to Baskin, the documentary producers set her up.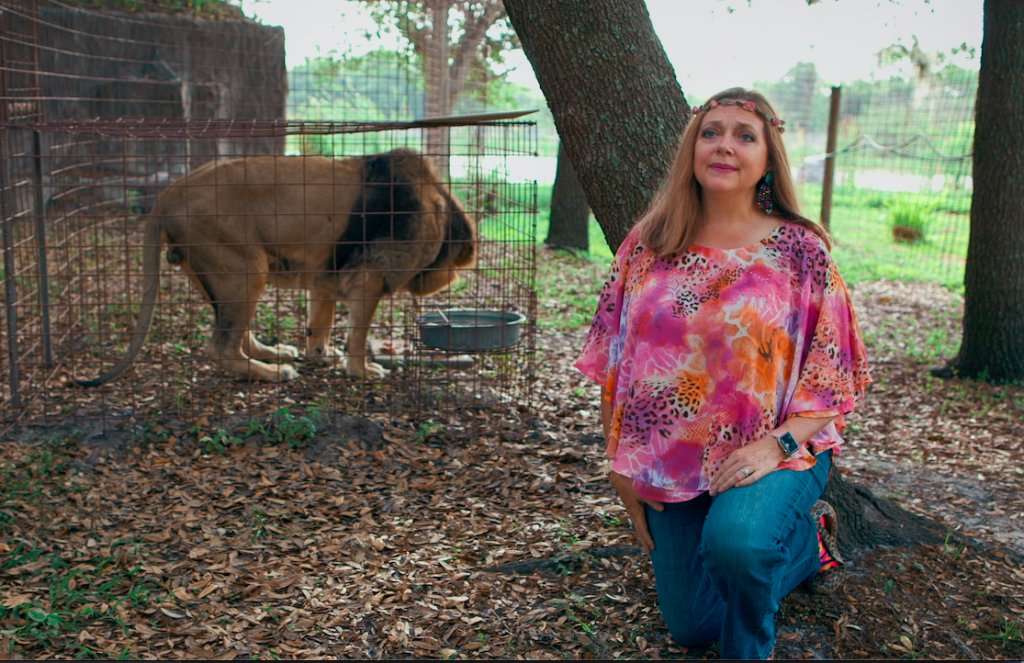 The case of Don Lewis
Lewis married Baskin in 1991. In 1997, Lewis went missing under mysterious circumstances. As seen in the Tiger King docuseries, Baskin described how Lewis wasn't in the best mental state at the time of his disappearance. After five years, Lewis was declared dead and Baskin was entitled to his fortune. 
Maldonado-Passage often accused Baskin of killing Lewis. Since a body was never found, Maldonado-Passage convinced others that Baskin fed him to her tigers. Other cast members in Tiger King, including Jeff and Lauren Lowe, also believe Baskin is responsible for Lewis' disappearance.
Lewis' remaining family also believe Baskin was responsible for his disappearance, as he was a wealthy man with millions of dollars she was legally entitled to after his death was declared.
Why Carole Baskin addressed Don Lewis in 'Tiger King'
At the time the docuseries was filmed, Baskin felt good about working with producers Rebecca Chaiklin and Eric Goode, who was the founder of the Turtle Conservancy and helped create The Cove documentary exposing dolphin hunting in Japan. With the belief that Goode was creating a documentary that would expose exotic cat cubs being abused and exploited, Baskin did not hold back when she was filmed.
Baskin told the Tampa Bay Times that producers told her they needed the details of her ex-husband's disappearance for "background context." To do right for the documentary, Baskin openly discussed Lewis' disappearance. When the Tiger King series debuted, Baskin was disappointed to learn that an entire episode was dedicated to Lewis' missing person case, framing her as the bad guy.
Goode defended the episode in an interview with the Los Angeles Times, explaining, "Carole talked about her personal life, her childhood, abuse from her first and second husband, the disappearance of her ex, Don Lewis. She certainly wasn't coerced."
Baskin claimed Big Cat Rescue was misrepresented in 'Tiger King'
Baskin was often filmed in front of the cages that contain her exotic cats. Baskin told the Tampa Bay Times what the documentary captured on camera makes the cages look much smaller than they are. One scene in particular shows Joseph the lion eating in the narrow feeding chute — the shot doesn't show the 4,000-square-foot enclosure the chute is connected to.
Baskin blamed the documentarians for giving Maldonado-Passage a platform to represent Big Cat Rescue falsely. In reality, Baskin said the smallest exotic animal enclosure on the premises is 1,200-square-feet, and the largest is 2.5 acres.
'Tiger King' reopened the Don Lewis case
Tiger King has caught the attention of millions, including the Hillsborough County Sheriff Chad Chronister, who is now looking for new leads into Lewis' disappearance. Chronister took to Twitter to ask for help, writing: "Since @netflix and #Covid19 #Quarantine has made #TigerKing all the rage, I figured it was a good time to ask for new leads."
Baskin has continuously denied her involvement in the disappearance of Lewis. While most of the information Chronister receives are fan-generated rumors, he welcomes them. Chronister told Time: "People calling in with their perspectives may help our detectives see this through a different lens and say, 'Hey, let me take a look at something.'"
Whether or not Baskin had anything to do with Lewis' disappearance remains to be seen. For now, Baskin and her husband, Howard, are focused on driving attention toward the Big Cat Public Safety Act, which aims to end private ownership of big cats and ban public interaction with the animals at zoos.
Up Next: Not Everyone Enjoys 'Tiger King': Larry David and Howard Stern Aren't Fans