'Tiger King' Zookeeper Erik Cowie Found Dead — Here's What We Know
2020 was a strange year, but it led to a mass following of Netflix's Tiger King: Murder, Mayhem, and Madness. The reality docuseries featured the cutthroat business of exotic animal keepers Joseph Maldonado-Passage (aka Joe Exotic), Doc Antle, and Carole Baskin. One of Maldonado-Passage's employees, Erik Cowie, has just died at the age of 53. Here's what we know.
'Tiger King' zookeeper Erik Cowie testified against 'Joe Exotic'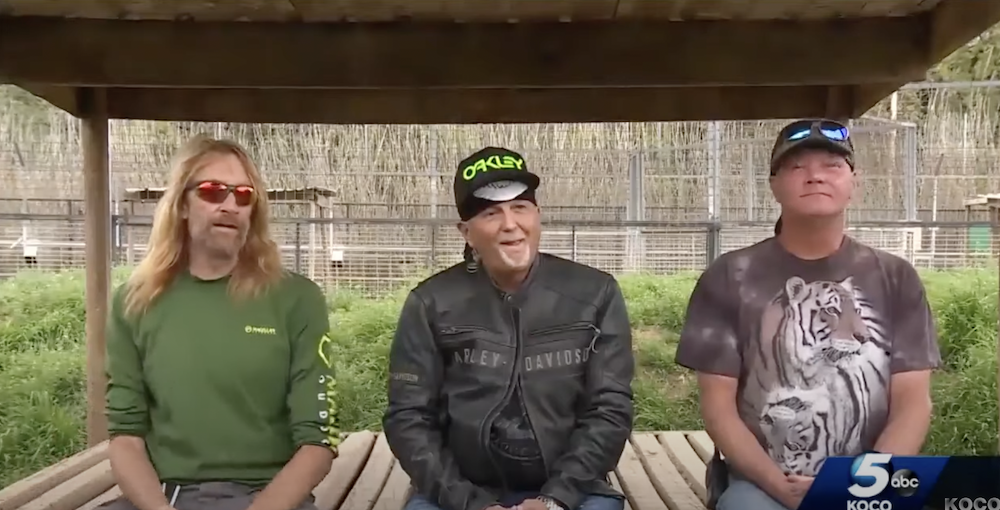 RELATED: 'Tiger King': This Joe Exotic Update on Prison, Rival Carole Baskin, and a New Venture Is a Lot to Take in
Tiger King debuted in 2020 amid pandemic quarantines which is likely why many know the story so well. As one of Maldonado-Passage's head animal caretakers, Cowie was featured quite a bit in the docuseries to reveal the ins and outs of the business. In The Tiger King and I, hosted by Joel McHale, Cowie revealed that Maldonado-Passage tranquilized the big cats only to be euthanized — something he said haunted him.
"They used me because just by my appearance or my voice, I could get a cat up the side of a cage where we could dart it and tranquilize it," he said. "You know those cats trusted me up until the end, and somehow, I swear they're like, 'dude, you let me down,' kind of thing."
He added that they rarely were put down for medical reasons. Cast members and Maldonado-Passage had a falling-out which led to Cowie's 2019 testimony against his former boss. Maldonado-Passage is serving a 22-year prison sentence for murder-for-hire charges against Baskin, as well as a slew of wildlife violations. Cowie continued working for the Oklahoma zoo even after Maldonado-Passage went to prison.
How did Erik Cowie die?
RELATED: 'Tiger King' Star 'Doc' Antle Charged With Wildlife Trafficking, Continues Posting on Social Media
Tiger King was a smashing success for the streaming platform and became a jumping-off point for bigger investigations into other exotic animal handlers. Cowie was a big part of blowing the whistle on what happened during Maldonado-Passage's reign.
Sadly, the zookeeper was found dead while visiting a friend's New York City apartment on Sept. 7, according to TMZ. The outlet said law enforcement revealed Cowie had been found face down in the bedroom. Early reports indicated no clear cause of death, and coroners will perform autopsy reports.
For now, that's all we know about the beloved zookeeper. We'll continue to update as we know more.
Cowie faced legal trouble after 'Tiger King' fame
RELATED: 'Tiger King' Star Saff Says Joe Exotic Killed at Least 100 Animals: 'Monster Is a Relative Term'
Despite making a name for himself in the aftermath of Tiger King, Cowie had his share of legal woes. In May 2021, he was arrested for drunk driving after crashing into another car on the highway. There were no injuries, thankfully, but the fan-favorite was charged for driving under the influence.
The Tiger King star pled guilty but didn't show up to sentencing. Though it'd have been a first-time DUI offense, the no-show prompted the judge to issue a bench arrest warrant with a $2,500 bond. Cowie never spoke out about the incident.
Our thoughts are with Cowie's friends and family during this difficult time.