A Tiger Shooting During The Beatles' Stay in India Inspired 'The Continuing Story of Bungalow Bill'
During The Beatles' stay in India, a tiger was shot dead by a guest. John Lennon then turned it into the song, 'The Continuing Story of Bungalow Bill."
In 1968, Maharishi Mahesh Yogi, the leader of the Transcendental Meditation movement, held his annual retreat for Westerners at his ashram in Rishikesh, India. The guru invited The Beatles and other celebrities.
It was a creative period for The Beatles; they wrote many songs for The White Album. Although it was a peaceful time away from the hustle and bustle of the West, the group's stay wasn't without drama.
John Lennon almost brought his wife Cynthia and Yoko Ono. George Harrison scolded Paul McCartney for writing too many songs instead of meditating. John Lennon took a helicopter ride with Maharishi. Ringo Starr was allergic to most of the food, and John left abruptly after hearing a rumor claiming the guru had been inappropriate with some of the guests.
Plus, there was a horrible tiger shooting. It inspired one of John's songs.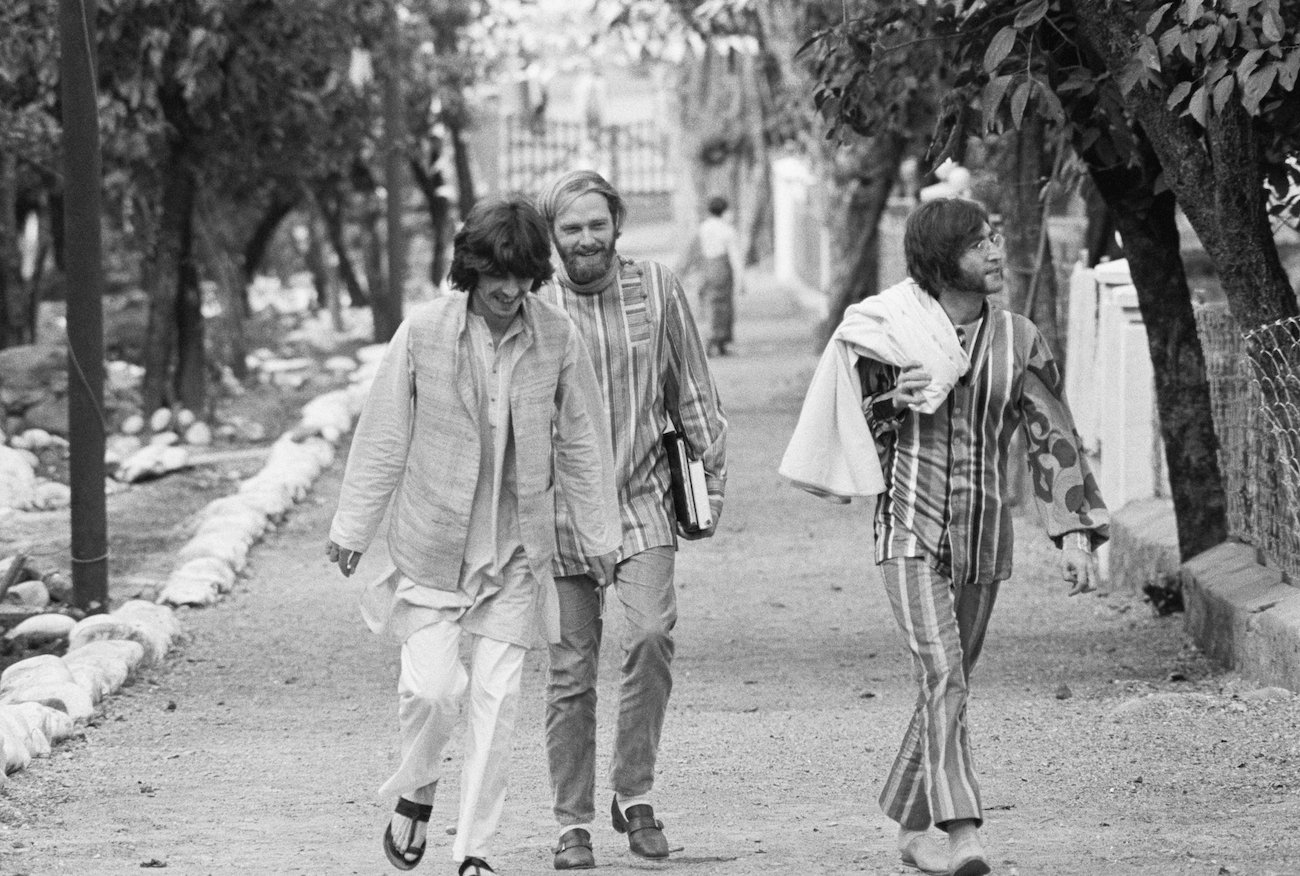 The story in The Beatles' 'The Continuing Story of Bungalow Bill' is based on actual events
During The Beatles' stay in India, one of Maharishi's guests shot and killed a tiger. John later wrote a song about the incident, "The Continuing Story of Bungalow Bill."
According to Steve Turner's book, The Complete Beatles Songs (per Rolling Stone), American Richard A. Cooke III visited his mother, Nancy Cooke de Herrera, at the ashram.
Nancy was an American socialite who was an early Western advocate of Transcendental Meditation. She also supervised the preparation of the Beatles' quarters before their arrival in February.
When her son arrived, they traveled by elephant on a tiger hunt in Naintal. When they came across a tiger, Richard shot it dead. He felt guilty, and when they got back to the ashram, Richard and Nancy talked about the incident with Maharishi. John and Paul sat in on the conversation.
"Maharishi looked pretty aghast that his followers could actually go out and do something like this," Richard later said.
The event gave John enough inspiration to write a song.
John Lennon wrote 'The Continuing Story of Bungalow Bill'
The incident ended up in John's colorful lyrics for "The Continuing Story of Bungalow Bill."
The song references Richard and Nancy in lines like: "He went out tiger hunting with his elephant and gun/ In case of accidents he always took his mom," and "If looks could kill, it would have been us instead of him."
In A Hard Day's Write (per Beatles Bible), Turner quotes Nancy saying, "Rik told me that he felt bad about it and said that he didn't think he'd ever kill an animal again. Maharishi said, 'You had the desire Rik and now you don't have the desire?'
"Then John asked, 'Don't you call that slightly life destructive?' I said, 'Well John, it was either the tiger or us. The tiger was right where we were.' That came up in the lyric as 'If looks could kill it would have been us instead of him.'"
Even Richard admitted that the lyrics describing Bungalow Bill as "the all-American bullet-headed Saxon mother's son" were a close description of himself.
In All We Are Saying (per Beatles Bible), David Sheff quotes John saying, "That was written about a guy in Maharishi's meditation camp who took a short break to go shoot a few poor tigers, and then came back to commune with God.
"There used to be a character called Jungle Jim and I combined him with Buffalo Bill. It's a sort of teenage social-comment song and a bit of a joke. Yoko's on that one, I believe, singing along."
Mia Farrow said that guests at the ashram didn't like Nancy and Richard
John wasn't the only guest at the ashram who thought Richard and Nancy's actions were abhorrent. Actor Mia Farrow, who also attended the retreat with The Beatles, said the mother and son were disliked by many.
In her memoir, What Falls Away (per Beatles Bible), Farrow wrote, "Then a self-important, middle-aged American woman arrived, moving a mountain of luggage into the brand-new private bungalow next to Maharishi's along with her son, a bland young man named Bill.
"People fled this newcomer, and no one was sorry when she left the ashram after a short time to go tiger hunting, unaware that their presence had inspired a new Beatles song – 'Bungalow Bill.'"
Many things inspired The Beatles during their stay in India. However, Richard and Nancy's encounter with the tiger was one of the most bizarre. Even more strange, Richard later became a photographer for National Geographic.