Tim Allen Gave Tom Hanks Some 'Toy Story' Advice While He Battled Coronavirus
Tim Allen and Tom Hanks share a relationship that extends far beyond the silver screen. The Toy Story actors actually appear to be good friends and often support each other in big moments. That said, it makes sense that Allen reached out when he learned that Hanks had caught the coronavirus, a disease that can have deadly consequences. But instead of sending the usual well wishes, Allen gave Hanks some advice inspired by the hit Pixar film.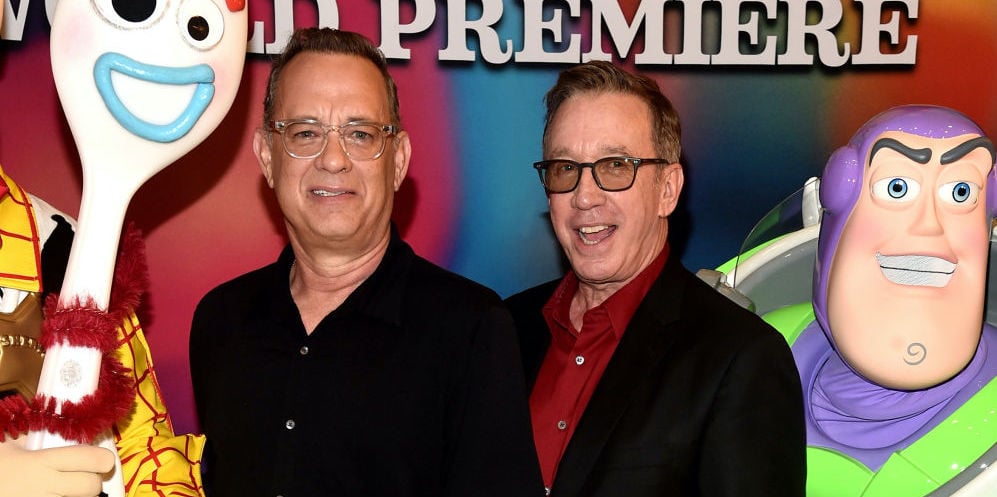 Looking back at Tom Hanks' coronavirus diagnosis
Hanks was the first celebrity to announce that he had caught the virus, which began in Wuhan, China in December 2019 and has since spread all over the world (via The New York Times). On March 11, he took to Instagram and announced that he and his wife, Rita Wilson, had contracted the virus while they were in Australia.
"Hello, folks. Rita and I are down here in Australia," he began before detailing how they realized something was wrong. "We felt a bit tired, like we had colds, and some body aches. Rita had some chills that came and went. Slight fevers too. To play things right, as is needed in the world right now, we were tested for Coronavirus, and were found to be positive."
"Well, now. What do we do next? The Medical Officials have protocols that must be followed," he continued. "We Hanks' will be tested, observed, and isolated for as long as public health and safety requires. Not much more to it than a one-day-at-a-time approach, no?"
Although he seemed to be taking the news well, Allen still reached out and shared some kind words with Hanks.
The advice Tim Allen gave to Tom Hanks
Allen talked about his conversation with the Castaway actor in an April 23 interview with Extra. It began when reporter Billy Bush asked, "Have you spoken to your Toy Story co-star, great friend Tom Hanks, who is absolutely a legend of coronavirus? I found him to be extremely comforting at a time when we were really all very anxious."
Allen replied: "Yeah, I did… He was just like you said — it's just like Hanks to be that way."
As far as the advice he gave Hanks, Allen said: "I wrote him and said, 'You should have worn the Buzz Lightyear protective suit, and then you wouldn't have gotten into that trouble. You put the bubble down.'"
How is Tom Hanks now?
Hanks has not publicly said much about his health, but he appears to be better than ever. E! News reports that he and Wilson made a full recovery some time in March and returned to the United States later that month.
Hanks even went back to work, appearing on an April episode of Saturday Night Live. But sadly, there's still no word on the rumored Toy Story 5, which would follow the fourth installment that came out in 2019. For updates, keep up with Showbiz Cheat Sheet.