Tim McGraw and Faith Hill: Who is Worth More?
Country singers Tim McGraw and Faith Hill are one of America's favorite couples. Happily married for 23 years, they are also the parents of three children. The two of them love being together and doting on one another. In fact, the country music stars often tour together.
Marital and parental success aside, exactly how have McGraw and Hill made their money? Which one of them is worth more?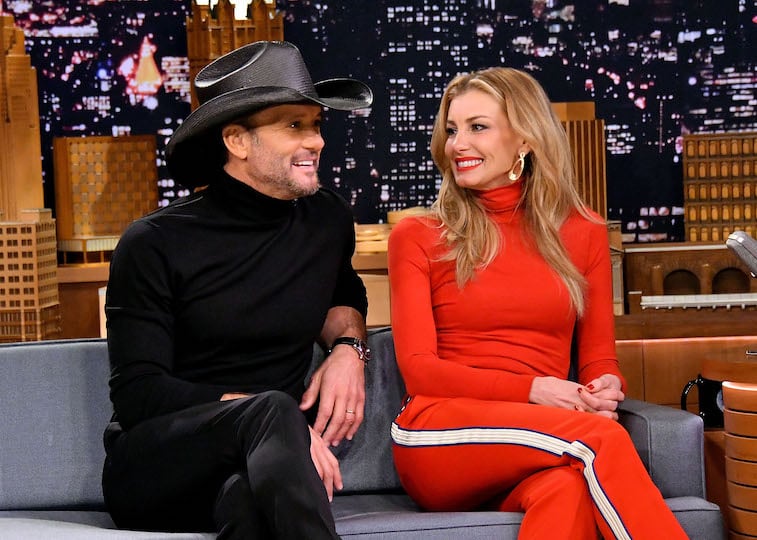 Faith Hill
Audrey Faith Perry was born on September 21, 1967, in Ridgeland, Mississippi, a town just north of Jackson. She and her two biological brothers were adopted by Ted and Edna Perry and were raised in a devoutly Christian home in the small town of Star.
Her vocal talent was recognized early on when she sang hymns in her family's Baptist Church. Hill formed a band that played at local rodeos when she was only 17. After a brief stint at junior college, she moved to Nashville to pursue her dreams. 
Today, having sold more than 40 million albums, she is one of the most successful country artists of all time. She released her debut album, Take Me As I Am, in 1993, to immediate success. The album reached triple-platinum status.
Tim McGraw
Samuel Timothy McGraw was born on May 1, 1967, in the north Louisiana town of Start. He was the only child of Elizabeth Ann D'Agostino, a waitress from Jacksonville, Florida, and Frank Edwin "Tug" McGraw, a minor and then major league baseball pitcher.
Tim, who was brought up in Rayville, Louisiana, believed that his stepdad was his natural father until he was 11 years old when he found his birth certificate among his mother's things. Tug McGraw denied that Tim was his child for seven years after meeting him. When Tim was 18, Tug finally came around and the two of them formed a bond.
McGraw learned to play guitar and would perform for money quite often. He followed his mother back to Jacksonville and after one term at Florida Community College at Jacksonville, he dropped out and moved to Nashville to pursue a musical career.
His most popular albums include Everywhere from 1997, Set this Circus Down from 2001, and the 2004 release, Live Like You Were Dying. The single by the same name is probably one of his most recognizable tunes. 
The two of them, together
When Tim and Faith first met in 1994, the timing was totally off. Recently divorced, she was not looking for a relationship, but then got engaged to her ex-producer, Scott Hendricks. McGraw had a steady girlfriend at that time. In 1996, Hill opened for him at one of his concerts, and backstage, there were sparks.
The two of them knew at that time that they were meant to be together, and they began dating immediately. They were married that same year and their first child was born the following year.
Since that time, they have had two more children, and they continue to make beautiful music together. Their joint tour, "Soul2Soul: The World Tour," gives fans to opportunity to witness their amazing chemistry and has served to strengthen their undeniable bond.
Their support for one another is unmatched. She refers to him as "the best absolute best entertainer, hands down." In Tim's words, Faith is "such a powerhouse that it forces me to raise my game every night."
Tim or Faith, who has the highest net worth?
Constant recording and touring, doing what they love to do together have made Tim McGraw and Faith Hill millionaires. They are not only musicians, however. In the 2009 film The Blind Side, McGraw starred as Sean Tuohy who, along with his wife Leigh Anne, took in a homeless teenager who went on to play professional football.
He also acted in a few minor televison roles. Hill has appeared in the television series, BTM2, Intimate Portrait, and Project Mom. She also starred as herself in a television commercial for Pepsi in their 2000 "Joy of Pepsi" campaign.
According to "The Thirty Richest Country Music Stars, Ranked," published in April 2019, Hill is currently worth $80 million. McGraw has a net worth of $85 million.