Tim McGraw Says He Turned to Faith Hill to Get Sober: 'She Just Grabbed Me and Hugged Me and Changed My Life'
Tim McGraw and Faith Hill rose to the top of country music charts in the 1990s. The pair first met at a gig in Nashville in 1994. They began touring together, fell in love, and quickly became one of country music's biggest power couples. However, the road wasn't always easy for the country singers. One of their biggest struggles was working through McGraw's alcoholism. Read on to get the full scoop on McGraw's road to sobriety and how the country music star says he couldn't have done it without his wife by his side.  
The making of a country music power couple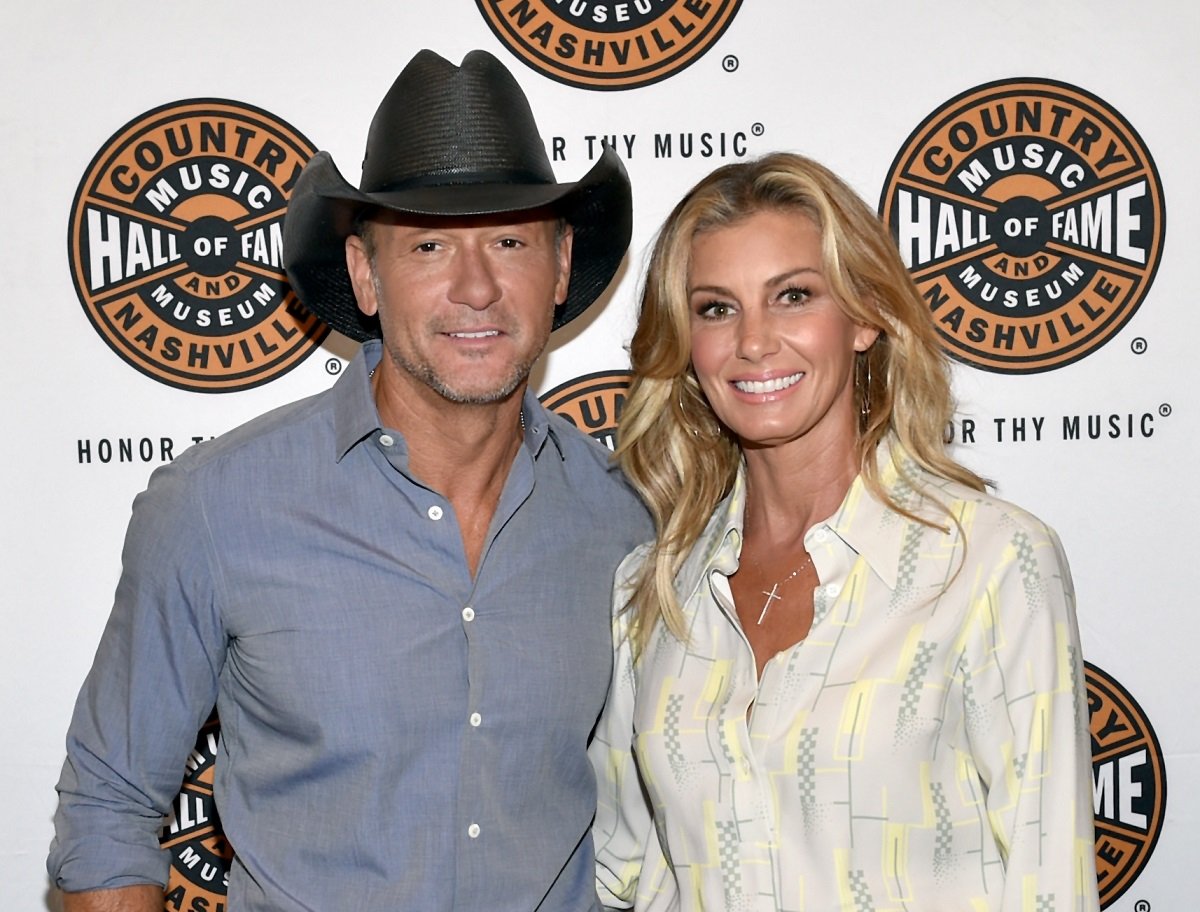 McGraw and Hill tied the knot in October 1996. He told US Weekly that it was his cooking that truly won his wife over. While the pair was on tour together, McGraw made himself some chicken and dumplings for dinner. He decided to take some and a slice of his homemade cornbread down to Hill. It must have been some good cornbread because McGraw reports they officially began dating shortly after.  
Along with their music careers, the couple has kept busy over the last two decades raising their three daughters. Hill gave birth to their first daughter, Gracie McGraw, in May 1997. In 1998, Hill gave birth to their second daughter, Maggie McGraw. The couple's youngest daughter, Audrey McGraw, was welcomed into the family in 2001.
Faith Hill helped Tim McGraw get sober 
Over the last three decades, Hill and McGraw have achieved a great deal in both their personal lives and music careers. However, all of these accomplishments were just a few decisions away from never happening. McGraw believes he would never have been able to achieve what he has in the music industry and as a father, without the patience and guidance given to him by his wife. 
After years of alcoholism, McGraw made the tough decision to stop drinking once and for all in 2008. According to People, McGraw credits his wife with helping him reach this decision and maintain his sobriety for all these years.
McGraw said his need for whiskey "got to the point where I felt it was negatively affecting my relationships and getting in the way of things I wanted to accomplish in life." After coming to this realization, McGraw said, "​​I went straight to my wife and said, 'This is where I'm at.' She just grabbed me and hugged me and changed my life."
Tim McGraw worked toward maintaining sobriety for years 
Since putting down the bottle in 2008, McGraw has opened up publicly about his addiction. McGraw told People that one reason he had become so dependent on alcohol was because of his music career and the need to perform on stage.
The country music star has said that he used to drink before every show to calm his nerves before taking the stage. McGraw said, "Basically, I am an unsure, self-conscious, shy person. That is how I started — even when I was in college, before I would get on stage, I would start drinking. I would start drinking to stop shaking." 
Luckily, McGraw has been able to maintain his sobriety for the last decade and has found better coping mechanisms for his nerves, like exercise. After cutting out alcohol entirely, the musician began to put all his energy into his health and fitness.
In regard to his new lifestyle, McGraw said, "That's where my workout program came into play. It took the place of alcohol, and it is really important." The results certainly speak for themselves, too, as the 54-year-old country star sports a six-pack today. According to Tim McGraw, it's all thanks to his loving wife, Faith Hill, and her helping him stay sober. 
How to get help: In the U.S., contact the Substance Abuse and Mental Health Services Administration helpline at 1-800-662-4357.