How Many Times Has Jane Fonda Been Arrested?
How many times has actor and activist Jane Fonda been arrested?
The rich history of the big screen has produced some massive stars over the last century. While some Hollywood royalty rises and falls, some stars stay at the top of their game for decades. While many leading ladies from Hollywood's golden age have long left the limelight, Jane Fonda is just as active as ever. Not only is this beloved star still acting into her 80s, but is more tenacious and passionate about social issues than ever. Fonda's activism has, however, run her afoul of the law several times. While she's made the news in recent years for her arrests, they certainly weren't the first for this Hollywood legend.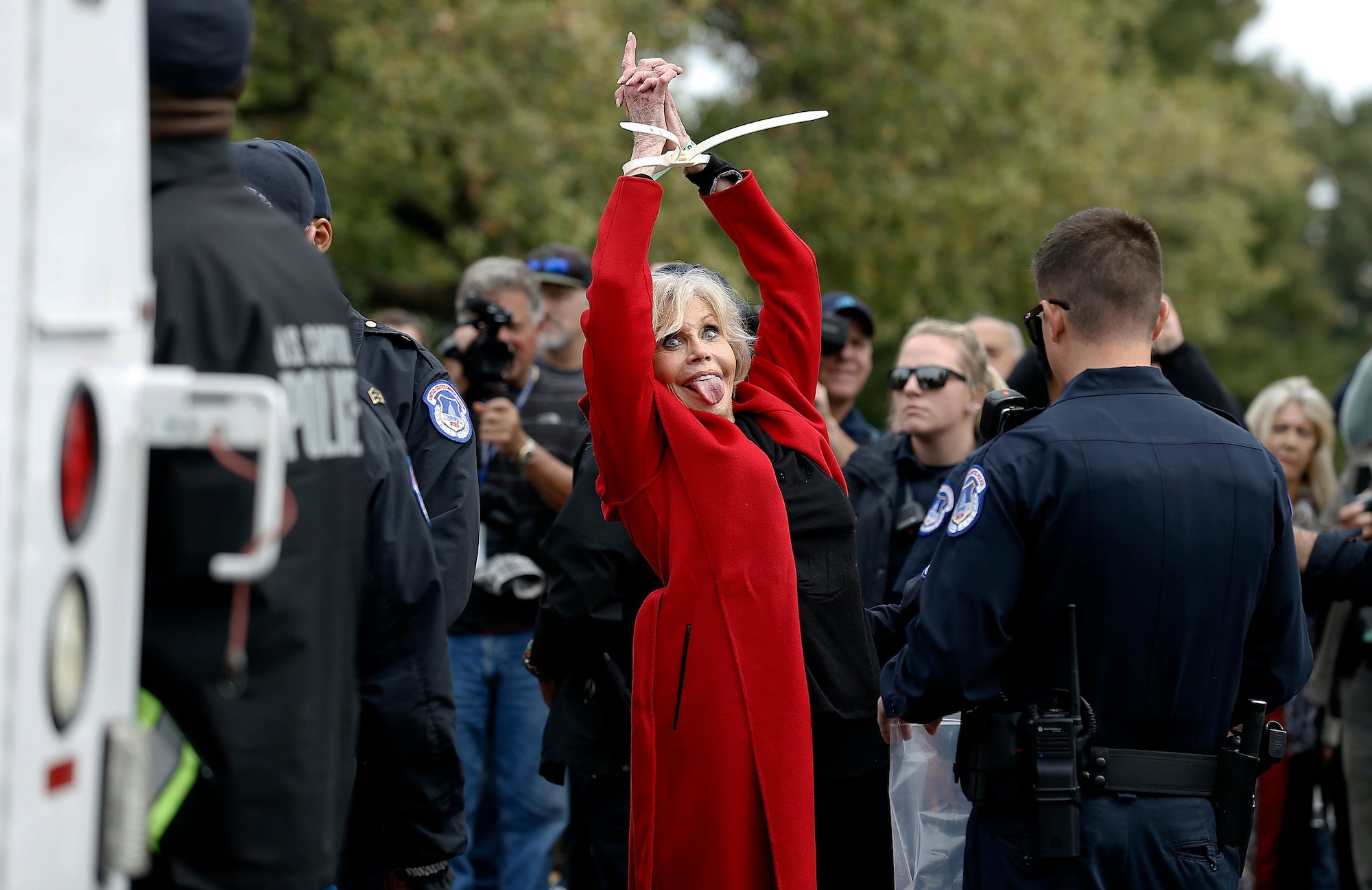 Legend of the screen
Fonda was born in New York in 1937. Born to early film legend Henry Fonda, according to IMDb, she was at first hesitant to follow the family trade. Eventually, after appearing casually several times alongside her father, she made her first big-screen splash in 1960's Tall Story. Fonda would go on to have a 3-decade career garnering her millions of fans worldwide and critical praise.
Out of the 131 major awards she's been nominated for, she's won 59– to include two Oscar wins for Best Actress. Though Fonda would formally retire from acting in 1991, she would make a return in 2005's Monster In Law alongside Jennifer Lopez. This return to acting would mark a return to public life in many ways for Fonda. The film's release was accompanied by re-releases of her famous workout videos, her time on Grace and Frankie, and a return to vocal activism.
The long-time activist
Though Fonda's been known lately for being an outspoken critic of the Trump presidency, or climate change policy, her roots in activism go back much further. In the 1970s, Fonda was a constant voice in the protest against the continued war in Vietnam. In November 1970, Fonda was on a speaking tour for a series of anti-war demonstrations. At a Cleveland airport, several officers arrested Fonda for "fraudulently bringing drugs into the country and assaulting a police officer," according to Cleveland.
The drug charges were later dropped after authorities later revealed that the pills Fonda had were indeed prescribed medication and vitamins. Fonda often expresses that she believes it was a set-up to discredit her. She explains on her website in a 2009 article, "I think they hoped this 'scandal' would cause the college speeches to be canceled and ruin my respectability. I was handcuffed and put in the Cleveland Jail, which is when the mug shot was taken."
The whole affair was surely stressful for Fonda, but the iconic photo of her fist-up mugshot has become thoroughly embedded in our culture. "I sure got a lot of mileage out of that arrest," Fonda told the LA Times in 2018.
How many times has Jane Fonda been arrested?
Fonda's activism didn't end with the Vietnam War. Fonda was loudly and frequently opposed to former President Donald Trump on social mediaand was a leading voice in exposing the underbelly of Hollywood during the #MeToo movement. She's been a staunch supporter of emissions reforms and legislation to combat climate change. Recently, she's even moved to Washington DC to be able to hold and participate in more activism and demonstrations.
Her October 2019 protests in Washington over climate change policy led to some familiar outcomes. Fonda had been protesting every Friday for weeks in cooperation with Greenpeace for "Fire Drill Fridays" on the need for sustainable climate change legislation and policy. According to Distractify, Fonda was arrested five separate times during the protests, once with Grace and Frankie co-star, Sam Watertson, bringing her total arrests to six.