Is Tina Fey Worth More Than Her Golden Globes Co-Host, Amy Poehler?
Multi-hyphenate celebrities Tina Fey and Amy Poehler are known for their comedic work. Both are writers, directors, producers, and actors. They're also known for the sweet friendship, which is often seen when they work together. So which has the higher net worth?
Tina Fey and Amy Poehler both got famous for 'Saturday Night Live'
Fey and Poehler started in the world of improv comedy. They met while working at Second City in Chicago in the '90s. Fey worked her way up to becoming the head writer of Saturday Night Live and then recruited Poehler as a cast member in the early '00s.
Together, the two were the first female co-anchors of the Weekend Update segment. Fey had previously hosted it alongside Jimmy Fallon. After seeing the duo on screen, it became clear that they played well off one another. However, they only spent two seasons behind the desk together.
Fey left to work on '30 Rock'
After gaining even more notoriety for writing the hit film Mean Girls, Fey left SNL for her own sitcom. She created and starred in 30 Rock, where she played Liz Lemon, the head writer of an NBC sketch comedy series. The show aired for seven seasons on the network and earned her her first acting Emmy win.
After the series came to a close, Fey co-created the Netflix comedy Unbreakable Kimmy Schmidt. She has also acted in such series as Great News and the film Whisky Tango Foxtrot. However, most of her work remains behind the scenes as a creator, writer, and executive producer.
Poehler then starred in 'Parks and Recreation'
Poehler continued to host Weekend Update with Seth Meyers for two seasons. She then left SNL following her maternity leave in 2008, aside from occasional guest appearances. Poehler next took on the role of Leslie Knope in the NBC sitcom Parks and Recreation. She also served as producer for the series.
Since Parks came to a close in 2015, Poehler has kept working both in front of and behind the camera. She executive produced comedies such as Broad City, Difficult People, and Russian Doll. At present, she stars in the reality competition series Making It and voices two of the main characters in the animated series Duncanville, which she also co-created.
They've worked together many times since
Despite staying busy with their separate projects, Poehler and Fey have not abandoned their chemistry. They've hosted the Golden Globe Awards together three times, from 2013-2015. They'll resume this again with the 2021 ceremony.
Additionally, the two starred in the 2008 and 2015 comedy films Baby Mama and Sisters, the latter of which they both also produced. And just as Fey wrote Poehler a role in Mean Girls, they co-starred in Poehler's directorial debut, Wine Country, in 2019.
Who is worth more: Tina Fey or Amy Poehler?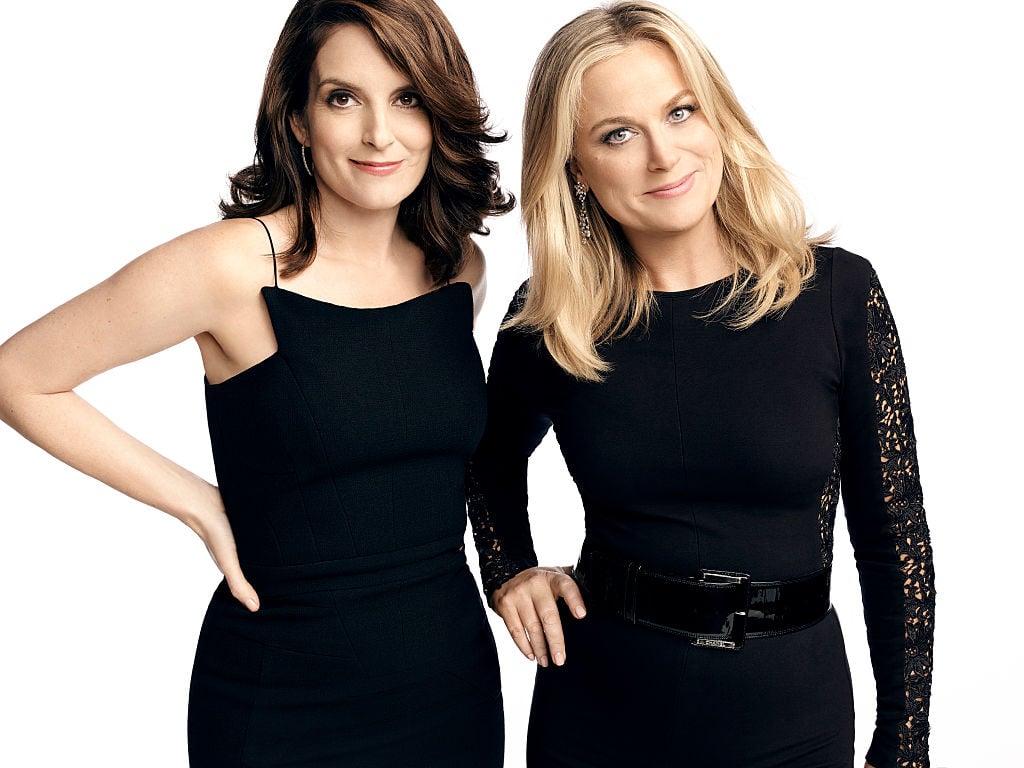 As you can see, both Poehler and Fey have worked in various capacities on many, many projects over the years. So it's no surprise that they've each accumulated a hefty net worth. But who is wealthier? It's not even close.
According to Celebrity Net Worth, Fey is worth $75 million in 2020, up from $65 million in 2019. Meanwhile, Poehler falls short of that, with $25 million. She reportedly made $200,000 per episode of Parks, according to Celebrity Net Worth, while Fey made more than double that for 30 Rock.