Tiny Reveals Kandi Burruss Fought Her and LaTocha Scott During Xscape Fallout
Band breakup stories never really get old, no matter the genre. In the R&B music world, Xscape was one of the hottest girl groups in the '90s with Kandi Burruss, Tameka "Tiny" Harris, and sisters LaTocha and Tamika Scott.
Discovered by Jermaine Dupri, the foursome released three platinum-selling studio albums before disbanding. Though their breakup story has been told in many ways, Tiny recently opened up about some of the Xscape drama, which included physical fights.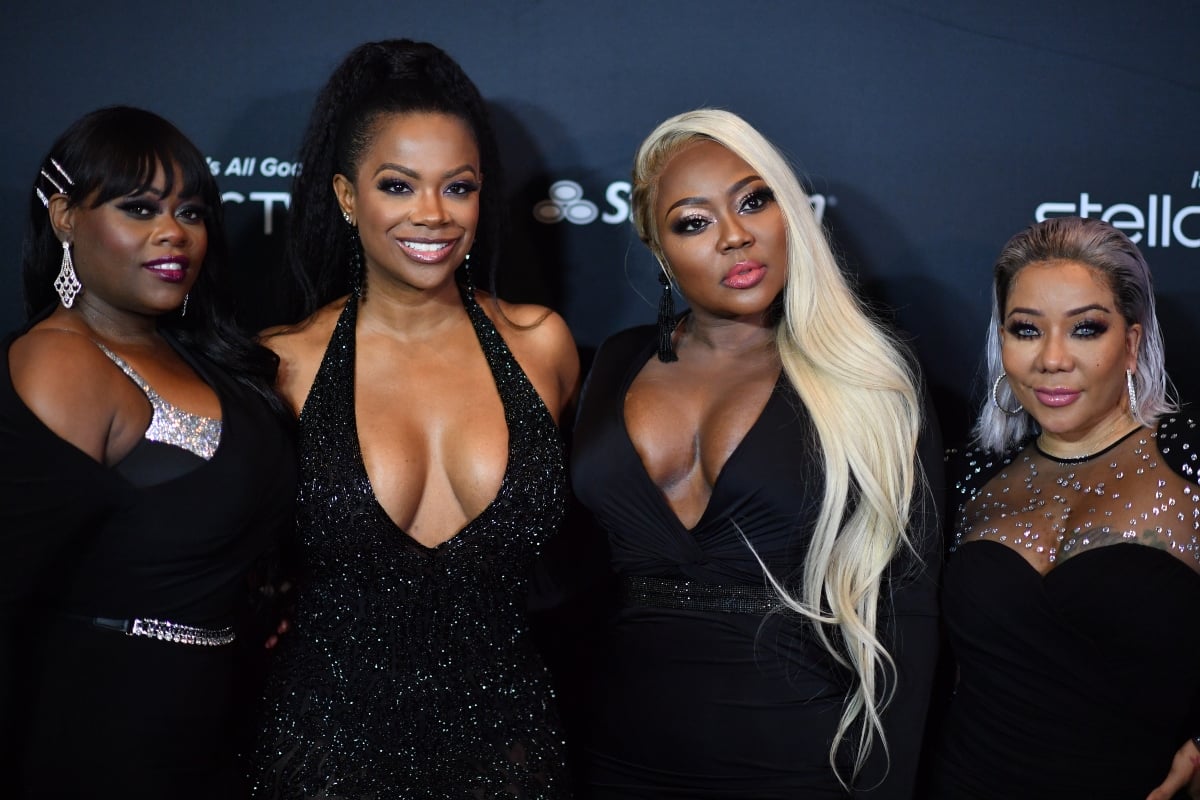 Xscape broke up in 1998
Turmoil hit the group by the time their third album dropped, and Xscape called it quits. Members of quartet and their team (including Dupri) have cited multiple reasons for the group's split, but things did not end on amicable terms for everyone.
Bad blood between Burruss and Tamika Scott brewed when Scott allegedly spread rumors about Burruss sleeping her way to the top. There were other issues too.
While Tiny and Burruss went on to become successful songwriters for other artists and later, reality TV stars, the Scott sisters launched solo endeavors in music. Xscape briefly reunited in 2017 and turned the experience into a reality show with Bravo's Xscape: Still Kickin' It.
After doing a few concerts, Burruss declined to move forward with the group and the three remaining members decided to record new music together. She's since changed her mind.
RELATED: 'Real Housewife of Atlanta' Star Kandi Burruss Reunites with Group Xscape for New Album
Tiny says Kandi fought her and LaTocha in the past
Tiny recently sat down for an interview with DJ Vlad to talk about her career and family, sharing a few stories about Xscape and what went wrong.
She explained that leading up to their longstanding rift, their egos played a role in pulling them apart as did outside influences. The energy shifted and she said it became "a drag" to show up for work.
When asked about fights, Tiny said they only had two real ones. "Me and Kandi had a little slap [fight]. A little quickie. And I was pregnant so it wasn't that bad," she said. "And then Tocha and Kandi finally got into a fight as well."
Tiny shared it felt like it was overdue for those two to have a confrontation, and things escalated into a brawl. "I just remember us rehearsing—I don't remember what we were rehearsing for—but that rehearsal hall was turned upside down."
She confirmed it was a rowdy fist fight but wouldn't reveal who came out on top. Watch the movie, Tiny said.
An Xscape biopic is on the way
In 2017, the Xscape biopic was announced, a product developed by all four original members. The project is still in the works and is set to hit Bravo. Though no official release date has been given, in 2019, Tiny told Atlanta Black Star it's possible they'll re-record some of their old songs for the film and add some new music too. And she'd love for her daughter Zonnique Pullins to play her.
Xscape partnered up with Mona Scott-Young's Monami Entertainment for the biopic, which is the only authorized version from the group.