To ARMY and BTS, the 'Love Yourself' Era Will Never Truly End
After three albums and over a year of touring, BTS's Love Yourself era ended last week with Love Yourself: Speak Yourself [The Final]. The band delivered knockout performances during their last three concerts from the era. The members of BTS also bid farewell to the era with emotional speeches.
While both BTS and their fans are excited for whatever concept BTS has planned next, they are not ready to say goodbye to the monumental era. To BTS and ARMY, the message of the Love Yourself era lives on.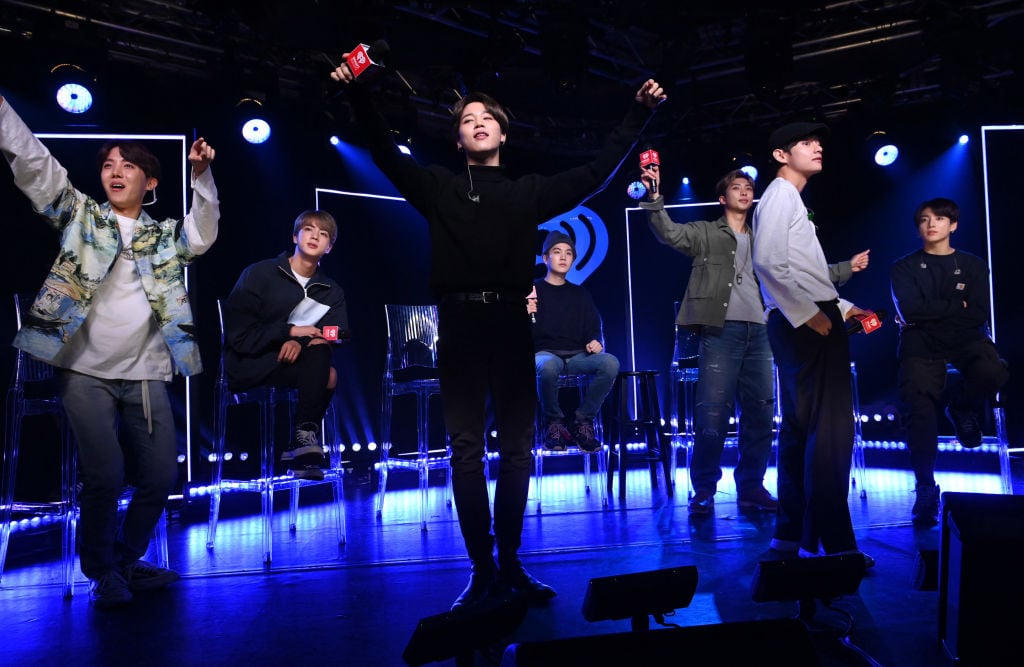 RM encouraged ARMY to keep learning to love themselves
During the last concert of Love Yourself: Speak Yourself [The Final], RM delivered an ending ment that brought himself and the audience to tears. In the speech, RM talked about his journey of learning to love himself. He also encouraged BTS fans to continue learning to love themselves even though the Love Yourself era is over.
"To 'love myself;' what on earth does it mean to love myself? And so I thought 'because I don't know either, wouldn't it be good to search for it together?'" He said in his ment according to an online translation.
RM continued, "And so, while the concept of Love Yourself: Speak Yourself finishes here, since the journey, the road, of finding how to love ourselves doesn't finish here, in the future too, let's hold hands as we are now, and be together as we work out how to love ourselves."
Even though the Love Yourself era is over, RM told fans he hopes BTS's future music will help fans learn to love themselves.
"In the future too, I hope that even one word of ours, one line of lyrics, could be a help for you to love yourselves," he said.
BTS fans took RM's message to heart
BTS fans across the world saw RM's message thanks to social media and online translations. ARMY took RM's message to heart, and shared how they plan to continue their journey of loving themselves.
"The love yourself era is over. Armys, have you learned how to love yourself yet? This era may be over but the journey to appreciating and learning how to love ourselves is not," wrote a fan on Twitter.
"here's a little reminder that LOVE YOURSELF ERA IS NOT AND WILL NEVER BE OVER !!!!!!!!!!!!!LOOK AT THESE BOYES THAT WORKED HARD TO GET THEIR MESSAGE OUT THERE!!! I love you and I hope we all work towards loving ourselves," a fan tweeted. 
ARMY is appreciative of BTS's 'Love Yourself' era
While fans have vowed to continue following the message of the Love Yourself era, they also feel appreciative of BTS creating the era in the first place. Over the course of three albums, BTS explored the different types of love including self-love.
"Bangtan deserves the whole world. I'm so proud of where they are today. the ly era may be over but us loving ourself will not be over. thank you making everyone love themselves, telling us its okay to speak yourself. I love you all so much," a fan tweeted.
"love yourself era is over. I can't think how much my life has changed because of them, they've become a really important part of my life, and I can't think a life without them. this era made me knowing them, and i don't regret anything. this is not a 'bye', it's a 'see u soon,'" wrote a fan on Twitter.
"Not to be too sappy, but I'm so emotional about the Love Yourself era being over. I think we all feel it's a sadness, but it's more like the sad you feel when you're missing someone. It's grounded in gratitude. To everyone involved in the Love Yourself movement. #ThankYouBTS," one fan tweeted.