'Today' Alum Katie Couric Recalled Bryant Gumbel Questioning Her Maternity Leave: 'How Many Men Get 9 Weeks Off?'
Katie Couric is prepping to serve as the first female guest host of Jeopardy! Rising to fame as co-anchor of the Today Show, Couric joined Bryant Gumbel at the news desk in 1991. Expecting her first daughter Elinor (Ellie) soon after she was given the role, Couric and Gumbel had an awkward on-air exchange when the subject of her maternity leave came up. The Today alum later recalled the conversation in her newsletter.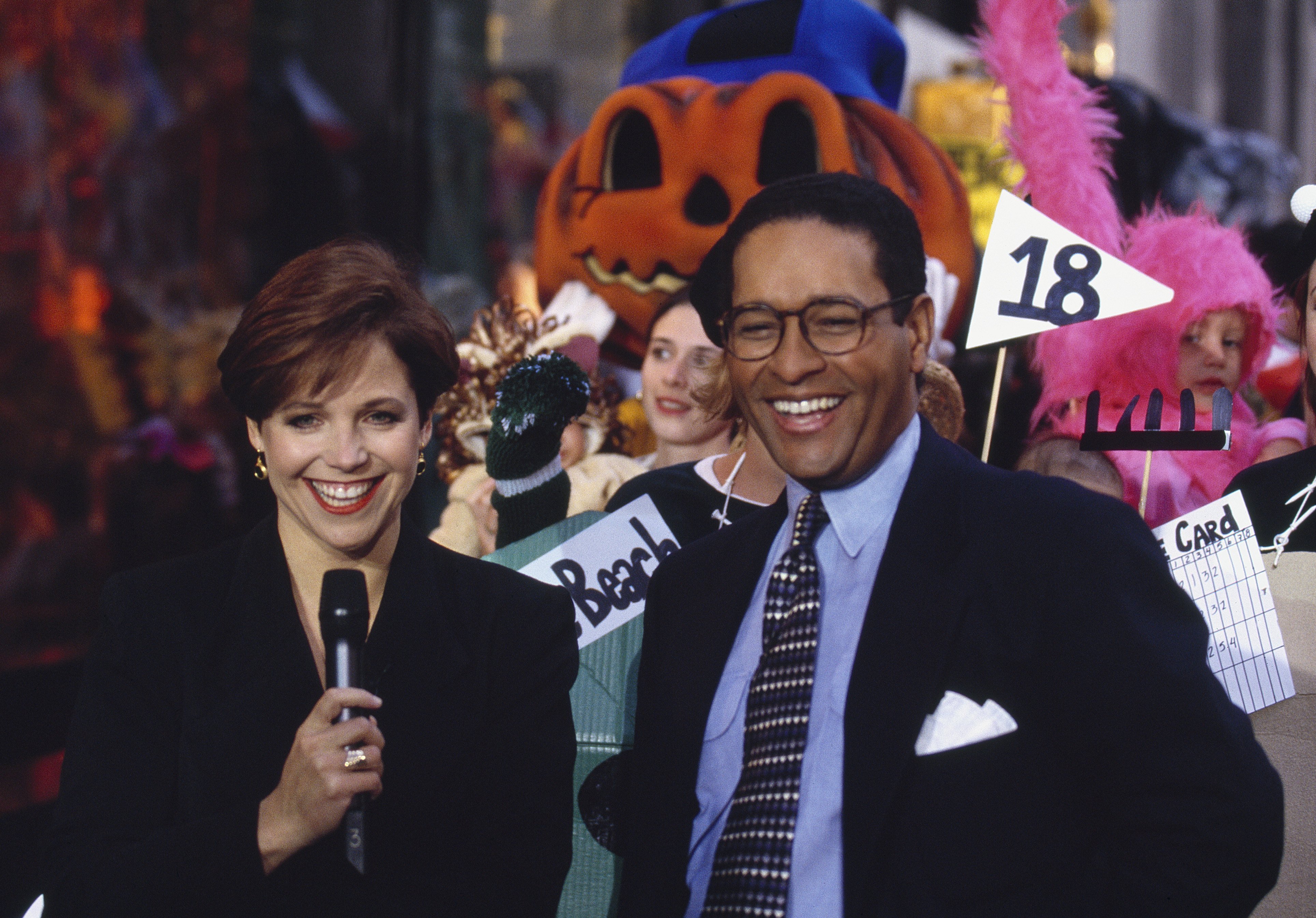 'Today Show' star Katie Couric tried to shake off Bryant Gumbel's insensitive question
In her newsletter "Wake-Up Call", Couric shared a vintage clip from a conversation she had with Gumbel as she was signing off for maternity leave in 1991.
"I was about to go on maternity leave and let's just say, Bryant Gumbel didn't quite get it," Couric wrote in 2019, according to USA Today. "It's pretty shocking to watch it now, 28 years later!"
When Couric told Gumbel she would be on leave for nine weeks, he was clearly surprised. "Why so long?" he asked. "Remember the good ol' days?"
Couric was clearly exasperated by the question, but tried to make light of it. "When they just squatted in those fields and just came right back into the house and cooked those men up a big ol' supper?" she joked. "Those days? … Those days are history."
'Today' co-hosts continued conversation on maternity leave
The Today alum tried to take the high road, and patiently pointed out to Gumbel how physically demanding it is to give birth.
"I'm going to relax for three weeks, as much as you can relax when you're carrying around 30 extra pounds," she explained to Gumbel. "Then, hopefully I'll have the baby and everything. It's a major shock to your body, I hope you realize, when you have a baby. And it takes a while to get back to normal and get on a schedule."
Gumbel clearly dismissed her comment. "Your ancestors didn't worry about that shock to your body," he replied. "They came right back and worked."
"And they died when they were like, 32 years old," Couric shot back. Still, Gumbel persisted saying, "You're 34, what are you worried about?"
When Couric went on to say that she hadn't had much time off in the past year, Gumbel once again interjected.
"How many men get 9 weeks off?" he asked Couric, who was clearly annoyed at that point. "Do we have to do this in like a sexist debate?" she remarked. Still, Gumbel continued to razz his co-host, saying, "The guys have the harder part."
'Today Show' alums Katie Couric and Bryant Gumbel had a 'great working relationship'
The two ended their stilted conversation with more jokes, though Couric later noted Gumbel's dated perception.
"We had a great working relationship," she remarked. "I think some of (his attitude) was sort of in jest and clearly he was giving me a hard time, but just in context of all the conversations these days, it was interesting to watch."
Couric shared the video to call attention to the views on maternity leave that still exist today. The former Today star hoped the vintage clip shed some light on the need for greater understanding and support for women.
"I think that times have changed so much, but I do think there's a lot of implicit bias against moms," Couric told USA Today. "I think it's important to make sure your employer is up on the times, and that women aren't penalized, consciously or unconsciously when they have children."