'Today Show' Co-Host Carson Daly Shares How He Deals With Anxiety
Carson Daly, co-host of the "Today Show and emcee of "The Voice," reveals his experience with generalized anxiety disorder and how he manages it on a regular basis.
Carson Daly tends to do double duty at NBC. As a co-host on the the Today Show and producer and host of The Voice, Daly also has a full family life with wife Siri Pinter and their three kids with a fourth on the way.
While Daly is always an amiable presence on the air, the television personality has been very open about his experience with generalized anxiety disorder and previously shared some of his coping skills that he's learned over the years.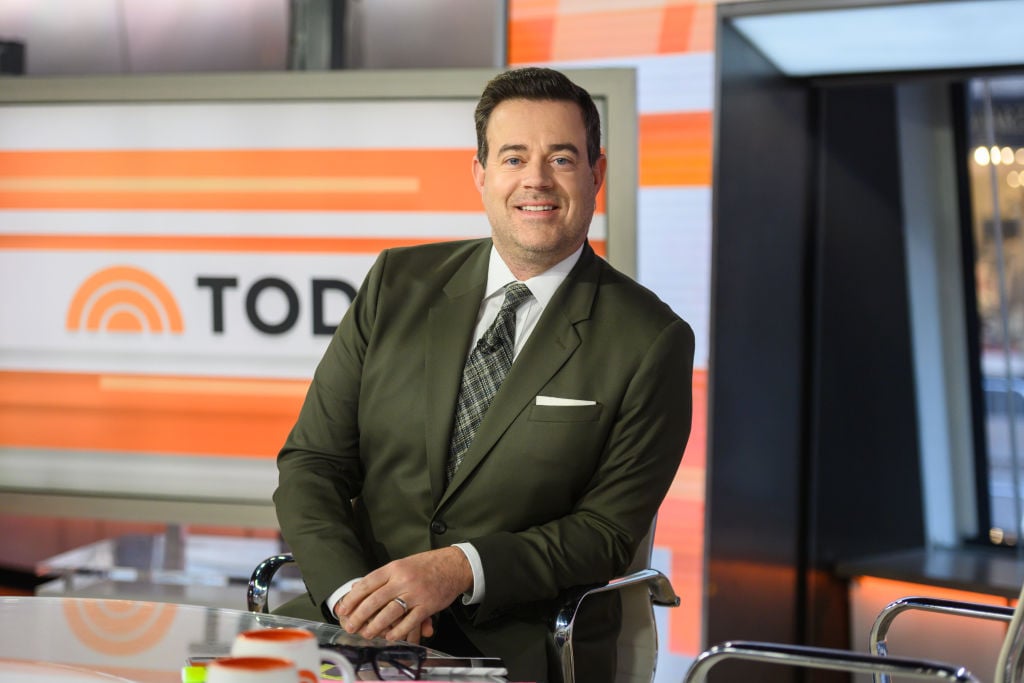 Carson's career
Daly has been in showbiz since starting in radio as an intern for Jimmy Kimmel, according to Heavy. His career took off when he launched Total Request Live (TRL) for MTV in 1998, which became a staple on the network for a decade.
"There were a lot of highs and lows to that. I'm proud of what we did in New York there after 9/11 – I was part of the team that went back to work right away," Daly told Today.com. We were one of first productions that went back on air, and we had to really think about what to tell the kids watching TRL."
Daly made the move to NBC when he started on the late night circuit with Last Call with Carson Daly in 2002. The following year he began hosting NBC's New Year's Eve With Carson Daly and has continued ever since. Daly added to his list of credits when he decided to produce and emcee The Voice in 2011, and then sign on with the Today Show in 2013. His Last Call show aired its final episode in May.
Sharing his story
In March 2018, Daly spoke with Today about his experience with anxiety, recalling his first panic attack that occurred while hosting Total Request Live and about to go on the air.
"I had a hard time breathing. I was terrified for no apparent reason," he remembered.
Revealing that he has generalized anxiety disorder, Daly came forth with his story in the hopes of destigmatizing the condition. Saying he tended to worry a lot as a child, his fears escalated when he moved from California to the Big Apple.
"I was a worrywart kid. I was always worrying. My father died when I was 5. I had an ulcer when I was in high school. I've been nervous my whole life," the Today star shared. "I moved to New York and my life changed overnight."
Daly vividly described the feeling of panic he gets at times, even once going to the hospital for fear it was a heart attack. "At times I feel like there's a saber-tooth tiger right here and it's going to kill me attack me and bite my head off. I'm scared as if that's really happening," the NBC host said. "You feel like you're dying."
While Daly acknowledges that life in the public eye can be stressful, he maintains that his career isn't the cause of his disorder. "People think, 'Oh, he has anxiety. High pressure life. You know, you're on television,'" he said. "It has nothing to do with that. I've had heightened anxiety and mild panic attacks at the playground with my own children and wife there. The feeling was so gripping and so terrifying that literally I had to leave and excuse myself."
Carson's coping skills
Daly chose to seek help since he realized there was no easy fix for his condition. "I opted for a cognitive therapist, somebody who teaches you about anxiety, the model of it, and offers you tools on how to kind of work through it," he said. "Muscle retention relaxation really helps me."
Also utilizing exercise and yoga as a way to relieve his anxiety, Daly has come to accept this trait in himself and reveals that it has increased his sensitivity and compassion towards others.
"This is the way I was born. This is the way I was hardwired. This is the downside the way God made me and there's a tremendous upside as well," he said. "That's the flip side to the anxiety. I don't walk around every single day a nervous wreck. I don't want people to think, 'Oh, are you okay? Are you freaking out?' No, I'm good."
Rather than shying away from the topic, Daly now takes pride in dealing with his anxiety head on and hopes to inspire others who deal with this disorder to share their own stories.
"I really wear the way I am like a badge of honor. This is who I am and I'm proud of it," he said. "People are so afraid about what other people think of you. I wish people could break down that wall, too," he said. "I guarantee you, everybody has got something."
Daly is a shining example of using transparency to help others.