'Today Show' Co-Host Sheinelle Jones Announces Upcoming Surgery
Sheinelle Jones of the Today Show has become a fan favorite sharing the desk with co-hosts Al Roker, Craig Melvin, and Dylan Dryer during the news program's third hour every weekday. The mom of three just revealed that she is going to be away from her post for awhile due to a medical issue she's been dealing with for quite some time.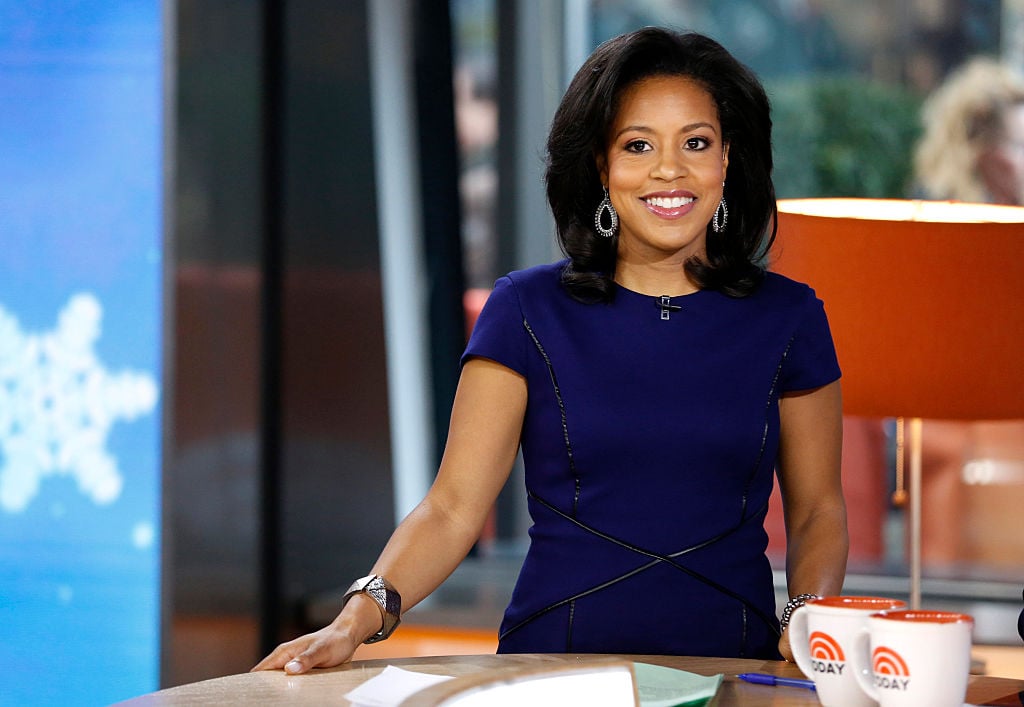 Dealing with ailment for years
In 2016, Jones' producer noticed the co-host had a concerning tic. "There would be times where right before I would go to read, I would try to clear my throat and I would do it all of the time," Jones told People. "The producer at the time got in my ear and said, 'Hey, I feel like maybe you should go to an ENT because you clear your throat more than normal.'"
The Today star discovered that she had a polyp on her vocal chord, but it eventually appeared to go away on its own. "I went to an ENT… And sure enough, there was this polyp on my vocal cord," Jones shared. "She gave me a steroid and then I started going to a vocal therapist a couple of times a week I did all the vocal therapy, went back and it was gone. It had gone away or at least gone down. I thought I was kind of able to keep it at bay."
Yet over the past few months, Jones noticed some changes in her voice and decided to see the doctor again. "I went back to the ENT and sure enough, it was in that same spot, which leads us to believe it never went away, it just kind of went down," she said.
Jones first attempted to remedy the issue outside of the operating room. "For the last four or five months I've been going to vocal therapy, sometimes up to twice a week, literally working to try to take the hoarseness out of my voice to see if it'll go away on its own," the Today co-host revealed. "Surgery was kind of my last resort."
'Today' hiatus
The anchor, who shares son Kayin, 10, and twins Uche and Clara Josephine, 7, with husband Uche Ojeh, announced on the air on Thursday that she is having vocal surgery on February 24, which means the Today star will be in recovery for six weeks and be without a voice for 14 days. Jones told People the lengths she has gone to in order to minimize the fallout from the health issue so she can competently perform her job.
"It's to the point where people at home have no idea what I do just to get ready for a show in the morning… Most people wouldn't have made it this long hiding a problem," she said. "I had so many things with my breathing and with exercises just to keep a voice. It's strongest in the morning, so I do most of my work in the morning. I don't schedule things in the afternoon anymore. I'm really careful. My life has changed dramatically."
Opportunity for self-care
Though she realizes the recovery process will be challenging, the Today star is trying to look at the bright side of the situation. "There's a piece of me that feels like it's a little bit of grace," Jones said on the air during Thursday's third hour of Today. "Because it's a gift to sit still and do some soul searching, do some reading, do some writing. Nobody ever tells you you have permission to sit still."
Jones noted that she hasn't taken time for herself in decades, where this is providing the opportunity for a self-focused respite. "This is the first time ever in my life, in my career, and I've been in the business for more than 20 years, that I will stop and just take care of myself," Jones shared with People. "So part of me it's like, the good Lord's way of just telling me to stop and do a little self care and practice what we preach on the show day in and day out."
The morning show anchor also revealed that she will be spending a week on her own in a hotel after the procedure and wants the experience to cause as little disruption for her children as possible.
"They're very aware what I'm dealing with, but I don't even think they understand," Jones explained of her kids. "Opposed to scaring, I think I'll just, and honestly, who knows, maybe I'll get to the hotel and go home and see them for a little bit and then leave. You're catching me at a time where, which is real life, which is, I'm just not sure how I'm going to do it."
Despite her concerns, Jones sees the surgery as the right step toward self-care. "I am taking my life back," she said. "I hope we can talk six weeks from now and I hope I sound amazing."
Fans of Jones are sure to be eagerly awaiting her return on Today!