'Today Show': Dylan Dreyer Is Pregnant With 3rd Child and Reveals Gender
The Today Show team continues to add to its family. Meteorologist Dylan Dreyer just creatively announced she and husband Brian Fichera are expecting baby number three in November, joining big brothers Calvin, 4, and Oliver, 1 1/2. Dreyer also shared the gender of her upcoming arrival with her Today Show team and viewers.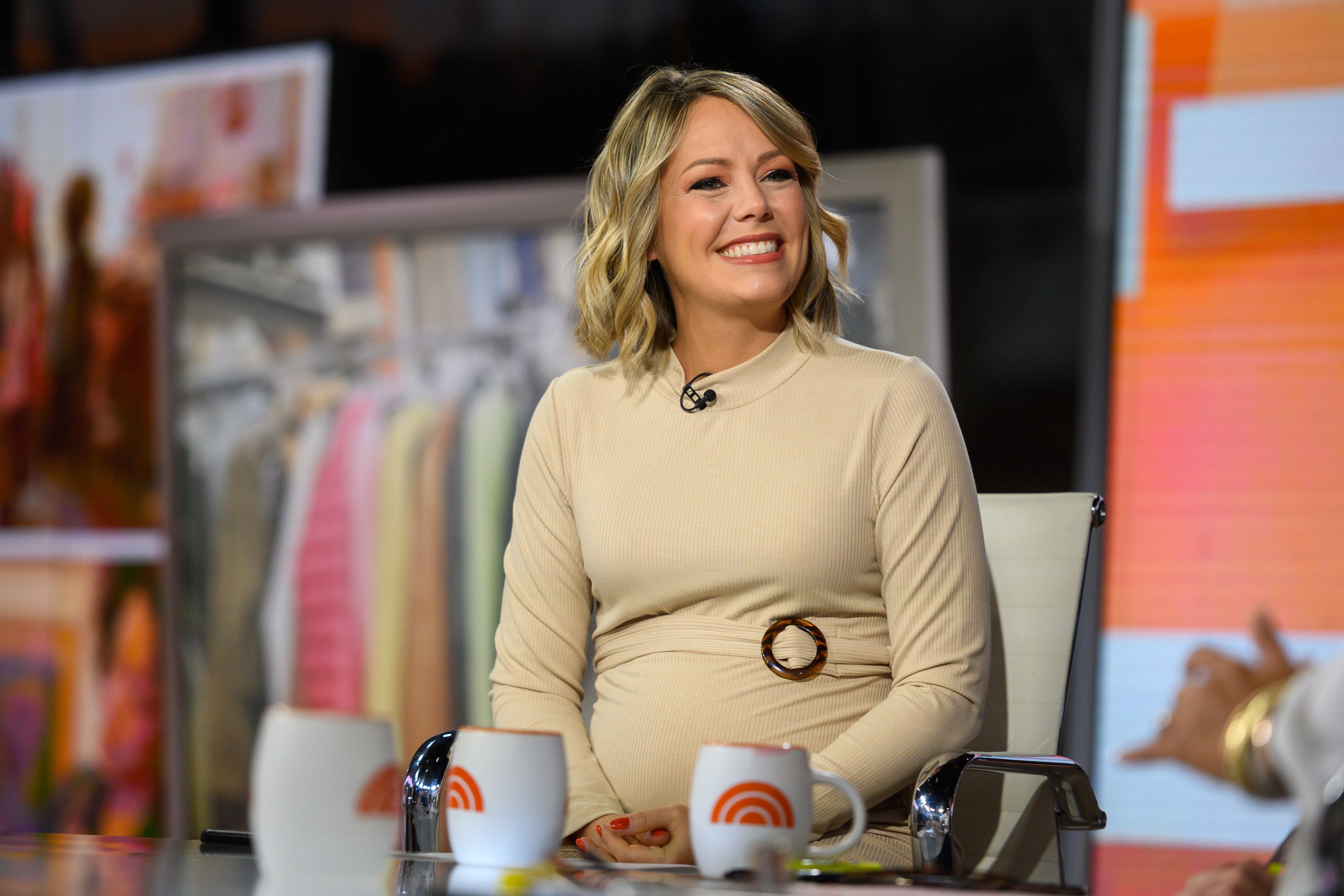 Dylan Dreyer's cinnamon bun segment broke the news
Dreyer has been creating some culinary content with her firstborn for the Today Show in a segment called "Cooking with Cal". During Tuesday's recipe, the mom-and-son team were ironically making cinnamon buns, with Dryer wearing a shirt that said "Mama".
"Should we check out this bun in the oven?" Dreyer asked Calvin, then patted her expectant belly as she tasted the rolls saying, "Mmmmm, baby."
Through a mouthful of cinnamon roll, Calvin gave his own headline to the story, announcing, "Mommy's having a baby!"
'Today Show' co-hosts shared their surprise and joy
Though the co-hosts at the Today Show table have quite a bond, apparently Dreyer has kept this pregnancy under wraps until now. Her Today colleagues expressed their surprise, as well as some suspicions, on her news.
"I can't believe it!" Savannah Guthrie said. "I was stunned," Craig Melvin admitted.
RELATED: 'Today Show's' Dylan Dreyer Welcomes Second Child
Co-anchor Hoda Kotb revealed she did a double take when she saw Dreyer a few days ago, and began wondering if she was hiding some big news.
"I actually saw Dylan over the weekend because we're neighbors on the weekend, and I had a couple of side eyes," Kotb explained. "I was like, 'Is something happening?'"
Dylan Dreyer and Brian Fichera were also surprised by the baby news
Dreyer shared how she and Fichera had planned on eventually having a family after tying the knot, then soon discovered the joy children bring after having their sons.
"When we first got married, we thought maybe one day we'd have kids," Dreyer explained, according to Today.com. "But then we became obsessed with them… You just realize they're the best things in the world."
Revealing that they had tried for six months for a third child with no results, Dreyer and Fichera had accepted that that they would remain a family of four. Their plans changed once again when they found out Dreyer is pregnant with another baby boy.
"We really enjoy having kids," Dreyer gushed. "Calvin and Ollie, they're so much fun. And we're like, 'Let's try for a third.' And it wasn't happening so we said, 'Let's forget it, let's move on.' And then, of course, surprise!"
'Today Show' star shared her story of secondary infertility
Dreyer had openly discussed dealing with secondary infertility in 2019, when the couple wanted to give Calvin a sibling. The Today co-host shared the emotions she was experiencing through the challenging time.
RELATED: 'Today Show's' Dylan Dreyer Shares Feelings on Pregnancy After Miscarriage
"A part of me feels a little mad at my body for not being able to do this naturally, but that's why we have amazing doctors and that's why I've got a great support system," Dreyer said, also revealing she had a miscarriage in April 2019. "God has a plan and I pray every night, 'Just let me stay out of your way and do what is best for us.'"
The couple had planned on pursuing in vitro fertilization (IVF), then discovered she was pregnant with Oliver and shared her good news in July 2019.
Now expecting their third son, Dreyer is fine with having a houseful of boys. "It's fun to add another boy to the mix!" she said. "I don't have to add any toys!"