'Today Show:' Former Co-Host Kathie Lee Gifford Reveals When She and Hoda Kotb 'Started to Click'
Former Today Show co-host Kathie Lee Gifford has been off the air for a little over a year as she builds her new home in Nashville, Tennessee. With a packed schedule of several writing, directing, and music projects, Gifford just celebrated her daughter Cassidy's nuptials and is getting ready for her son's upcoming wedding.
Bringing in massive ratings during her tenure on Today, Gifford's close bond with co-host Hoda Kotb remains despite no longer working together. The television personality recalled how the two first began to hit it off and create their infamous chemistry when she joined the show in 2008.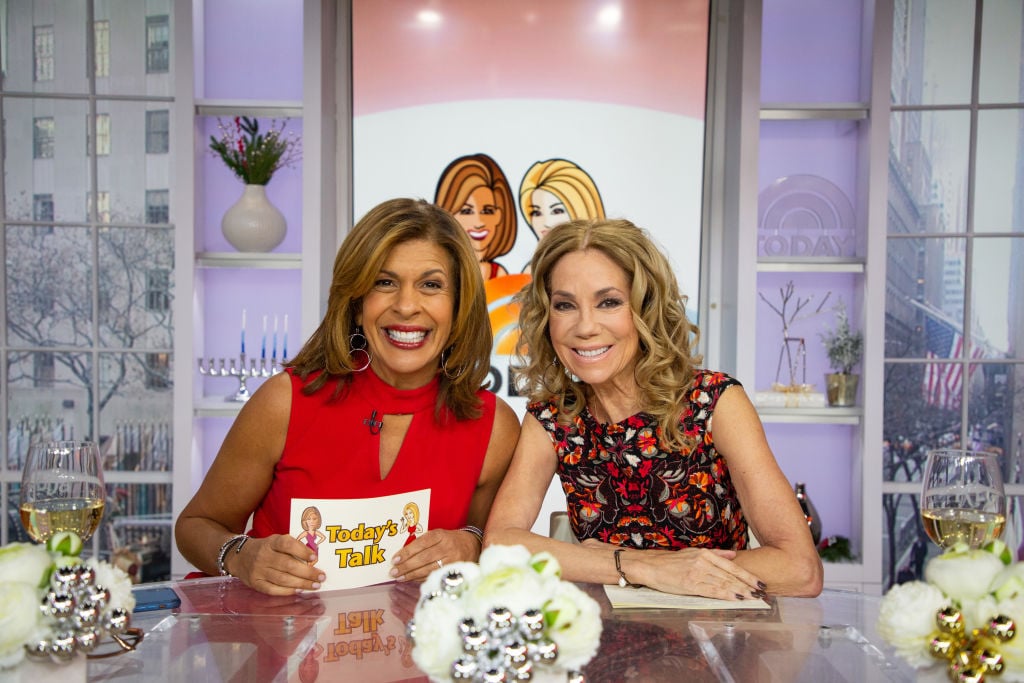 Former 'Today' star praises Hoda Kotb
Gifford recently gave a shout out to her former colleague for manning the news desk during the coronavirus crisis. With most of her co-hosts reporting from home during the pandemic, Kotb has been holding down the fort at 30 Rock.
"I was FaceTiming with Hoda just the other morning around 6 in the morning. She hadn't gone on air yet," Gifford told E! News last month. "She's the only person in Studio 1A."
Recalling the set as always bustling with activity, Gifford felt compassion for Kotb having to go it alone. "It just buzzed constantly with excitement and people and energy," she recalled of her former workplace. "I just thought 'Oh my gosh, I feel so bad.' I feel like I'm letting Hoda down, although Jenna's [Bush Hager] there, but she's at home with her children."
RELATED: Kathie Lee Gifford Pays a Visit to Hoda and Jenna on 'Today'
The former NBC co-host feels that Kotb should get official recognition for her work during this unprecedented time. "Hoda decided to be there in the studio," Gifford said. "And if they don't give her a doggone Emmy from what she's done… Nobody's ever deserved it more than that woman deserves it this past six weeks."
Kathie Lee Gifford stayed longer than she planned
Gifford joined the Today team in 2008 as part of the show's fourth hour program with Kotb. When the former Live With Regis and Kathie Lee star signed on, she hadn't intended on staying very long.
"I came for a year. I fell in love with my Egyptian goddess," Gifford said of Kotb in 2019, according to the Hollywood Reporter. "Then I stayed another year because I was starting to fall in love with the people over there. They're just so amazing. And it's 11 years later. It's literally time. I have so many things that I'm working on."
After her final show in April 2019, Gifford began pursuing projects she had previously put on the shelf and setting down roots in Nashville. Despite her long tenure on television, there are some things Gifford does not miss about going on the air.
RELATED: Kathie Lee Gifford Made This Life Change To Overcome 'Crippling Loneliness'
"I used to get glammed up every single day for the show, and I've got to tell you, it is a joy not to have to do that," Gifford told D Magazine in October. "Most of the time I'm either writing, editing, or I'm in the studio, or I'm actually in Israel directing films now. So none of that requires Spanx or high heels, thankfully."
Chemistry ignites for Kathie Lee and Hoda
Over their decade-plus together, Gifford and Kotb's chemistry became legend and the main reason for the show's huge ratings. Yet Gifford shared that Kotb was at first a stickler on being able to stay in contact with the control room.
"Privately, nobody's more fun, but Hoda was an award-winning journalist," Gifford told TVLine of Kotb in 2019. "It was months before she could trust her instincts enough to get rid of her IFB [the earpiece connected to the director]. It's so phony — I refuse to wear one."
Thanks to a particularly blustery day early in their partnership, Kotb made the leap and ditched the hearing device which ultimately led to greater authenticity between the two co-hosts.
'Today Show:' Hoda Kotb and Jenna Bush Hager Talk About Their First Jobs After Graduating College
"We were out on the plaza in April. It was frickin' freezing and the wind was blowing," Gifford recalled. "The wind ended up being our friend because one day all of the cards blew away and I said, 'It's a miracle!' She got rid of the IFB, and that's when we started to click. Now she's a master at it."
Though Gifford is no longer on the show and Jenna Bush Hager has taken over her spot, the former Today star still visits her Kotb on set so viewers can get their fix of the two pals in action.