'Today Show:' Hoda Kotb and Jenna Bush Hager Talk About Their First Jobs After Graduating College
Hoda Kotb and Jenna Bush Hager of the Today Show continue to bring positive vibes to the morning news program's fourth hour amidst the coronavirus crisis. The co-hosts have incorporated a segment entitled "Hoda & Jenna Unscripted" where they discuss aspects of their lives and take questions from viewers.
The Today with Hoda & Jenna stars recently shared their first professional experiences when a fan asked what job they landed after earning a college degree.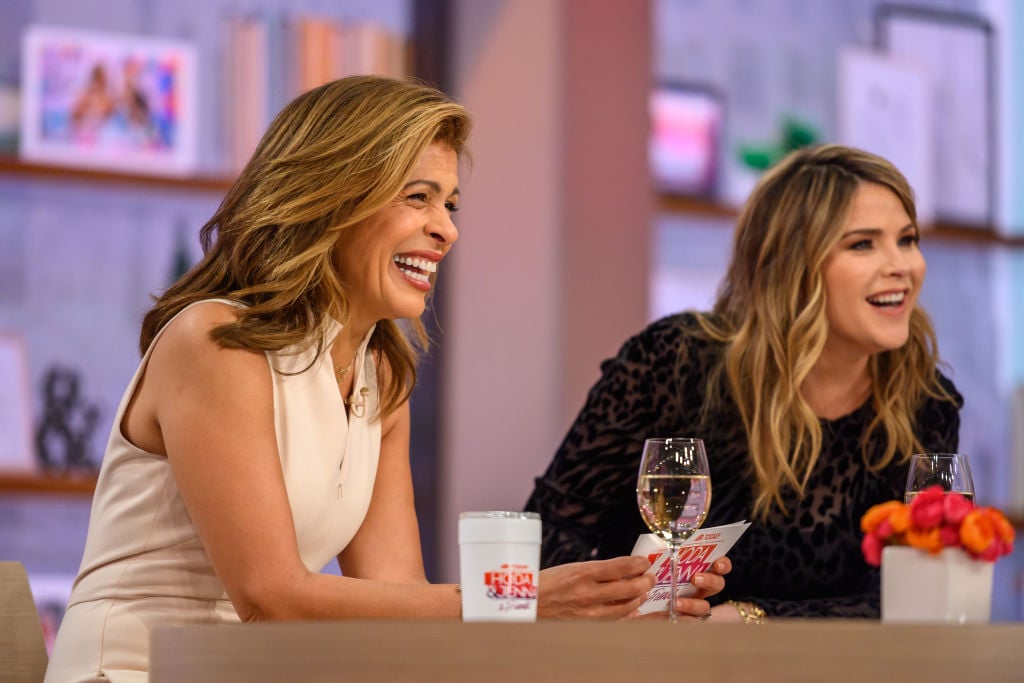 Hoda Kotb's initial news gig
Hager first posed the viewer question to Kotb, where she revealed that her first job was in the south. "I worked in this small television station, WXVT News Center 15 in Greenville, Mississippi, ok?" Kotb said in her best southern drawl, according to Today.com.
"Did you always know you wanted to do this?" Hager asked.
"I kind of did … but that job didn't come easy," Kotb explained. "That job came after, like, 27 – I counted – rejections, so that was the first guy that hired me."
Kotb previously shared her story of pounding the pavement looking for employment but coming up empty, until she happened upon the local news station.
"You know, the whole God gives you a sign — I literally got lost in Mississippi because I was listening to James Taylor and sad and driving aimlessly, and I saw a physical sign that said, 'Greenville, Mississippi, Our eye is on you,' " she shared, according to CNBC. "It had like a CBS eye. News center 15, WXVT. I said, 'I'm gonna go there and get rejected.' "
Yet news director Stan Sandroni could tell Kotb was destined for greatness. "I like what I see," he said after watching her tape and gave her a job.
The experience taught Kotb a lesson she holds onto even now. "It just reminded me that you just need one person to love you," she said. "You don't need everybody."
Jenna Bush Hager hit the campaign trail
Hager shared that she started as an educator but ended up hitting the road with her father, former President George W. Bush, when he was running for office.
"I was a teacher. I taught third grade," the Today star recalled. "I also worked for my dad's campaign. I just toured around and talked about how much I loved him."
Hager revealed that a dream she had when she was a college senior prompted her to join the campaign and to recruit her twin sister Barbara as well.
"I thought, he's done everything for Barbara and me, and we have to offer to help him," Hager explained. "I called my sister and she said 'Absolutely.' We weren't speaking policy – we were just talking about the kind of dad he was. Even though I'm not even that active in politics, I would never take those months back because I got to travel around the country and meet so many people and I got to be with him."
Kotb was clearly touched by Hager's comments. "Ok, that' s the perfect place to end this entire discussion," she said with a smile. "I love that."
Former First Daughters didn't live in the White House
In a previous episode of Watch What Happens Live with Andy Cohen, Hager revealed that people have can have misconceptions regarding a Commander in Chief's children.
During her father's presidential tenure, the Today co-host was at the University of Texas while her sister Barbara lived at Yale. "We didn't live in the White House," Hager said. "People will always be like, 'What was it like there?' I was in college, so I lived in Austin."
The mom of three admitted that she wasn't sure of the impression she has on people, but always aims to be authentic. "It's hard to tell what people think about me, but I think probably maybe that I'm not a hard worker," Hager said. "I try to fight against that a little."
Watch Today with Hoda & Jenna weekday mornings!