'Today Show': Hoda Kotb Shared the 'Great Advice' She Got from 'Cool Friend' Savannah Guthrie
Hoda Kotb and Savannah Guthrie of the 'Today Show' were recently honored at the Broadcasting and Cable Hall of Fame and Kotb revealed some inspiring words from her co-host.
Savannah Guthrie and Hoda Kotb were recently honored with an induction into the Broadcasting and Cable Hall of Fame. The Today Show anchors are a dynamic duo at the news desk and also have a close friendship off camera. In her acceptance speech, Kotb revealed some words of wisdom she received from Guthrie that inspired her to take some leaps of faith.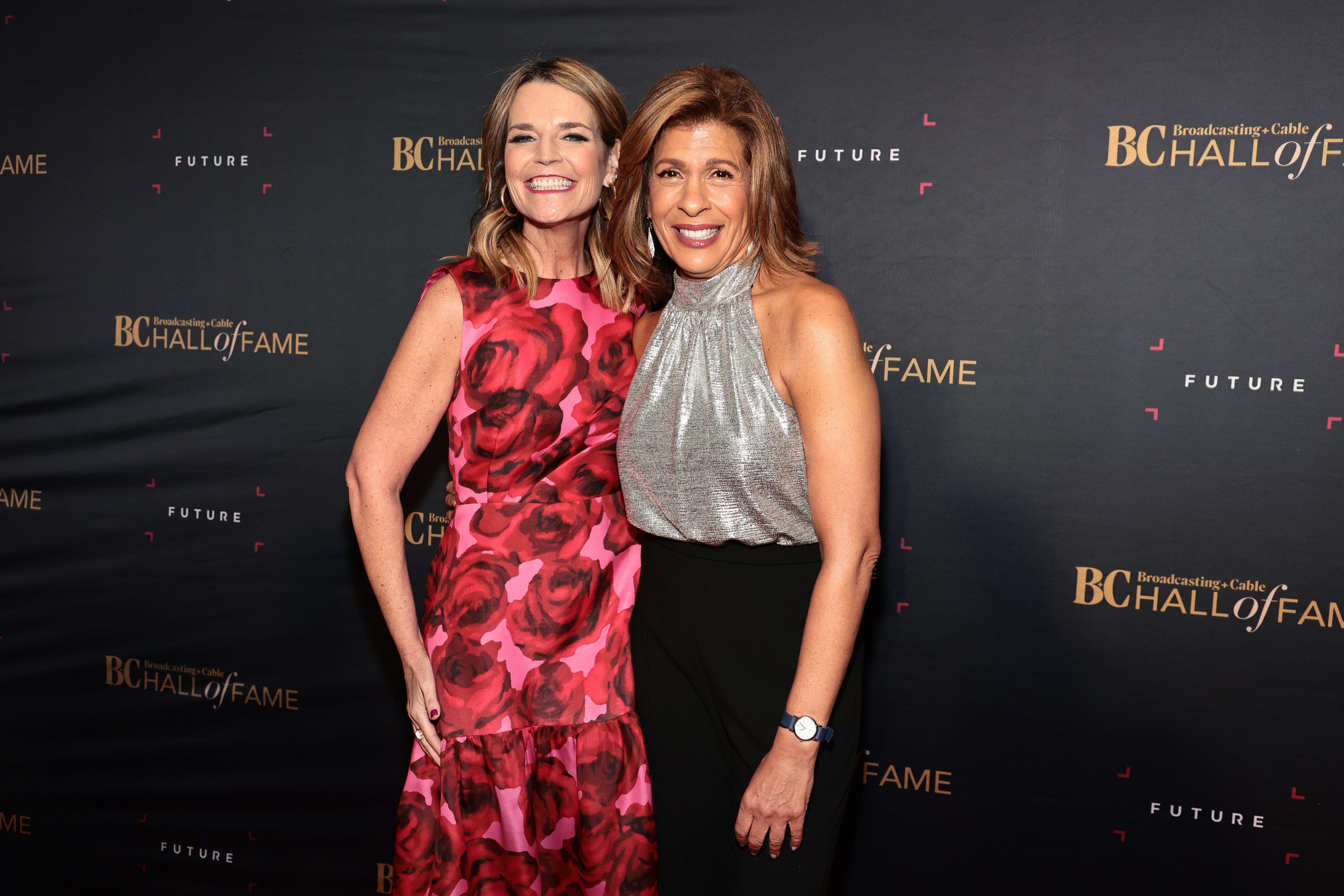 Hoda Kotb encouraged women to realize their worth
Kotb was named co-anchor on the Today Show in 2018 while she was also hosting the morning news program's fourth hour with Kathie Lee Gifford. The Dateline alum now pulls double duty alongside Guthrie and with Jenna Bush Hager on Today with Hoda & Jenna. Kotb spoke at the honorary ceremony and shared some words of encouragement to the women in the audience.
"We need to know our worth," Kotb said, according to Today.com. "And when I speak about not knowing your worth, I'm kind of speaking to myself, too."
Kotb recently announced her split from fiancé Joel Schiffman, though they continue to co-parent their two daughters, Haley, 5, and Hope, 3. In her speech, the Today star revealed her own feelings of self-doubt in her career as well as her personal life.
"I've spent a lot of my career thinking I didn't deserve all the things I got, even after I worked so hard," she admitted. "I didn't think I deserve to work at Dateline or sit with Kathie Lee, and certainly not the Today Show. I didn't even know if I deserved to have a family of my own."
'Today' star gave shout out to Savannah Guthrie
The NBC journalist described Guthrie in her speech as a dear friend rather than simply her Today Show colleague.
"This cool friend of mine, this great friend of mine gave me some great advice," Kotb explained. "You might know her. She's right there. Her name is Savannah Guthrie. She said this: If you have a wish, or if you have a hope, or if you have a dream, say it out loud."
Kotb encouraged those in the audience to take bold steps in order to pursue their dreams, and to never underestimate their worth.
"Ask for what you want," Kotb emphasized. "Ask for the raise, ask for the promotion, ask for the family. Even if it's just a whisper. I'm standing here and I am 57 years old. I have two daughters. And I get to sit with the incomparable Savannah Guthrie. I am grateful to be inducted into the Broadcasting & Cable Hall of Fame and this award is to all the women who felt not worthy you are worth it. And so am I."
Savannah Guthrie gave props to Hoda Kotb
Guthrie also shared her thoughts at the podium during the induction and reflected on the ups and downs of broadcast journalism. She made a point to praise her Today co-host in her speech.
"This is a funny business," Guthrie remarked. "It thrills you and it challenges you and sometimes it breaks your confidence and sometimes it breaks your heart. I wouldn't trade it for anything… To Hoda, especially, I would hold hands and close my eyes and go anywhere with you. And I am so glad that here is where we are tonight."