'Today Show:' Who is Craig Melvin's Wife?
Craig Melvin of the "Today Show" isn't the only one in his family with media credits!
The Today Show is taking some precautionary measures during the current coronavirus crisis. After being exposed to a colleague who works on the 3rd hour of Today that was diagnosed with COVID-19, co-hosts Al Roker and Craig Melvin have chosen to self-quarantine to err on the side of caution. Fellow co-host Dylan Dreyer has been out on maternity leave, and Sheneille Jones is still on a leave of absence due to vocal cord surgery.
Now hunkering down with his family, Melvin is trying to make the most out of the extended time at home with his wife and two kids. Few may realize that Melvin's wife has her own claim to fame in the media space.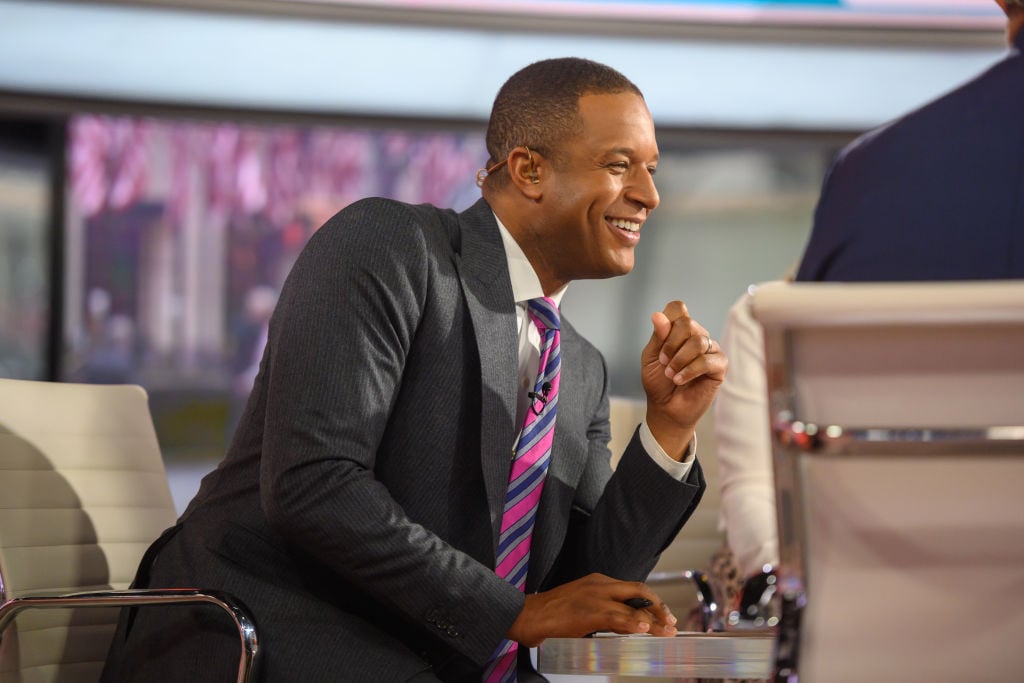 Melvin meets his future wife
Prior to his gigs at MSNBC and the Today Show, Melvin worked at WRC-TV in Washington D.C. as an NBC4 anchor. In 2008, he met sports journalist Lindsay Czarniak when she returned to the station after covering the Beijing Olympics, according to Good Housekeeping.
The couple found plenty of common ground between their penchant for live music and Whatchamacallit candy bars. Though they tried to keep their relationship under wraps from their colleagues, they eventually went public after a few months and wed in 2011.

Czarniak's career
After working as a Sportscenter anchor for ESPN for from 2011 to 2017, Czarniak took some time off to spend more time with their two kids. Welcoming son Delano in 2014 followed by daughter Sybil in 2016, Czarniak took some freelance gigs while focusing on her family until recently signing on with Fox Sports as a host of NASCAR Race Hub and a sideline reporter for Fox NFL. The sports journalist previously commented on leaving her career for awhile to be there for her kids.
"Once I got over my freakout factor of staying relevant, I think I just kind of let myself let it go," Czarniak told the Washington Post in February 2019. "I just realized something great is going to come from all of this and you just have to listen to yourself. I have loved the time I've had to spend with my kids and I'm definitely still keeping that in the forefront because I realize how fast that goes. This has been such a blessing."
Racing has always been a passion of Czarniak, beginning in 2003 when she was hired by the Speed Channel to interview fans at a Dale Earnhardt tribute concert. Now with her role at Fox Sports, the former ESPN star is relishing being a reporter in the race space.
"It has truly been a thread throughout my entire career and was so unexpected," Czarniak said of landing the Fox Sports gig. "This is really not where I thought I would be, but I'm literally overwhelmed with gratitude because it makes so much sense . . . The way I feel when I'm around racing is unlike the way I feel when I'm other places. I love talking about this sport. This is what's going to make me happy."
Making decisions as a family
Melvin and Czarniak clearly hold family as a priority. Wanting to include their kids as part of some family decisions, the couple shared how Delano (or 'Del,' as they call him) inadvertently helped pick a name when his mom was expecting his baby sister.
"For a while, we would point to Mommy's belly and he would say, 'No baby, no baby, no baby,' " Melvin told People in 2016. "Now it's, 'Aw, baby.' I think he's okay with the concept."
The couple came up with the nickname of 'Sibby' – as in 'sibling' – for their son to call his sister and start the bonding process. The name stuck, so while they officially named her Sybil, she still goes by Sibby.
Despite the circumstances, Melvin and Czarnack seem to be making the most of their enforced 'family time' while it lasts!