'Today Show': Why Jenna Bush Hager Had 'Survivor's Guilt' During Her Third Pregnancy
Jenna Bush Hager of the Today Show recently celebrated her son Hal's first birthday. Announcing in April 2019 that she was expecting her third child, Hager was concerned about the timing of her baby news. Her new gig as Kathie Lee Gifford's replacement next to Hoda Kotb on Today's fourth hour had literally just begun.
The NBC television personality also realized the announcement could possibly stir up the emotions of others very close to her.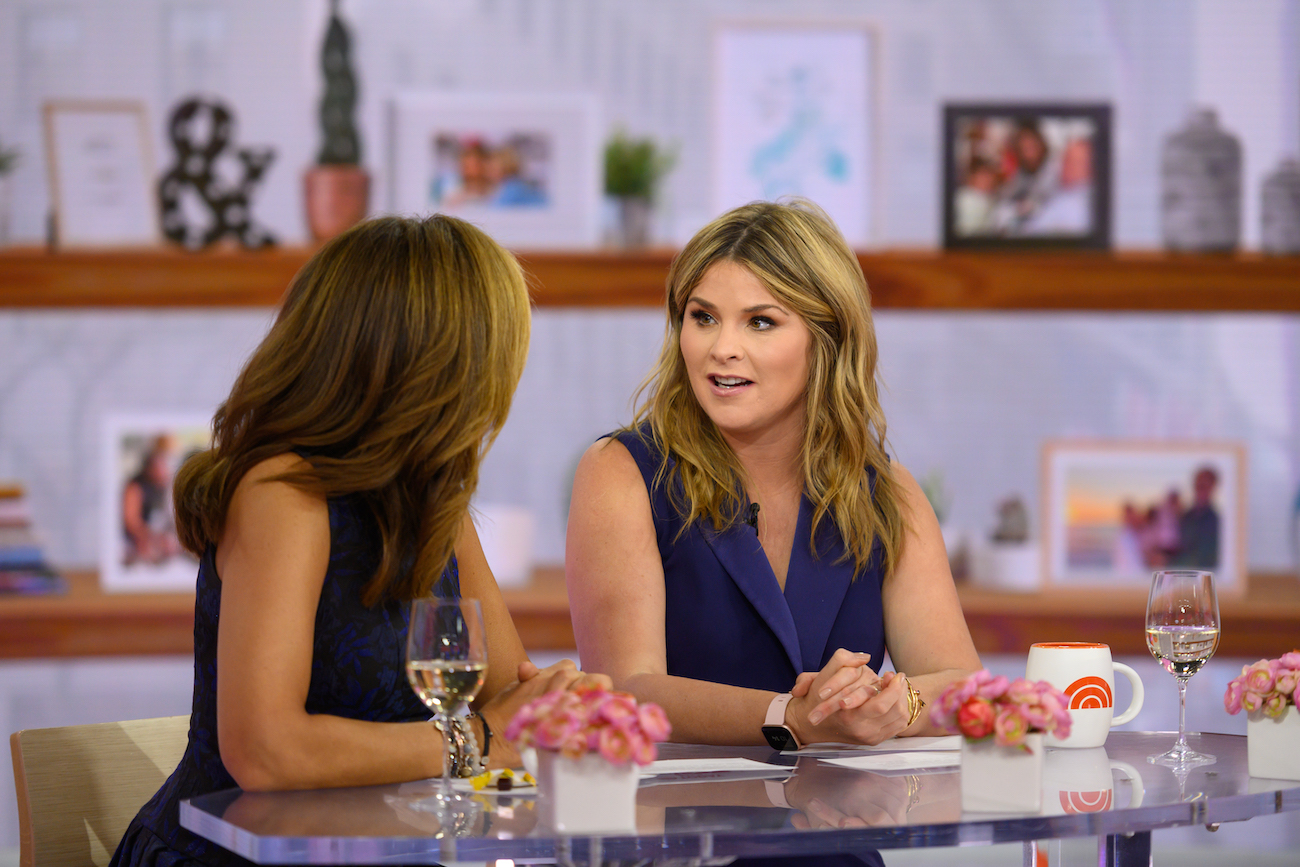 Jenna Bush Hager describes pregnancy journey in new book
The Today star recently released her latest book about experiencing the loss of her three grandparents within one year. Hager also discusses her surprise when she discovered she was pregnant with her third child. Her family history of infertility had been an issue in the past.
"Henry and I had no plans to have more children. It wasn't even physically likely," Hager wrote in Everything Beautiful in Its Time: Seasons of Love and Loss, according to People. "Infertility runs in my family, and it was not easy to conceive Poppy. Now I was three years older, two years into what's termed — rather insultingly, I've always thought — advanced maternal age." 
Hager also revealed that romance with her husband Henry was often an obstacle due to busy schedules and her two young daughters Mila and Poppy often under foot.
"What's more, Henry and I, like many parents of young children, struggle to find time to be … intimate," she shared. "If we were to have another baby, it would have to be an immaculate conception."
Hoda Kotb shares her co-host's joy
Hager found out she was pregnant right around the time she was named Kotb's new co-host. Though she knew her employers were supportive, Hager was concerned about how the news would be received.
"I didn't think it would change things," Bush Hager wrote. "I couldn't imagine them taking the offer back. But what if they did?"
The Today star knew Kotb was dealing with the adoption process in the hopes of giving her daughter Haley Joy a sibling. Hager wanted to be sensitive to how her co-host was feeling.
"I fretted over how to do it," Hager wrote. "She'd worked hard to adopt her baby, Haley Joy, and she desperately wanted Haley to have a baby sister."
The mom of three soon realized she had no need to worry. "I went and I sat across from Hoda and I told her, and she wept with tears of joy for me," Hager recalled, as reported by Entertainment Tonight. "Not long after she got her baby."
Hager revisited the conversation with Kotb in a recent Today segment. "I was worried about your response, and you were so happy for me," she said to Kotb, adding, "I just want to thank you for sitting by me through all this time."
Jenna Bush Hager considers feelings of family and friends
In her book, the Today anchor shared that she had many friends trying to have a child around the time she discovered she was pregnant with baby Hal. She struggled with feelings of guilt.
"I knew I should have felt joy, but my first feeling was a surge of survivor's guilt," Hager wrote. "Many of my friends were struggling with infertility. How would they take the news that I was going to have a surprise baby?"
Her twin sister Barbara had recently gotten married and Hager was concerned her baby news would bring up some emotions if Barbara was trying to conceive. Her dad, former President George H.W. Bush, also considered Barbara's feelings.
"They were delighted, but the first thing my father said was, 'Have you told Barbara?'" Hager recalled. "I knew my father was worried that Barbara, newly married, would likely be trying soon for a baby if she wasn't already. … They thought that if Barbara was trying, she might understandably envy my pregnancy."
Hager's mother, former First Lady Laura Bush, helped put things in perspective.
"My mom always says everybody gets their baby when they're supposed to," the Today personality told Entertainment Tonight. "And Hoda has a little girl (Hope Catherine) and I had Hal after. So who knew, but just everything is supposed to happen when it's supposed to happen."