'Today Show's' Carson Daly Cuts His Hair on the Air With the Help of Jennifer Lopez's Stylist
Carson Daly of the Today Show and wife Siri are enjoying their time at home with their newborn daughter Goldie Patricia, whom they welcomed on March 26. Now on paternity leave and also under quarantine with Siri and their four kids due to the coronavirus crisis, Daly decided to take matters into his own hands on a very hairy issue.
Carson's out of control coif
Calling in via video to his Today Show family, Daly told co-hosts Hoda Kotb, Savannah Guthrie, Craig Melvin, and Al Roker that he wanted to shed his shaggy look. With the nation under lockdown and all hair salons and barber shops closed, the father of four knew he had to take action before his mane became unmanageable.
"I've literally ONLY been focused on 3 things. The well being of my amazing wife, our newborn & my other 3 small kids," he posted on Instagram along with a selfie highlighting his bushy locks. "But for the life of me I can't figure out how a dog & a lawn can legally get a haircut before me. I'm turning into Michael Landon. (Google it kids) Hope you're all hanging in there! God bless."
J.Lo's stylist calls in to assist
Before Daly got busy with the buzz cutters, Guthrie told him that he would have some professional guidance from Chris Appleton, stylist to celebs including Jennifer Lopez, Jennifer Aniston, and Christina Aguilera. Though unfortunately for Daly, there was a slight technical glitch.
"The good news, Carson, is Chris Appleton is joining," Guthrie told Daly, according to Entertainment Tonight. "The bad news, Carson, is that his shot went down because he's working from home. So he's not going to be able to show you how to cut your hair, but he's on the phone and he's gonna tell you."
"Well, it's a good thing I don't work in television or anything. This is gonna be fine!" Daly joked. 
Getting into position with his homemade hairdresser's cape around his shoulders, Daly picked up his buzz cutters and listened closely to Appleton's instructions. "Do not follow the shape of your head," the celebrity stylist advised. "You need to stop at the temple area. That's how you're going to keep a shape."
With his co-hosts each watching from their remote locations, Daly asked if what he was doing was working. "Oh, it's working!" they replied, watching his hair get shaved away.
Daly recruited his 11-year-old son Jackson to help him get the back of his hair. When it came time to do the top, The Voice emcee had an idea.
"Chris, what if I do this thing where I take the bangs and brush them straight down and I attempt to go across?" Daly suggested to Appleton. "Is that a bad idea?"
"Yeah, really bad," Appleton emphatically replied, prompting laughter from the Today co-hosts. 
Daly makes us do a double take
Since there wasn't time to see Daly finish his barbering on the air, he told viewers to visit his Instagram account to check out the finished product. Captioning a pic of himself with Jackson, it looked like the Today co-host may have gone too far.
"Here's the final product! I think we did pretty good! 😂Thanks to @chrisappleton1 for walking my son & I thru the self haircutting process this am live on @todayshow 😳" he posted.
Ever the prankster, Daly doctored the photo to show himself completely bald, yet for awhile let his followers believed her really decided to go sans hair. The true results were actually quite impressive, with Daly modeling his newly cut coif with Jackson.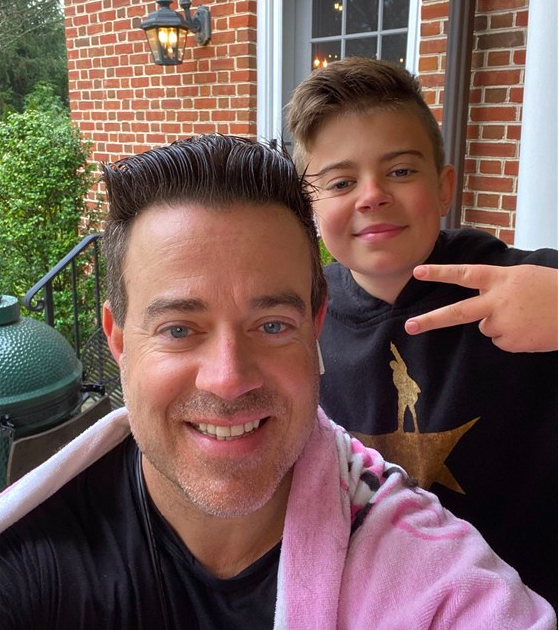 Daly may have another career option in sight!