'Today Show's' Hoda Kotb Praises Al Roker on His Special Bond With Son Nick
Al Roker of the Today Show has been a fixture on NBC for over 20 years, according to Today.com. Serving as co-host, feature reporter, and weather man, his versatility and down-to-earth nature make him a true crowd-pleaser.
Roker often tells sweet stories of his family – wife Deborah Roberts of ABC News, and children Courtney (from a previous marriage), Leila, and Nicholas. The weather man recently had an on-air conversation with co-host Hoda Kotb about the challenges of raising a special needs son, and this trait he hopes to improve on.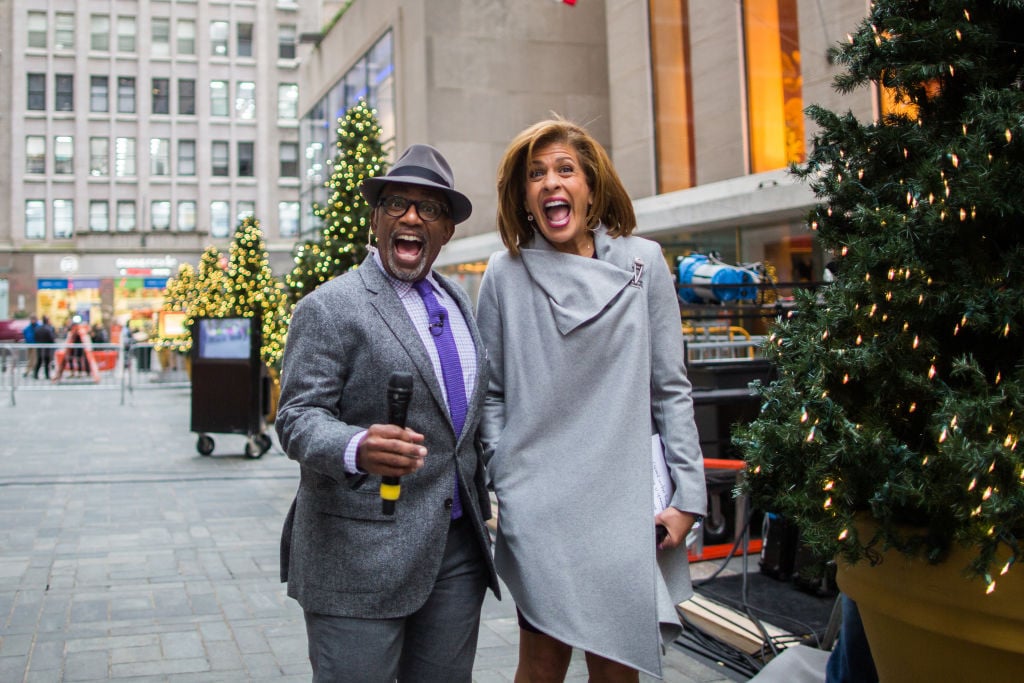 Concerned parents
Roker's son Nicholas was born in July 2002. Over time, Roker and Roberts noticed that their son wasn't hitting certain milestones in his development. "We knew right from the beginning that he would be up against a whole different set of challenges," Roker wrote in Guideposts in April. "He wasn't developing as fast as he should have, not holding our fingers as tightly, not always meeting our gaze, not as quick to crawl. At three, he hardly talked and could barely walk."
The realization that something was amiss in their son's progress was almost paralyzing to the couple. "When you're parents and there's something not right with your child, sometimes you can almost freeze, because it's so overwhelming," Roker said.
Despite seeing many doctors and specialists, Roker revealed that a concrete diagnosis was never given. "Now that he's 17, I can tell you that, yes, he's somewhere on the spectrum and maybe obsessive-compulsive. But those labels can be frustrating; they don't begin to describe who Nick really is," he wrote.

Compliments from his co-host
Roker and Kotb hosted the Rose Parade in California together on New Year's Day, where Kotb got to see her colleague in 'dad mode.' Last Thursday on the fourth hour of Today, she commented on how special it was to her and fiancé Joel Schiffman to personally witness the strong father-son bond Roker has with Nick.
"Watching Nick rest his head on your shoulder may be one of the most beautiful sights that I have ever seen," Kotb told Roker, according to Today.com. "Joel and I often talk about you and your son because he's an incredible kid. We've watched him grow over the years. He has an issue that he deals with, and you guys have figured (it) out."
In Roker's trademark humor, he responded, "You saw me on a good day!"
Goals for 2020
In his Guideposts article, Roker shared that raising a child with special needs could require going the extra mile at times. "Do I get frustrated with my son sometimes? You bet," he wrote. "But then I remember my dad, how understanding he was. And Deborah reminds me that I have to show my son not only that I love him but that I like him as well. More than that, I admire him."
The Today Show co-host revealed that one of his goals for the new year is to have more patience, especially after a long work week where he says he can "tend to be a little short with Nick… As a lot of parents (know) who have kids with special needs, they can try your patience," Roker said. "Not that they mean to or anything like that."
The greatest motivation for Roker to be the best dad possible is his son. "The thing I love about him [Nick], that I admire about him, is that he just kind of attacks it head-on," Roker said on Thursday. "He's very goal-oriented, and he's a great kid… I look at him and all that he does, and I want to be a better person for him."
No wonder why fans adore Al Roker!