'Today Show's' Jenna Bush Hager Announces Her October Book Club Pick From Maternity Leave
NBC's Today With Hoda and Jenna has been playing musical chairs at the host desk over the past few months. With Hoda Kotb just returning from maternity leave earlier this month just as Jenna Bush Hager was leaving in late August for the birth of her son Henry 'Hal,' the morning show has had several guest hosts filling in such as Maria Shriver, Andy Cohen, and Meredith Viera.
Though Hager remains out on leave tending to her newborn, as well as her two daughters Mila and Poppy, the Today host is still on the job. This morning she announced her October selection for her wildly popular book club, Read With Jenna.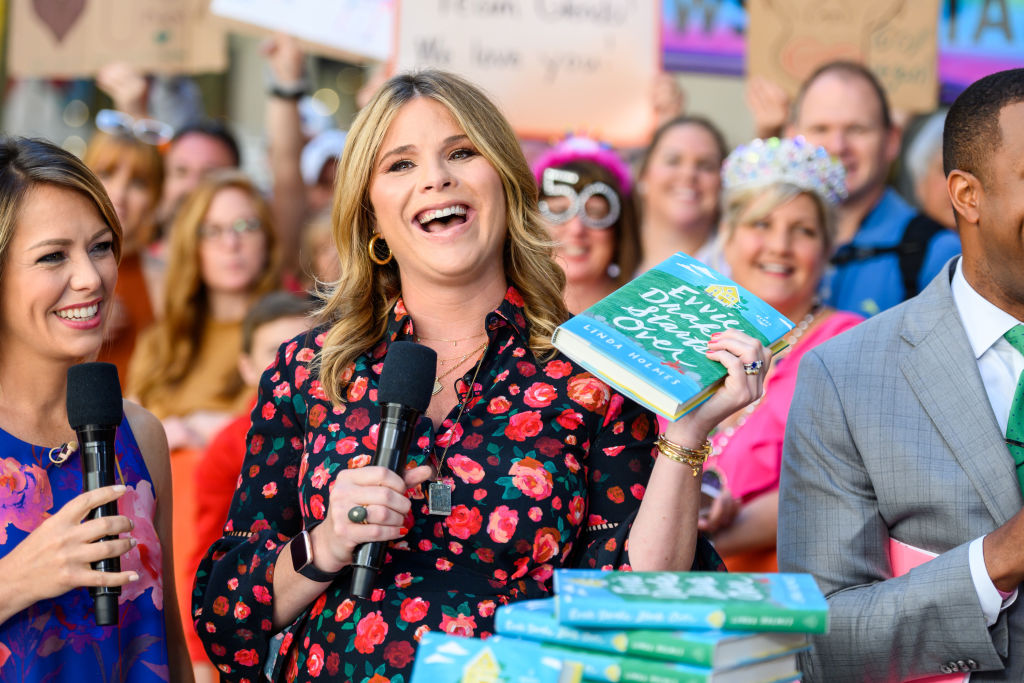 Reigning 'Book Club' queen
Hager launched Read With Jenna in March and has since been lauded as the new 'book club queen,' who is "demonstrating an individual power not seen since Oprah's glory days" in the literary club arena, according to Entertainment Weekly. 
Her selections have propelled aspiring authors to the top of the best sellers' list, making an impact on book sales. NPR reported that Hager's first five choices of books shot ahead of their literary competitors. "We've seen these books overperform about 500% compared to the rest of the market for fiction during that time. So that's a very healthy performance," Kristen McLean of NPD BookScan said of Hager's picks.
October's selection
Hager announced her pick for October from maternity leave via video. Her choice for this month is "The Dutch House" by Ann Patchett. The plot is set over five decades and tracks the relationship of the book's main characters, Danny and Maeve, who are siblings. Coming from the perspective of Danny as narrator, the story begins with the siblings' father Cyril buying a property called The Dutch House, which inadvertently sets a series of unfortunate events onto his children.
The siblings revisit their old home after moving out, bringing back their memories of childhood. The Dutch House serves as a representation of the brother and sister's strong bond but also their difficulty in moving forward in their adult lives.
"What I kept coming back to in this book was Danny and Maeve's closeness, their bond, how they raise each other," Hager said, according to Today.com. "I thought it was a beautiful story of a relationship between brother and sister… There are moments of sadness. Danny and Maeve's childhood is filled with disappointment, but the love they find in each other is beautiful and hopeful."
The book is apparently a page-turner, where the journalist couldn't put it down even during nighttime feedings with her baby boy. "I read 'The Dutch House' right after I had Hal, and even in the middle of the night when I was feeding him I reached for this beauty of a book," Hager revealed.
Support from 'Today' team
While Hager is staying on top of her book club picks, no date has been set for her return to the show yet. Hager announced her pregnancy right after Kotb left for maternity leave. The book club founder had also just been named as the replacement for Kathie Lee Gifford on Today's fourth hour, making for some empty seats at the news desk. "Is the timing ideal? Not really. We are launching something new and I'll be taking maternity leave this fall. But it's not about that," Hager told People in May.
The Today co-host raved about the support of her co-workers, encouraging her to take the time she needed with her new family addition. "There was no hesitation when I told anybody at work. It is a beautiful journey for you and your family. And I know they feel the same way for Hoda," Hager said. "These decisions about expanding our families are personal … our work is wonderful and I'm thrilled with how our show is going. But it's really forward thinking."
If Hager's past book picks are any indicator, her October selection is sure to be a hit!