'Today Show's' Jenna Bush Hager Talks Being Cited for Underage Drinking and Her Dad's Unexpected Response
Jenna Bush Hager of the Today Show has become an established journalist over the years, starting on the iconic NBC news program in 2009. The mom of three is also well-known as the daughter of former President George W. Bush, who served in the Oval Office from 2000 to 2008.
With her father holding the highest office in the land, Bush Hager is no stranger to the spotlight and had some tumultuous times in her younger years splashed across the tabloids. She recently spoke on an incident that occurred in her late teen years and how her dad reacted to the situation.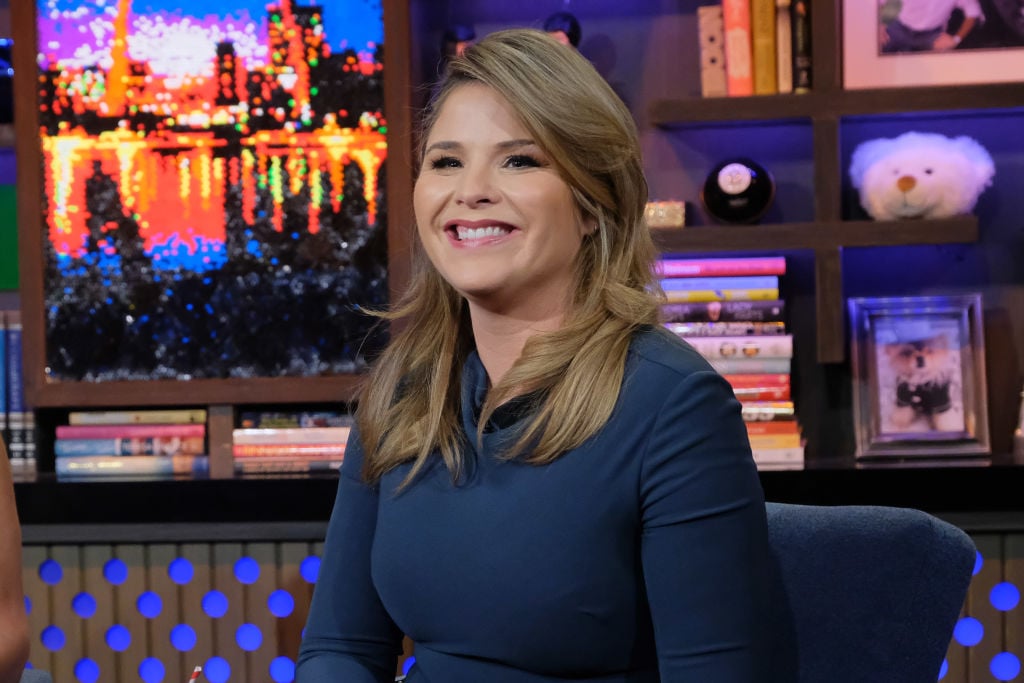 Hoping to follow her parents' example
Bush Hager welcomed her third child, son Henry 'Hal,' in August with her husband Henry. Her baby boy joined siblings Mila, 6, and Poppy, 4. Now with three kids in tow and a demanding career, the Today star tries to replicate what her parents did when she and twin sister Barbara were kids.
"In a time when probably a lot of dads weren't showing up, my dad showed up, and he helped because there was no choice," Bush Hager shared, as reported by USA Today, saying her mother and father "were equal parents." 
The NBC news co-host has often spoken of the support she gets from her dad, previously recalling a time when she was pregnant with her second daughter and feeling overwhelmed from juggling family and career.
"(My father) texted me this beautiful text that was like, 'Jen, mom told me you called and you're worried about this — that doesn't matter,"' Bush Hager said, according to Today. "'I promise you. What matters is what type of mom you are to Mila, and you're a fantastic one, about the baby you're growing in you, how you treat others, the people that love you.' I've gotten a lot of those texts and they feel good."
Bush Hager's personal mistake goes public
Earlier this week on Today With Hoda & Jenna, Bush Hager shared with co-host Hoda Kotb how she thinks it's important to allow your children to make mistakes. "I think it's the best gift we can give our children, is the chance to fail," she said, acknowledging that despite being under the scrutiny of the entire country, her parents gave her and her sister that freedom.
"While we were growing up, I for one had parents that let us fail, let us fall and publicly," Bush Hager said, according to Today.com. "And I always say to them now, 'How brave of you,' because it didn't reflect great on them, either."
In 2001, Bush Hager was cited for possession of alcohol as a minor and using a fake ID to purchase alcohol within a five-week span while she was a student at the University of Texas and her dad was the Commander-in-Chief. Only 19 years old at the time, Bush Hager's brush with the law made headlines across the country. The Today co-host vividly remembered the embarrassment of having to call her parents.
"The first time I had a public failure, I called my dad, and I was crying and I apologized to him," Bush Hager said. "I got a minor (misdemeanor) in possession of alcohol when I was 19. And I felt embarrassed, and I felt really badly for him because I thought this is going to make him look bad."
Surprising response from dad
Bush Hager went on to reveal that the 43rd president didn't respond how she expected.
"He apologized to me because what we wanted more than anything was to just be normal college kids," Bush Hager recalled. "So he always would say, 'No, you can be normal.' He also wanted to give us what we wanted, some space and to grow, and also I think he wanted to give us the chance to make mistakes, not so publicly."
Bush Hager's father ended up giving her an apology. "He said, 'I'm sorry. I promised you you could be normal, and this isn't normal,'" she said.
The NBC star previously shared how her dad decided to abstain from alcohol when she was in her early 20s at the urging of his wife, Laura. "He said, 'I just want you to know that there was a point in my life where I thought like this is interrupting what's beautiful,"' Bush Hager revealed. "He just knew that it was interrupting his dreams and interrupting his parenting. I always appreciated it, and I still do."
Now with three kids of her own, Bush Hager is hoping to follow in the positive footsteps of her parents.