'Today Show's' Jill Martin Shares This Daily Ritual She Learned From Kathie Lee Gifford
Jill Martin of the "Today Show" talks about keeping herself center despite a busy schedule.
Jill Martin of the Today Show has become a mainstay on the morning news program. With her "Steals and Deals" segment offering viewers prime products at a deep discount, Martin also serves as a covering co-host during the show's third and fourth hours and is a key part of the "Ambush Makeovers" team.
With her other gig on QVC and upcoming wedding, the Today contributor has a full plate. Thanks to former co-host Kathie Lee Gifford, Martin has learned how to center herself on a daily basis.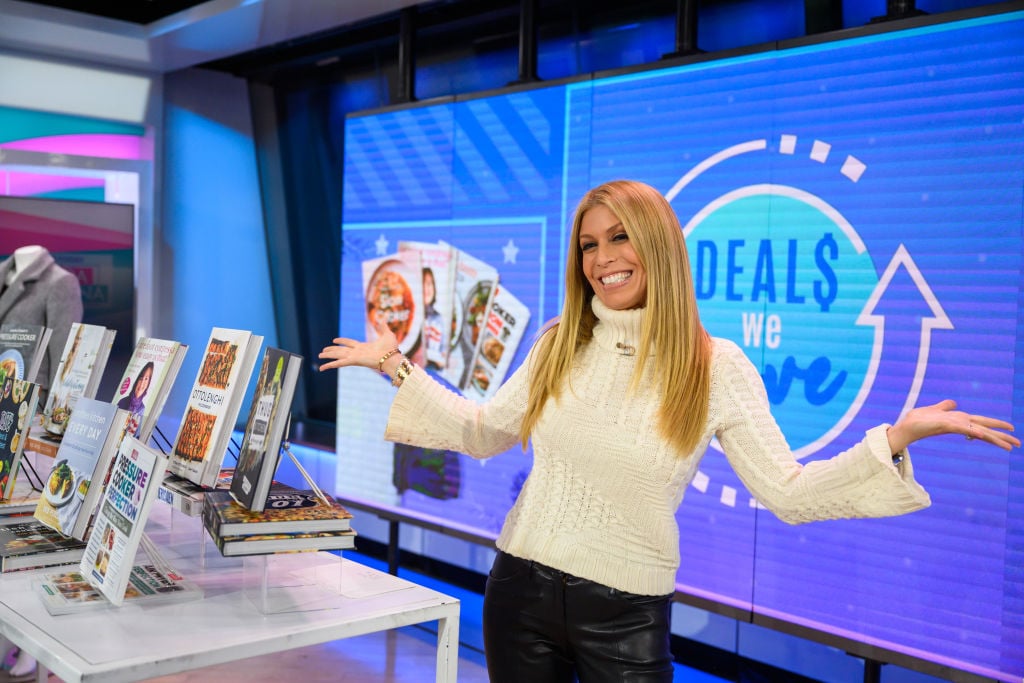 Controlled chaos
Martin has authored several books, including her New York Times bestseller "I Have Nothing to Wear," and several how-to's on keeping organized. When it comes to maintaining order, Martin chooses to minimize.
"I don't have a lot of stuff. I find the way to be clearer and more organized is just to not have as much stuff to organize," she told Parade in December. "I've written books on this, that we don't wear or use 75% of what we have in our homes or in our closet. We all wear the same jeans, etc. and so the less stuff you have, the less you have to manage."
The Today contributor believes that simple daily practices can help keep things on track. "Every night when I get home, my shoes come off," Martin shared. "Another thing I always do when I get home at night is empty my bag, unpack everything (makeup, receipts, wallet, keys) and put everything on the kitchen island. I either switch out my handbag or repack the same one. So the next day if there was chaos from the day before, it doesn't carry over to the next day. I believe there is so much chaos in life and so much you can't control that anything you can control, you should."
She adds one other simple chore to her day. "I also believe that making your bed is important," Martin advised. "You spend 30% of your time in bed so give it the respect it deserves!"
'Me' time
Despite Martin's busy schedule, she's able to work in some down time. "Contrary to popular belief, I actually do have free time," she said. "I spend most it with family (my beautiful parents, brother, girlfriend Hara) and now my new family—my fiancé, his family and his three amazing kids. My future stepdaughter Bella is teaching me how to bake, in addition to keeping me up on what is 'cool.'"
Getting engaged in May to Erik Brooks, Martin still has to plan the couple's nuptials. "The next thing on my list will be planning a wedding (we actually have no plans yet) but in the meantime, I will continue to enjoy my non-routine routine always leading with kindness, authenticity and working my butt off," she said. "I travel all the time. I read a lot. I take time."
Martin shared that her social media platforms can sometimes be misleading regarding her daily itinerary. "People don't think I have it but I always say Instagram makes me look way busier than I am," she revealed. "But in real life, I take a significant amount of time off to recharge. And I think that is just as important in the formula of success as work ethic is."
Tip from a friend
The "Steals and Deals" host makes a priority of putting things down on paper each day, a practice she learned from a friend and former colleague. "Writing my goals for the day helps define what I hope to accomplish. Kathie Lee Gifford taught me about writing my goals and what I am grateful for first thing in the morning," Martin shared. "My goal could be something as simple as 'I want to get through the day without an argument.' They could be 'today's going to be a cheat day and I look forward to eating anything.' There are so many different versions of what my goals look like. I like to have everything in order. So I like to visually see my goals written out."
The Today contributor chooses to focus on making the journey through life one of joy. "Oftentimes women in particular are juggling so many aspects of their life all at once so you have to do what works for you. There are no rules and every journey is different," Martin explained. "That's all that matters and the end goal is to be happy. So I'm very focused on making my days not just about getting to the end of the day, but the journey of being happy."
Watch Today weekday mornings on NBC!