'Today Show's' Savannah Guthrie Posts Sweet Pic With Her Sister on National Siblings Day
Savannah Guthrie of the Today Show continues to co-host the morning news program from home during the coronavirus crisis. Reporting from her house in upstate New York while in quarantine with husband Michael Feldman and their two kids – Vale, 5, and Charley, 3 – Guthrie is staying on the job delivering the headlines each day from her makeshift studio in her basement.
Even with today's nonstop news on the COVID-19 outbreak, the journalist made sure to take a break from her reporting to post a sweet shout out to her sister last week on National Siblings Day.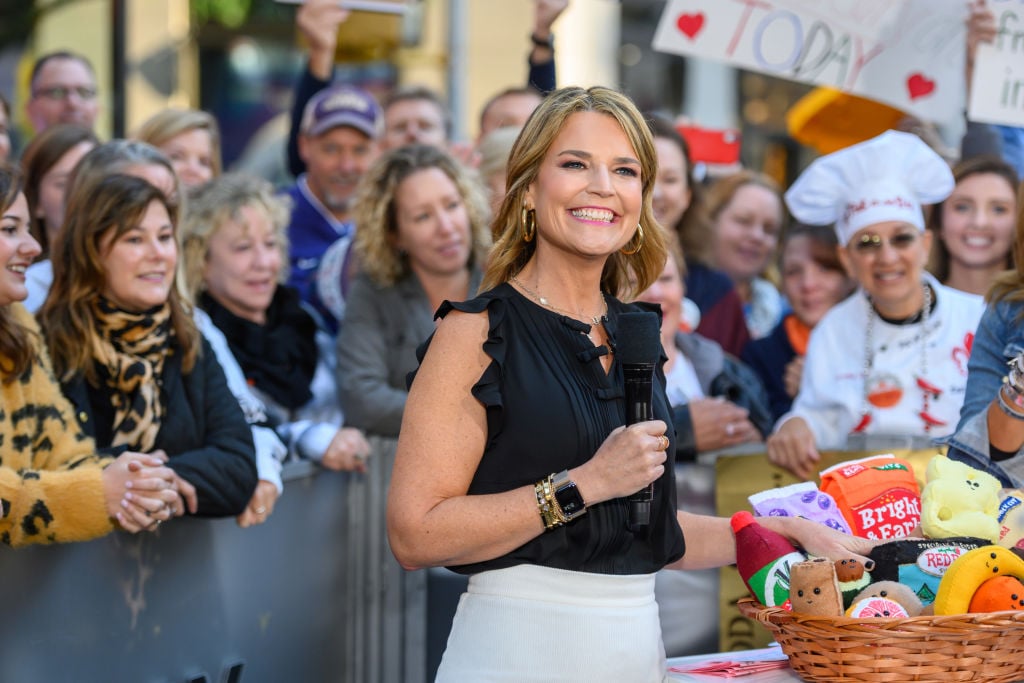 'Today' star's close bond with her big sister
Guthrie has previously shared that she lost her dad at the young age of 16 when he died from a sudden heart attack, leaving her and her two siblings devastated. The Today anchor recalled how her family banded together to get through the tragedy.
"Our whole family just hung onto each other for dear life because it was such a shock," she said in 2017, according to Today.com. "We were just trying to figure out how to become a family of four, when we had always been a family of five."
Guthrie and her sister Annie were both college-bound shortly after their father's death, where they chose to stay close to home in support of their family.
"We both decided to live at home," the Today star shared. "And we had a spoken or unspoken pact that on the weekends, even though we were college girls, one of us would always stay home on one of the weekend nights so that my mom wouldn't be alone. That was just something we did together as sisters."
Savannah Guthrie puts the spotlight on her 'biggest cheerleader'
Guthrie clearly has no issues of sibling rivalry, often happy to call attention to her older sister's accomplishments. In 2015 when Annie's book of poetry The Good Dark was published, the NBC News journalist threw her a lavish cocktail party to launch the occasion.
Raving that Annie "has always been my biggest cheerleader," Guthrie was thrilled to trumpet her sister's talents. "I'm excited for the world to get a taste of the sister I know and grew up with in our little Brady Bunch family," she said of Annie, as reported by People.
Recalling their college days at the University of Arizona, Guthrie marveled at her sister's love of complex writings.
"Annie was always writing, always so interesting and deep and thoughtful," the mom of two said. "In college, we would take some of the same classes – like a humanities course – and Annie would read the same book twice because she was so interested and devoted, and I would barely read it at all and then I would say, 'Can you brief me on what happened in The Odyssey? Who was Odysseus?'"
Savannah Guthrie's sweet shout out to her sis
In celebration of National Siblings Day on April 10, Guthrie posted a tribute to her sister. "Siblings are the best people #nationalsiblingsday," she captioned a photo of herself cheek-to-cheek with Annie on Instagram.
Annie credits their mother Nancy for helping the two form such a close bond. "I feel like my mom did such a unique and amazing job to create this foundation for us," Annie said. "To know how to be a good sister is to know how to be a good friend… My sister and I are like the sun and the moon. Her sorrows are my sorrows. And her successes are my successes."
Guthrie echoed Annie's sentiments, raving about her sister's selflessness. "I think Annie has always taught me about generosity," Guthrie shared on Today. "She is as happy for me if something good happens to me, as if it had happened to herself, maybe happier."