Tom Brady Finally Answers an Intimate Question About His Relations With Wife Gisele Bündchen
Tom Brady may be one of the most famous athletes in America, but he's not the only celebrity in his family. The quarterback has been married to supermodel Gisele Bündchen since 2009. Brady is famously quiet about his family life, especially his relationship with Bündchen, so it's rare when he talks about her. Recently, the 43-year-old did discuss his longtime love concerning a topic that people didn't expect — intimacy. Here's what Brady had to say about his love life.
Tom Brady's legendary NFL career
Since becoming the Patriots' starting quarterback in 2001, Brady has turned into one of the best quarterbacks in NFL history — not bad for a sixth-round pick. In 20 seasons with the Patriots, he compiled a record of 219-64 and threw for 74,571 yards and 541 touchdowns.
In his first 12 games with the Buccaneers this season, Brady has led the team to a 7-5 record. He completed just under 65% of his passes 3,300 yards and 28 touchdowns. The three-time NFL MVP led his prior team to six Super Bowl titles. He earned MVP in four of those championship games.
Tom Brady's marriage to Gisele Bündchen
RELATED: Tom Brady Made His Wife Gisele Put Her Foot in Her Mouth on Monday Night Football
Brady began dating Bündchen in December 2006, shortly after his relationship with actress Bridget Moynahan ended. Brady and Bündchen were set up on a blind date by a mutual friend. This culminated in an intimate wedding in Santa Monica, Calif., on Feb. 26, 2009. They have two children together, a son named Benjamin, born near the end of 2009, and a daughter, Vivian, born nearly three years later.
While it may appear like Brady and Bündchen have the ideal marriage, that's not always the case. Earlier this year, Goalcast reported that their marriage was strained. The couple "stopped communicating properly." Brady discusses what turned things around: "a very heartfelt letter" that she wrote to him. The future Hall of Famer described it as her explaining to him where she is in the marriage. Brady says the letter is "a good reminder for [him] that things are going to change and evolve over time."
Brady answers a question about intimacy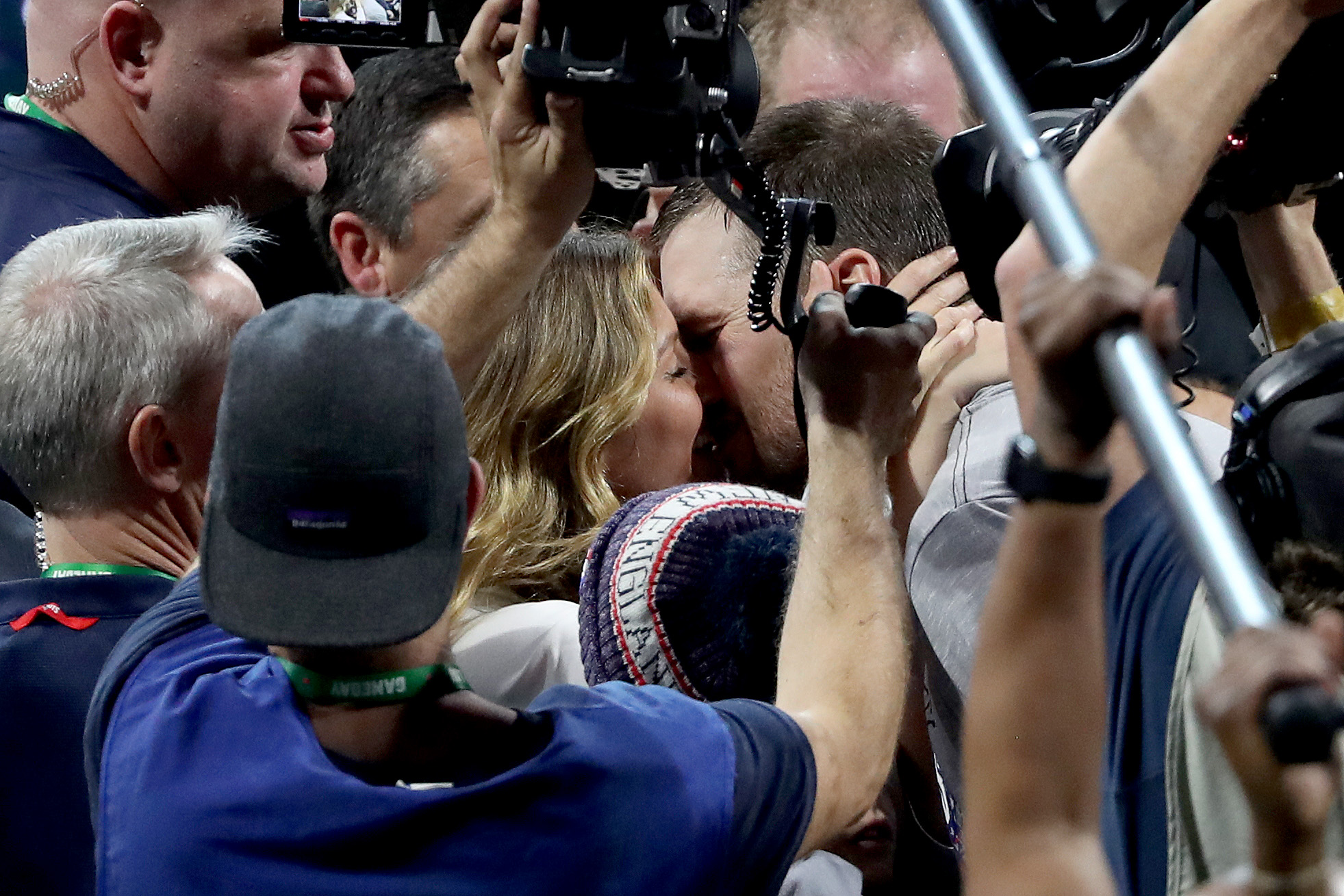 RELATED: Gisele Bündchen and Other Famous Women Who Make More Than Their NFL Husbands
Actor Dax Shepard interview Brady on his Armchair Expert podcast, chatting for well over an hour. The interview covered a variety of topics about the quarterback's life, including his diet, training, and was it was like to leave the Patriots after nearly two decades there.
Brady's relationship with Bündchen was also broached by Shepard. The QB opened up albeit briefly more than people expected. Shepard prefaced the personal query by calling it a "single Howard Stern-esque question." He wanted to know if Brady ever makes love to Bündchen on game days.
Brady seemed caught off-guard by the question, saying, "Oh man. That's probably off the table." Despite seeming to be surprised, Brady did give Shepard an answer, which seems to indicate that it happens on occasion. "I wouldn't say it's never happened," he said. "But I don't think that would be the moment. That wouldn't be my pre-game warmup." Then he laughed.
Many athletes are superstitious, thinking if they don't complete the same pregame routine before every competition, then they won't perform well on days when they deviate from their system. Brady was in the NFL for years before he started dating Bündchen. So he might not have wanted to disrupt his routine by being intimate with Bündchen if it wasn't something he'd done previously.