Are Tom Brady and Gisele Bündchen Debating His Retirement? Brady Simply Shakes His Head
Fans and haters have debated Tom Brady's retirement for years. Is Gisele Bündchen encouraging him to hang up his cleats?
By the time they're 43 years old, most NFL quarterbacks are already retired — not Tom Brady. The 20-year veteran won his seventh Super Bowl in February, and he'll be 44 when he leads the Buccaneers into Tampa Bay's next season. Fans and haters have debated Brady's retirement for years. But it doesn't seem like he's close to hanging up his cleats.
During a recent interview, the topic of Brady's potential retirement came up. The QB had a funny reaction when asked about him and his wife Gisele Bündchen debating whether it's time for him to call it quits.
Tom Brady's contract with the Buccaneers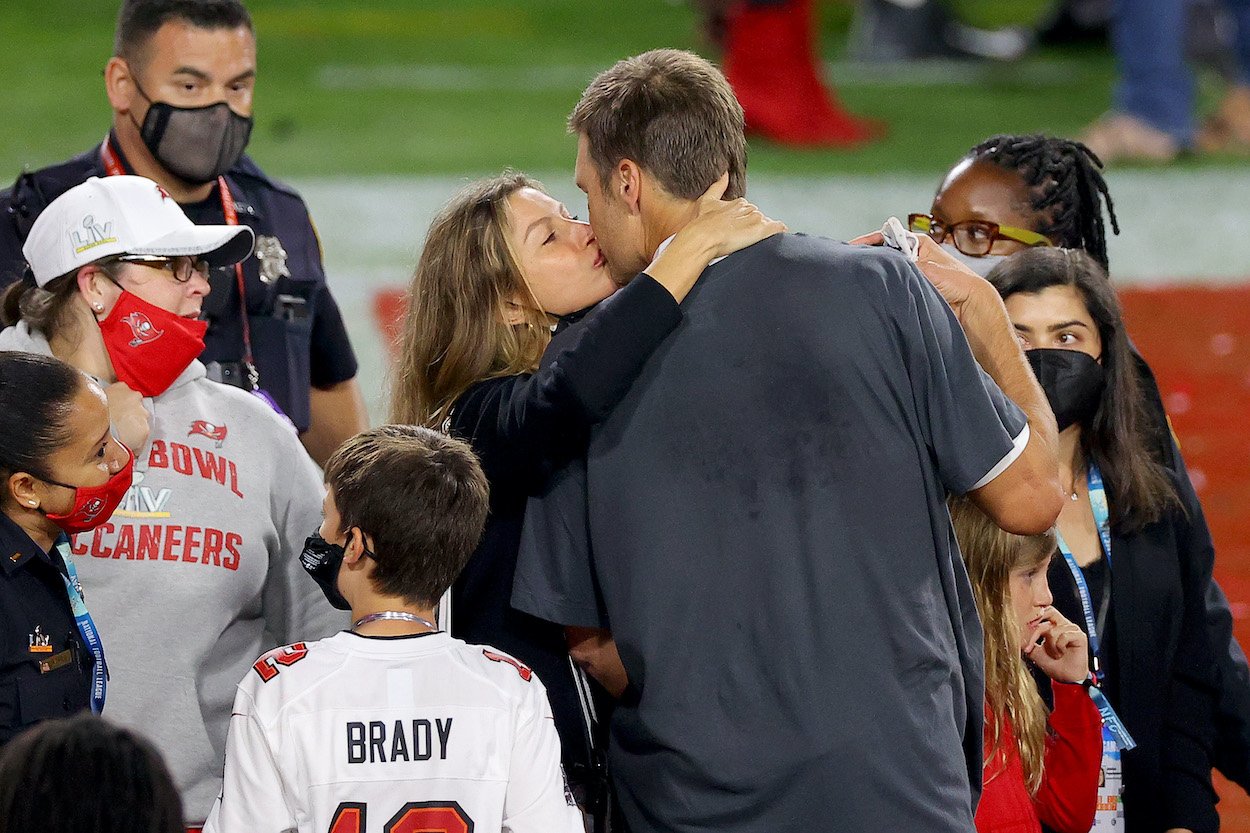 Brady became a free agent last offseason after spending 20 seasons with the Patriots, and he ended up signing a contract with the Bucs. Spotrac gives us details of Brady's contract situation with the team. He initially signed a two-year deal worth $50 million in March 2020.
This offseason, the team rewarded him for leading the franchise to its second Super Bowl title by giving him a one-year extension worth another $25 million. So Brady has another two years remaining on his deal with Tampa Bay, at $25 million per season.
If he plays out the remainder of his contract, Brady will be 45 at the conclusion of the 2022 season.
Are Brady and Gisele Bündchen debating his retirement?
Brady chatted with Wajer Yachts about boating since his family moved to Florida to work with the Bucs franchise. As he wrapped up the discussion, the interviewer seemed to try to get information about Brady's NFL future from the quarterback.
He jokingly said he's going to let Brady get back to his spring, which he assumes "is a mix of training, yachting, and an ongoing debate with your wife about whether you're going to retire after next season."
This comment didn't elicit a response from Brady, other than shaking his head and chuckling before Brady thanked the man for having him on the show and ending the interview.
Tom Brady's retirement has been a topic for years
Brady didn't seem phased by the interviewer bringing up retirement — because he's used to it. Brady's retirement has been a topic of discussion among sports fans and media for years. It seems like every time Brady wins a Super Bowl in the last decade or so, people ask if Brady will "go out on top" and retire after leading his team to another championship, as Peyton Manning did after winning Super Bowl 50 with the Broncos.
Then there are the jokes about Brady's neverending football career — some of which come from Brady himself. Brady joined Twitter in March 2019, and he made his first tweet on April 1 — and its content was in line with the vibe of April Fool's Day. The message Brady sent out to his followers said simply "I'm retiring. In my spare time, I'll be tweeting #LFG." 
Just over an hour later, he followed up his first tweet with "was this a bad joke?" Brady sticking around the NFL as long as he has also become comedic fodder for the likes of comedians and late-night hosts.