Tom Cruise and Hayley Atwell's Age and Net Worth Difference
'Mission: Impossible 7' co-stars Tom Cruise and Hayley Atwell may or may not be dating. Learn about the rumors, along with the difference in their ages and net worth.
The Hollywood rumor mill lit up with theories about Tom Cruise and Hayley Atwell after the pair went out together in July 2021. This wasn't the first time the two garnered media attention, as some consider them a mismatched pair. What is the age and the net worth difference between the members of this possible celebrity couple?
Tom Cruise and Hayley Atwell are rumored to be dating
Cruise and Atwell turned up at Wimbledon together on Saturday, July 12, 2021. The Mission: Impossible 7 co-stars were accompanied by another actor from the highly anticipated action flick, Pom Klementieff, making the atmosphere decidedly less date-like. However, rumors began circulating months earlier.
In December 2020, amid filming, various publications reported Cruise and Atwell as a couple. However, some thought this to be a rumor that started to give Cruise better press after an audio recording of him yelling at crew members on set went viral. Their relationship status remains unclear.
Cruise's net worth is significantly higher than Atwell's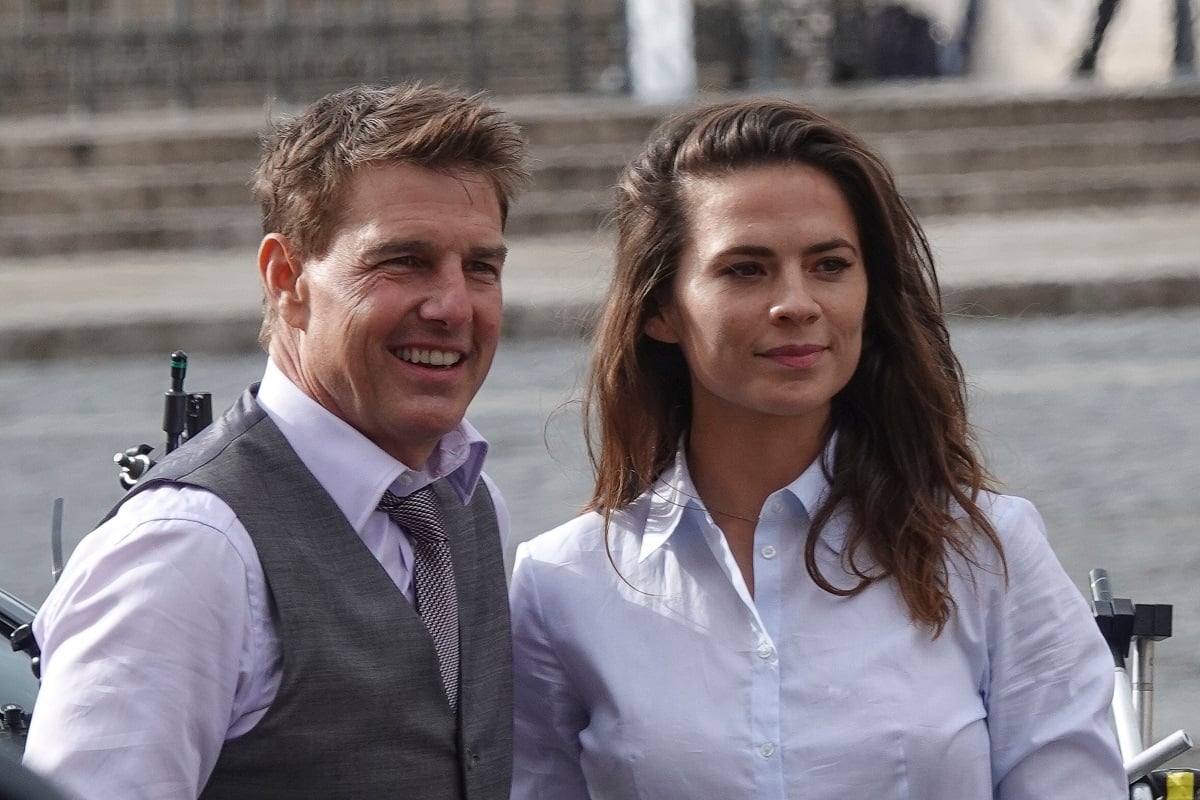 Cruise's presence in Hollywood stretches back decades. The 1986 action film Top Gun quickly took him from burgeoning young actor to movie star. With so many years as an actor and producer under his belt, the 59-year-old actor's impressive net worth of $600 million, according to Celebrity Net Worth, makes sense.
As for Atwell, the 39-year-old has had 20 fewer years on the planet than her co-star to accumulate wealth. Appearing in the Marvel Cinematic Universe as Peggy Carter boosted her profile over the past decade. According to Celebrity Net Worth, Atwell's net worth is approximately $3 million.
Cruise's romantic history in Hollywood is well known
Cruise has been married three times. His first, to actor Mimi Rogers, lasted just three years. Months later, he married Nicole Kidman, who he met on the set of the film Days of Thunder. Together, they adopted two children: Isabella and Connor. After 10 years of marriage, Cruise filed for his second divorce.
In between marriages, Cruise dated other actors — most notably Penelope Cruz. In 2006, he and actor Katie Holmes welcomed their daughter, Suri Cruise, into the world. The couple tied the knot that same year, remaining together for about five more years. Since Holmes, Cruise's romantic endeavors remain primarily media speculation.
Who has Atwell dated?
Unlike Tom Cruise, Hayley Atwell generally keeps her romantic relationships out of the spotlight. But in November 2017, she revealed a little about who she was seeing at the time — but she kept his name and personal details a secret.
"He's a doctor," Atwell told the Sunday Times. "A medical doctor, so he's not in the industry and I've known him since I was ten." The publication doesn't elaborate on how long they'd been dating but refers to him as "a new boyfriend. And apparently, Atwell was smitten. "I've finally met someone I want to share my life with," she said.