Tom Green Gets Emotional Over His Prior Cancer Battle: 'I Just Would Like to Get Through This and Live'
Cancer isn't funny. However, a comedian's job is to make us laugh, and in the early 2000s, there was no one funnier than Tom Green.
It's no surprise that the same celebrity entertainer who created The Bum Bum Song managed to make a joke out of testicular cancer in The Tom Green Cancer Special. Everyone giggled at his proud display of a cup of semen. But on the inside, Green wasn't laughing. 
Tom Green's hilarious career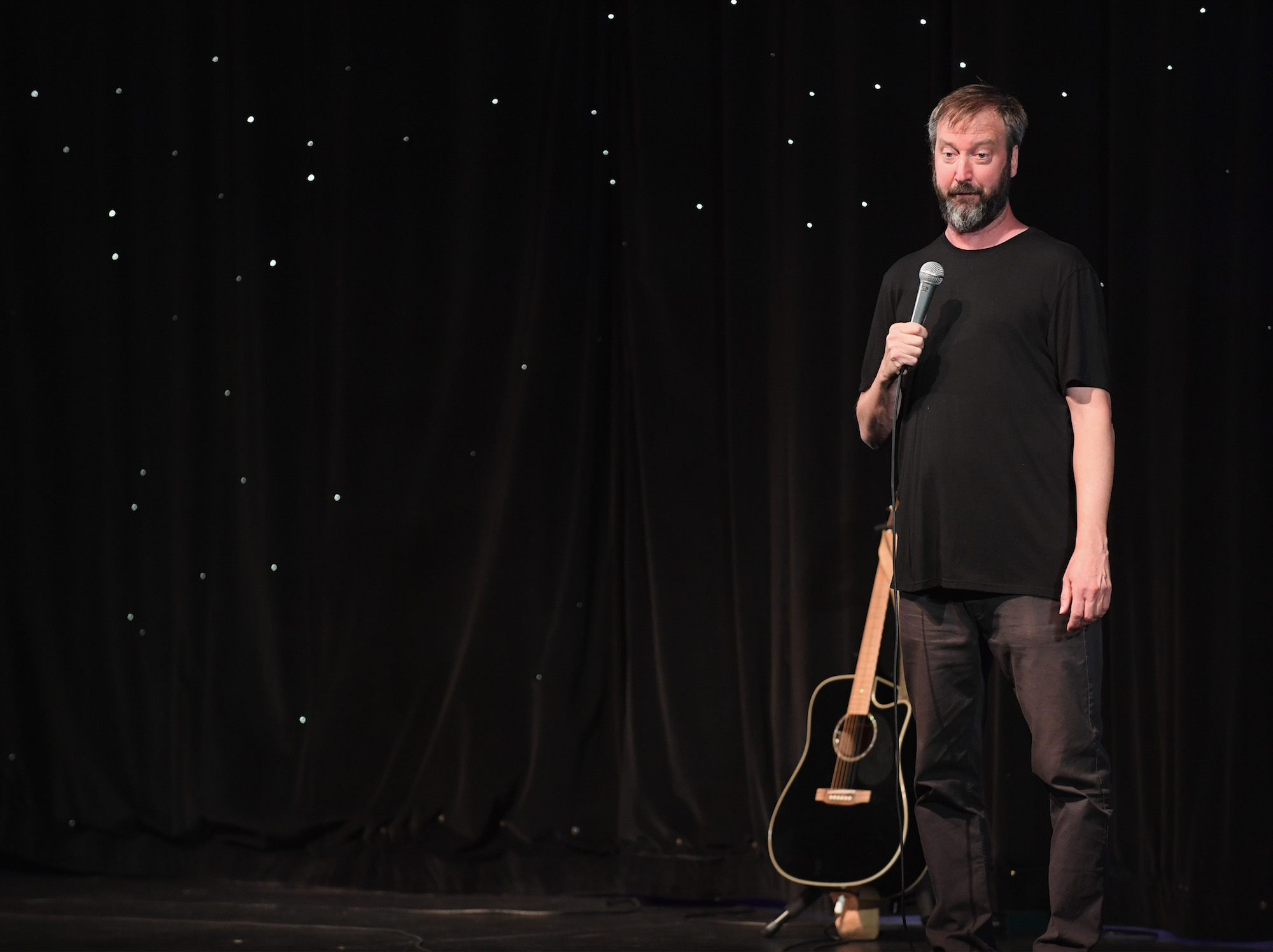 It's been over 15 years since Tom Green was a ubiquitous part of the entertainment world. But for those of us the grew up with the outrageous comedic style of Green, his jokes, skits, antics can still be found all over YouTube.
Green started as a stand-up comedian, but he rose to prominence after MTV put him on the air in The Tom Green Show. For three seasons, he entertained viewers with skits, like the time Green painted his parent's house a plaid pattern, the time he set up a lemonade-type stand to sell cocaine and bottled urine, and the time held a press conference with Monica Lewinsky to announce her new line of purses. 
He also starred in a few ridiculous comedy films, such as Freddy Got Fingered and Road Trip.
So, of course, when Green was diagnosed with testicular cancer in 2000, he had to turn it into a joke.
'The Tom Green Cancer Show' spreads awareness
RELATED: How Comedian Tom Green Handles His Haters: 'You Don't Need to Have Any Negative Energy in Your Life'
After The Tom Green Cancer Show was released on MTV, the comedian explained how he came up with the idea for the show. 
"I was feeling really sorry for myself and sitting around with [sidekick] Glenn Humplik and [head writer] Derek Harvie," Green told Entertainment Weekly, "and we decided it might be a way of getting off the depressing tip…."
In the special, Green keeps his comedic flair, but he also opens up about his personal struggles. He admits that at first, he wasn't planning to tell anyone about his cancer, but after realizing the seriousness of the situation, he decided to share his story.
The Tom Green Cancer Special includes specialists who speak about the disease, a guide on checking testicles for lumps, and coverage of his surgery.
Once the show was released, Green found that it was more than a big joke to everyone. It actually helped lighten the mood for others that were suffering with the same diagnosis, made them feel not so alone, and helped spread the word about cancer prevention.
"We were just trying to make a f—ing weird TV show, and all of a sudden people were coming up to us with somber and teary, thankful, handshaking sort of things," he told Entertainment Weekly. "And we started to realize that maybe this was actually good, what we were doing."
Tom Green gets emotional over his battle with cancer
Today, Green isn't in the public eye as much as he once was. However, he's been very successful hosting a podcast, predictably named The Tom Green Podcast.
He also makes occasional appearances on other podcast shows, which is how one particularly informative interview came to light. Green guest-starred on Life is Short with Justin Long and spoke about his battle with cancer. 
The Tom Green Cancer Special almost makes his entire experience seem like a big joke, but during the podcast interview, fans got to see another side of Green.
Long asked Green if during his battle with cancer he ever thought about death, the afterlife, or religion.
Before he could answer the question, Green had to throw in a small joke. "You're going to make me cry like Barbara Walters does to her guests," he said. However, he then became serious about the situation.
"I actually did have a moment," Green said. "…You know there was a moment, for sure, where I was so upset about it — and this was early on in the process of realizing this. I was actually in the shower, and I remember sitting there and the hot water pouring down over my face and I just remember thinking and praying to God — like for real, like actually praying to God.
Green then explains that he grew up going to church, and Sunday school, but he wasn't overly religious.
"…But here was a moment where I was genuine, without any sense of irony, praying to God, saying, 'Jesus, I just would like to get through this and live.'" Green said. "And you know, look, I lived and I'm still here talking to you. So I do actually allow that to be something that I think about sometimes, that it worked. It did work. I did pray to God to live and survive that ordeal, and things have been good. So, I don't discount that."