Tom Hanks Says 'Toy Story' Films Were 'Hardest Physical Work' He's Ever Done — 'You Have to Stay Locked in Place'
Tom Hanks is one of the most decorated and accomplished actors in Hollywood, so he knows a thing or two about hard work. He's starred in dozens of films, but a few, in particular, were more physically taxing to complete than others. 
Believe it or not, Hanks says the Toy Story films had the largest physical toll on his body. 
Tom Hanks starred in all four 'Toy Story' films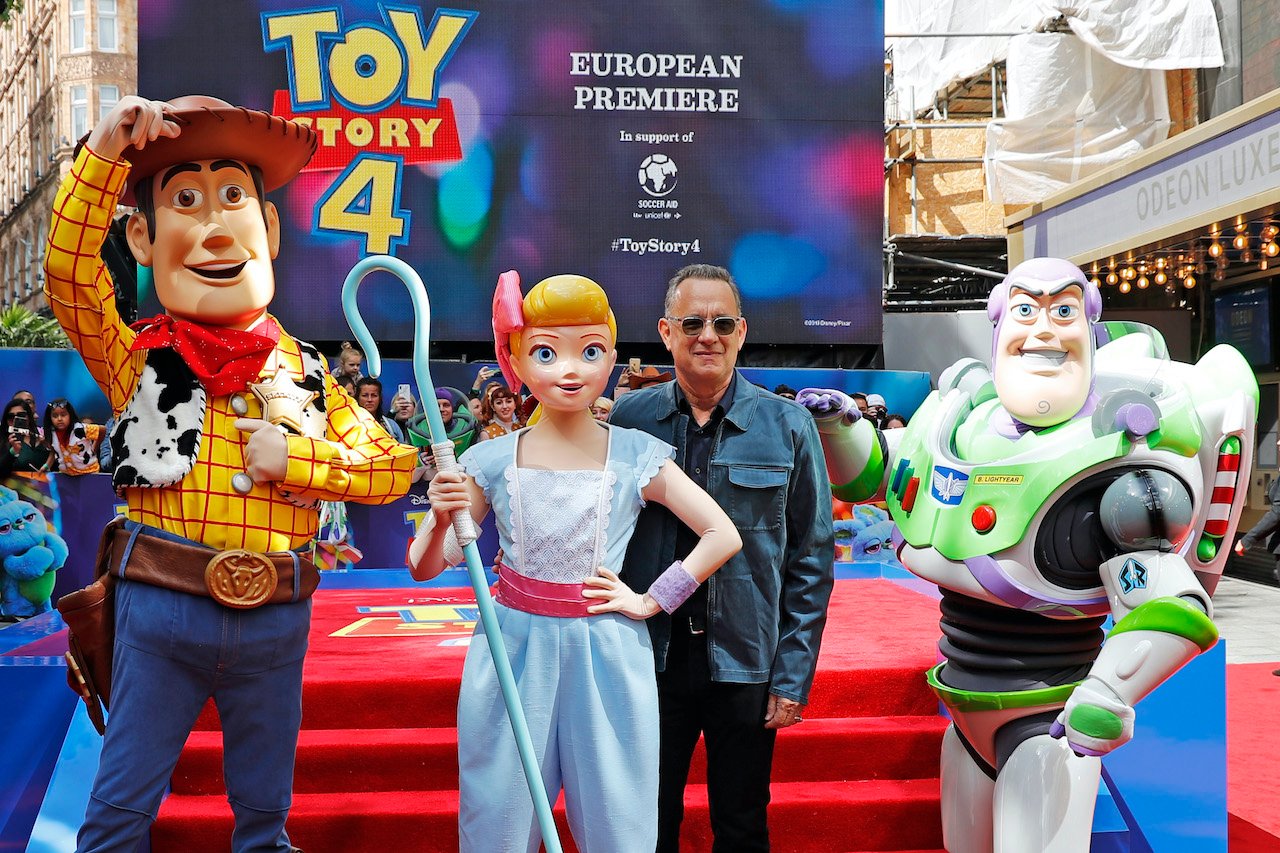 Toy Story remains one of the most successful film franchises in the world. It's been wildly popular since its initial release in 1995, and Hanks admits that prior to its release, everyone involved knew Toy Story would be big.
"We did the first Toy Story 25 years ago," Hanks told Graham Bensinger. "It was in the '90s, we had come in just to take part in this new brand of animation—a new process of animation in a pretty hip story. … We were part of some kind of like masterpiece, some sort of like, benchmark in the industry and in the art of animation. And we knew it …" 
After the success of Toy Story, Disney expanded the franchise, producing three more films. Hanks reprised his role as Woody in each of them, and every film brought massive success. In total, the four Toy Story films have grossed over $3 billion worldwide according to Forbes, making the Toy Story series one of the highest-grossing franchises of all time.  
Working on the last 'Toy Story' film was emotional 
For Hanks, working on the last film was especially emotional because he'd seen so many changes to the cast and crew over the decades. 
"… I had a bit of a life flash before our eyes, I think we all did, everybody," Tom Hanks said. "… So many people who are the original voices were no longer there, were no longer part of it. And Tim and I were still there. … knowing that I was driving in to do it for the last time, I just thought 'This doesn't happen that often in a career.'"
'Toy Story' was the hardest work Tom Hanks has ever done
Although Hanks thoroughly enjoyed his experience working on the Toy Story franchise, it was not without its fair share of struggle. According to Hanks, starring in the Toy Story movies was the most difficult work he's ever done. 
"… As an actor, I will say that the hardest physical work I've ever done as an actor has been the recording of those movies," Hanks said. "Because you cannot move. You have no costume to hide in. You have no motion in order to animate the emotion, you don't get to do that. You have to stay locked in place, on microphone and only use your imagination and your voice in order to go there. And I think I've probably recorded half of all the Toy Story movies with my eyes closed."
'Toy Story 2' almost never made it to theaters 
Even though Toy Story 2 significantly outearned Toy Story, it almost never had a theatrical run. Disney executives initially wanted to release Toy Story 2 on DVD alone. 
"When we did the second one, the Disney brass had this whole kind of like, formula that said the thing to do after you have a really big movie is to do a cheaper version of it and just put it out on video, because everybody who loved the movie will buy the video. …" Hanks said.
However, Hanks and Tim Allen agreed that the Toy Story 2 script was so good that they couldn't settle for just a DVD release. The two ended up meeting with Disney executives and convinced them to shell out more cash for a theatrical release. 
"To Disney's credit, they pondered it and they decided to pony up the extra money because it's more expensive," Hanks said.