Tom Hardy Wrestled a Naked Shia LaBeouf Before Falling Down the Stairs
Most actors are great at what they do, making audiences believe they are the character they are portraying. Sometimes when they have to work with other actors, the on-screen chemistry created by these performers is only for the cameras.
There is a long history in Hollywood of co-stars not getting along behind the scenes. The animosity between Vin Diesel and Dwayne "The Rock" Johnson was so great that they reportedly refuse to work together on the same scenes.
One of the most recent acting pairs that are rumored to have no love lost for one another is Tom Hardy and Shia LaBeouf. While working together on a film, an argument reportedly turned into a naked wrestling match.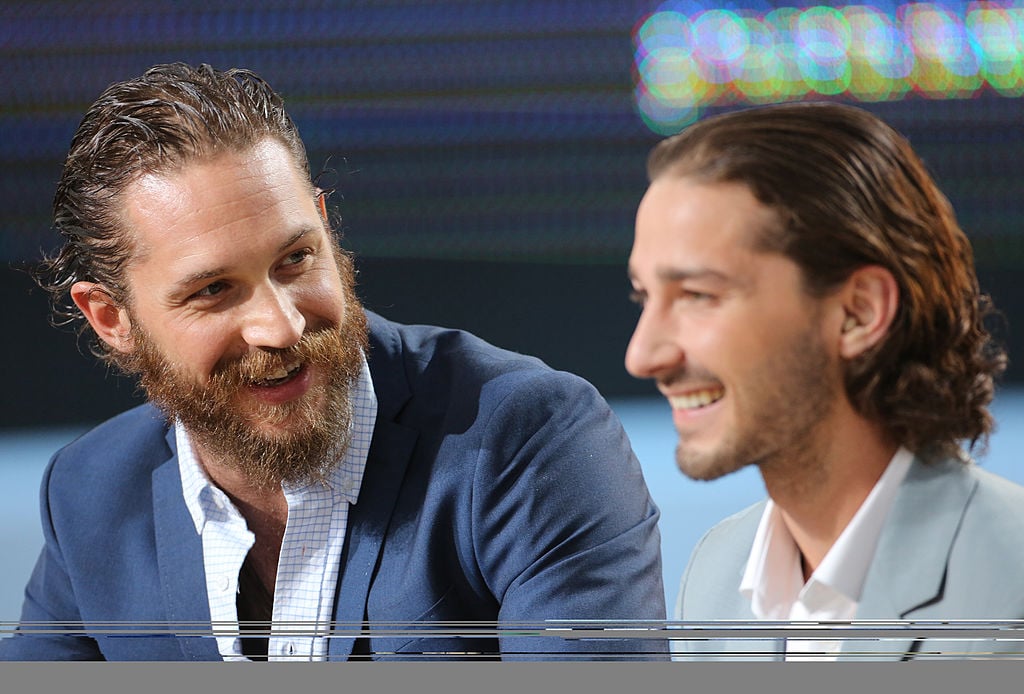 The careers of Tom Hardy and Shia LaBeouf
Hardy and LaBeouf are talented method actors that are willing to do almost anything to make a role believable. In 2012, the two starred together in the critically-acclaimed crime drama Lawless.
Hardy is a British actor most popular for his role as Bane, where he faces off with Batman in The Dark Knight Rises. Hardy has landed roles in Mad Max: Fury Road, The Revenant, Dunkirk, and Venom. 
LaBeouf became a household name with his portrayal of Louis Stevens on the Disney Channel series Even Stevens. The Emmy award-winning actor also receives recognition for his role in the Transformers movies, according to Rotten Tomatoes. He has appeared in films such as Holes, Charlie's Angels: Full Throttle, and Disturbia. He even played the son of Indiana Jones in Indiana Jones and the Kingdom of the Crystal Skull. His most recent work includes a career-defining performance in a film based on his life, Honey Boy. 
The alleged fight between Hardy and LaBeouf
RELATED: What Is 'Inception' Star Tom Hardy's Net Worth
During the filming of Lawless, a rumor quickly spread about Hardy and LaBeouf not getting along. According to The Ringer, it was rumoured that tension was so bad on the set between the two actors that "LaBeouf knocked Hardy unconscious." Hardy reportedly said his co-star was a "bad, bad boy," and seemed to take pleasure from repeating the story over and over. Director John Hillcoat said "There was definitely a fight between them. It escalated to the point where they had to both be restrained."
The Ringer pointed out that the rumor was unfounded. It was impossible to believe that "a kid from Even Stevens knocked out Bane."
LaBeouf clears the air
During an appearance on Hot Ones, LaBeouf explained how the rumor about his fight with Tom Hardy started. His account of what actually happened could make for a great movie scene.
When asked if the rumors of him knocking out Tom Hardy on the set of Lawless were true, he said, "Yeah, it's a bunch of bullshit," according to IndieWire. He explained that he and Hardy used to wrestle all the time. It was common for them to mess around with each other.
The Peanut Butter Falcon star said that the incident in question happened when he and his girlfriend saw Hardy and his trainer coming back from the gym. They were standing on the balcony in their room when Hardy suddenly came crashing through the door. LaBeouf's girlfriend, terrified, ran screaming into the kitchen.
Hardy picked up a naked LaBeouf, threw him over his shoulder, and the two started wrestling. They ended up in the exterior hallway of the building, and LaBeouf said he got upset because he was naked, and Hardy had gotten the better of him. The trainer was filming the altercation, and LaBeouf was trying to get it to stop.
He says he was in a weird twisted position as they continued wrestling. They got too close to the stairwell, and Hardy fell down the stairs. Hardy ended up hurting his back, and for the rest of the shoot, he told everyone that LaBeouf knocked him out. LaBeouf contends that wasn't the case, saying, "We were having some weird cutey wrestling match."