Tom Hiddleston Talks Loki's Feelings for Sylvie, Calls 'Loki's Relationship With Himself' Not 'Very Healthy'
Since entering the Marvel Cinematic Universe, Tom Hiddleston's character has changed considerably. Like the heroes introduced in early films, Loki's gone through various trials and tribulations involving his family, the Avengers, and others. But the subject of romance hasn't really come up.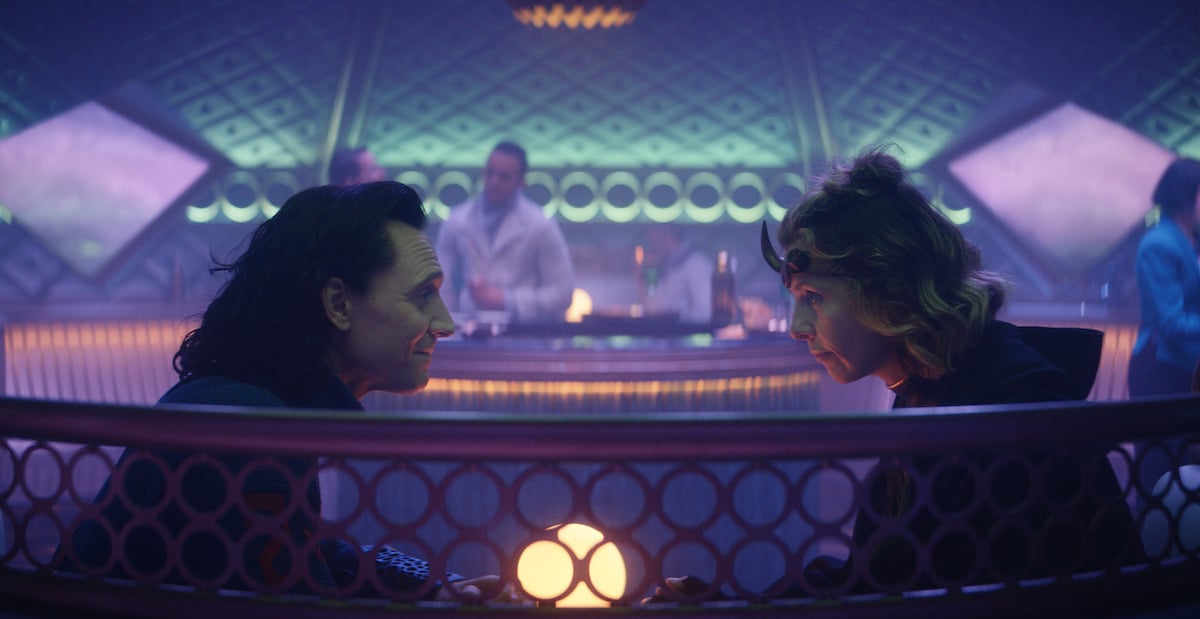 That is, until Loki, the Disney+ Marvel series starring Hiddleston. Faced with a potential love interest, some fans (and other characters) are skeptical of the often-deceitful demigod preparing to tell Sylvie about his feelings. Discover the actor's opinion on the matter, along with another perspective. 
Tom Hiddleston's played Loki since 'Thor'
Hiddleston's knowledge of his character comes from years of playing him. He first portrayed Loki in Thor, when the God of Mischief plots to take the throne of Asgard. He returns in The Avengers, using the Tesseract to wage war on Earth. Finally, he reprised the role in Thor: The Dark World, Thor: Ragnarok, Avengers: Infinity War, and Avengers: Endgame before Loki.
Unlike most MCU characters, who clearly fall into the category of hero or villain, Loki's had an up-and-down journey. He spent time locked up on Asgard, "died" a couple of times, but remained a threat (as far as some were concerned). But in Ragnarok, he and Thor worked together. And in Infinity War, he died at Thanos' hands, proving he'd changed at least a little since the earlier films.
Hiddleston on Loki's relationship with himself
Loki takes the character back to his post-The Avengers state. He's been defeated by the titular heroes and is still very much the trickster fans came to love. But he begins to learn more about himself throughout the series, like when he sees the events of the sacred timeline, such as his death.
"I don't think Loki's relationship with himself has been very healthy," Hiddleston told Marvel of his character. "Trying to accept those aspects of himself, which he's been on the run from, was a way of thinking about that in a really interesting way." And the addition of another Loki also changed things.
Spending time with Sylvie, a Loki from a different timeline, taught Loki a lot about himself. However, he developed strong feelings for her, which some fans found strange. "Sylvie's not Loki. Sylvie is Sylvie," Hiddleston clarified. "That's interesting, too. I'm really excited to see what people make of it."
Is it really romantic love between Sylvie and Loki?
In Loki Episode 4, "The Nexus Event," Mobius points Loki's growing feelings out to him. He calls him a narcissist for falling for a version of himself. Screen Rant's Alisha Grauso argues that's not the case. "In seeing the potential in Sylvie, Loki sees the potential in himself," she writes. "He's playing out the old but proven cliché that one must love themselves before they can truly love another."
In a follow-up tweet, Grauso points out that Loki feeling something for Sylvie doesn't necessarily mean he wants to be with her romantically. "I'm not entirely convinced what Loki feels for her IS love," she writes. "He's never allowed himself to experience [a] genuine connection with anyone, let alone romantic love."
RELATED: Why the 'Loki' Bisexual Coming Out Scene Was 'Very Important' to the Show's Director