Tom Holland, Andrew Garfield, and Tobey Maguire 'Had a Little Cuddle' in Their Spider-Man Suits
Just three Spideys, cuddling and dancing and having a good time. That's how Tom Holland, Andrew Garfield, and Tobey Maguire spent their photoshoot for Spider-Man: No Way Home, where they posed together in their suits. Sony has released a behind-the-scenes look at the shoot, featuring the actors' antics as well as a casual chat among the stars. Check out the clip below.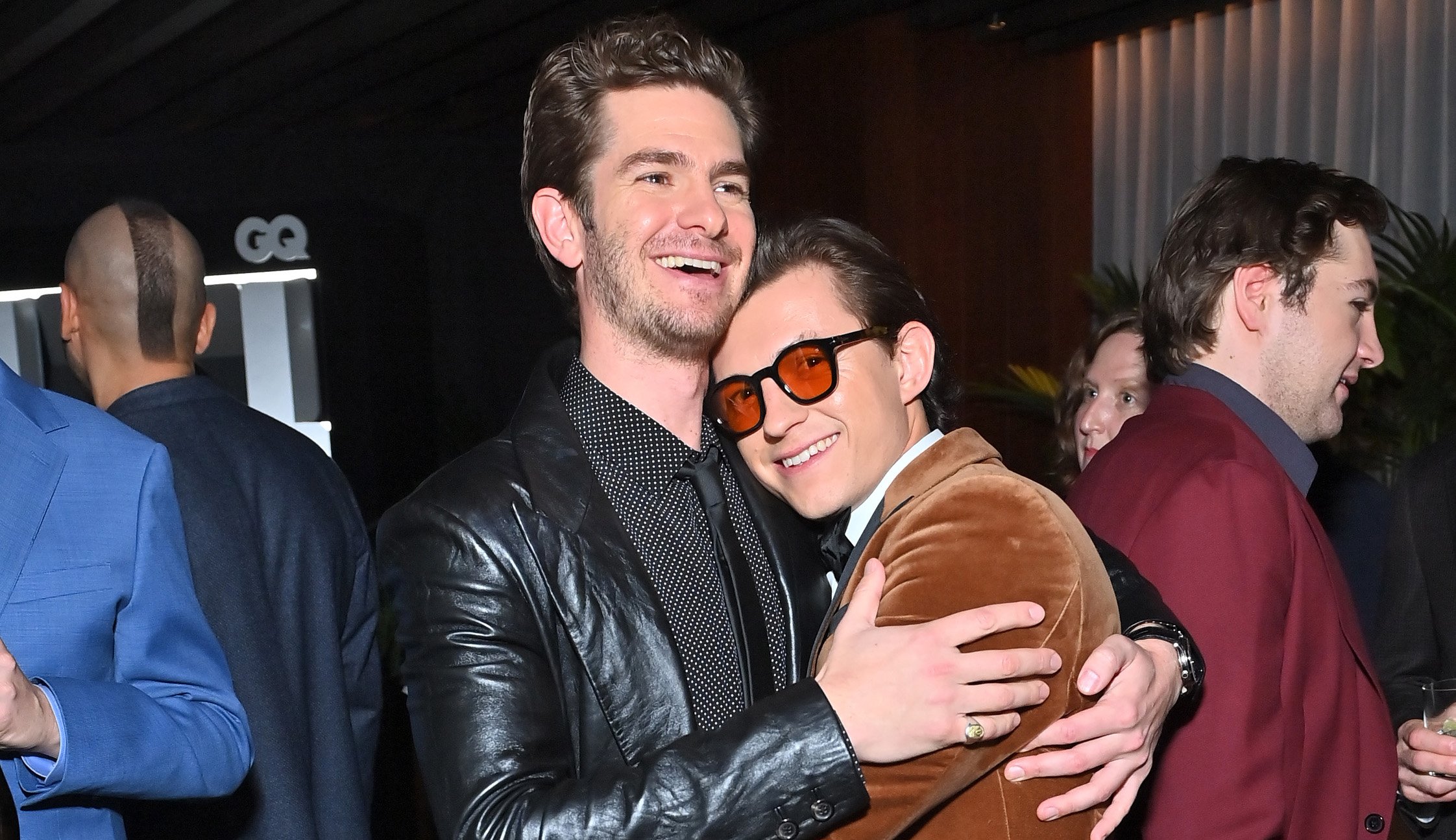 Tom Holland, Andrew Garfield, and Tobey Maguire cuddled and danced together in their Spider-Man suits
The behind-the-scenes clip, shared by Culture Crave on Twitter, showed the three Spider-Man iterations dressed in their iconic costumes (without the masks). They stood in a circle on a backdrop and fooled around with each other, laughing their heads off.
In one scene, Maguire squatted down into a Spider-Man pose, while another showed Holland leaning into a hug with Garfield. Garfield and Holland even cuddled up together for high school prom-style photos.
Sitting down with each other for a chat, Garfield described the photoshoot in an adorable way: "We just had a little dance in the suits. We had a cuddle, cleared the cobwebs off a little bit." Holland added, "There's nothing quite like doing a photoshoot with two lads in Lycra."
Later, Maguire spoke about how it felt to don the Spider-Man suit once again. As the first Spider-Man iteration, he hadn't worn the suit since Spider-Man 3 in 2007.
"The suit can definitely be a challenge at times when you've gotta get in the full thing," Maguire said. "But then, by getting comfortable in it, there is something fun. It helps as an actor when you get in your costume, you begin to feel it more and embody it more."
The 3 Spideys broke the internet by recreating a meme in their Spider-Man suits
A sneak peek at the photoshoot sent Spider-Man fans into a frenzy on Feb. 23. The official Spider-Man: No Way Home Twitter account shared an image of Garfield, Holland, and Maguire standing in a circle to recreate the iconic Spider-Man pointing meme.
For those who are unfamiliar, the meme originated from a '60s Spider-Man cartoon. In the animation, two people in Spider-Man costumes pointed at each other.
Holland, Garfield, and Maguire had previously mimicked the meme in Spider-Man: No Way Home, but without their costumes. This photoshoot marked the first time the moment was captured forever in a still image, so it was a big deal to many fans.
The digital release of 'Spider-Man: No Way Home' includes more behind-the-scenes fun
The photoshoot is only a small portion of the bonus content included in the DVD versions of Spider-Man: No Way Home. Fans can also see bloopers, "the making of" featurettes, Easter eggs, and even full film discussions with the stars.
Spider-Man: No Way Home will have a digital release on March 22 and Blu-ray/4K Ultra HD on April 12.
RELATED: Andrew Garfield Confessed Tom Holland and Tobey Maguire had the Same Bizarre Issue Wearing the Spider-Man Suit