Tom Holland Says He 'Came To Destroy' Zendaya in Their Epic 'Lip Sync Battle' Performance
Actor Tom Holland is best known to fans worldwide for his role in the Marvel Cinematic Universe. But there are also a group of people who think of him primarily for his 2017 Lip Sync Battle episode with co-star Zendaya. Here's why Holland says he will "never do it again."
Tom Holland and Zendaya star in the 'Spider-Man' movies together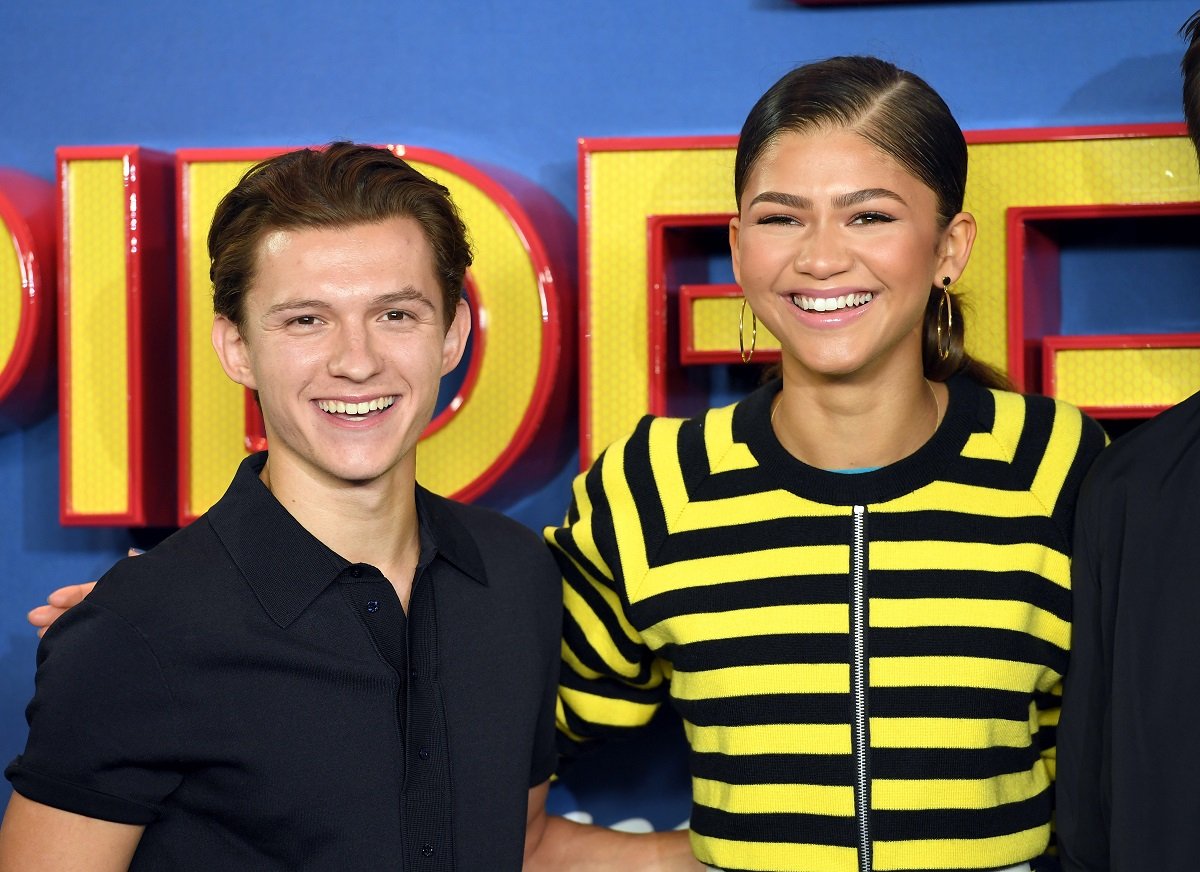 Holland and Zendaya first worked together on Spider-Man: Homecoming. He reprised his Captain America: Civil War role as Peter Parker, while she portrayed his high school classmate, M.J. In the sequel, Spider-Man: Far From Home, they go from friends to romantic interests, and M.J. discovers Peter's secret identity as Spider-Man.
Off-screen, fans and media outlets perpetuated rumors that the two actors were in a relationship themselves, insinuating that they were going on vacations together. Both denied this while confirming their friendship. "Happy birthday weirdo, thanks for being the wonderful person you are," Zendaya wrote on Instagram for Holland's birthday in 2019.
They competed against one another on 'Lip Sync Battle'
RELATED: Why 'Spider-Man: Far From Home' Co-Stars Tom Holland And Zendaya Will Never Do 'Lip Sync Battle' Again
Ahead of Homecoming's release, Holland and Zendaya did a unique form of promotion. They appeared on the show Lip Sync Battle, in which two celebrities compete against one another, each lip-syncing and dancing along to two songs. In the end, the audience's applause chooses a winner.
Both Zendaya and Holland are skilled dancers. Their first two songs — Zendaya performed the sultry "Tyrone" while Holland pretended to rap to Nelly's "Ride Wit Me" — went over very well. Zendaya then fully transformed into Bruno Mars for "24K Magic," earning praise. But it was Holland's "Singin' in the Rain"/"Umbrella" mash-up that stole the show.
Holland's 'LSB' performance is the thing he's asked most about
The performances were so good that both have had to address them in the years since. The videos frequently circulate on social media, gaining new fans every time. However, for those who participated, it's a bit frustrating to see a TV show appearance sometimes overshadow the acting jobs they want to promote.
"I get more compliments on the Lip Sync Battle than I do for any of my actual work — ever," he said in a Wired Autocomplete Interview with Zendaya and their Spider-Man co-star Jacob Batalon in 2019. "To the point where I'm like, over it. When someone brings up the Lip Sync Battle I'm like 'Don't bring up the Lip Sync Battle.'"
Holland says 'LSB' was 'the most stressful thing' he's ever done
Despite being a fan-favorite moment in his career, Holland deemed the Lip Sync Battle experience "stressful." "This will easily be the most stressful thing I've ever done in my life, and I will never do it again," he told Esquire in February 2021. He replied to a comment on the video, which read: "Zendaya: I Came To Have Fun; Tom: I Came To DESTROY."
"It was amazing that I got to do it with Zendaya," Holland continued, addressing the comment directly. "And yes, she did go there to have some fun. And yes, I did go there to destroy. But oh my god, that was easily the most stressful thing I've ever done in my life. I would never, I would never do that ever again."