Tom Sandoval and Ariana Madix Shaded Nearly Everyone From 'Pump Rules' in 'Fancy AF' Cocktail Book
It has been a long time coming, but Tom Sandoval and Ariana Madix's Fancy AF Cocktails: Drink Recipes from a Couple of Professional Drinkers" hit shelves last month. Sandoval and Madix, stars of Vanderpump Rules, have been talking about writing a book on cocktails since 2017.
However, their partnership on the book got off to a rocky start. Madix had started the book on her own, and when Sandoval said that he should be involved Madix wasn't that impressed.
Why was Ariana Madix upset that Tom Sandoval said he should help with her book?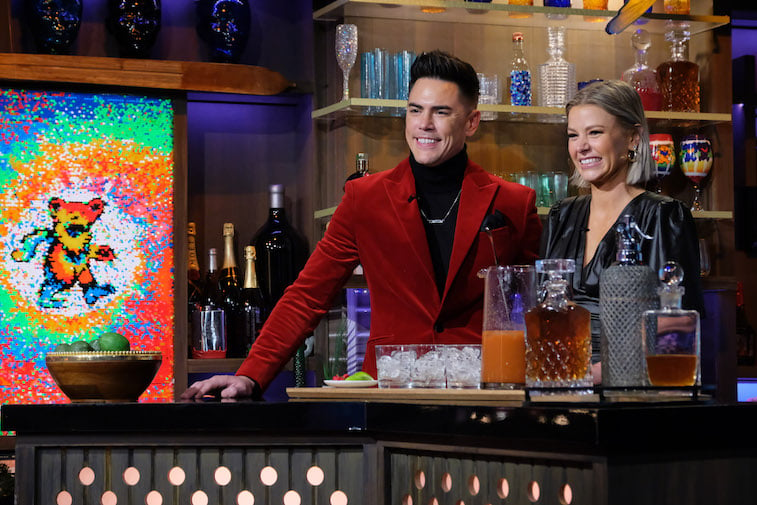 In an interview on Bravo TV's The Daily Dish, Madix said, "When Tom initially started talking about me doing this cocktail book and how he should be involved and all this stuff, I obviously was initially pretty annoyed because, if he wants to be my business partner, insulting me is not exactly the way to do it."
She then added, "I had put a lot of work into it already, and I felt like, 'Oh, you're just [going to] jump on [now]?'"
Sandoval was very persistent with wanting to be involved and eventually, she gave in. "He has put the work in and has really shown that he is a huge asset, and I think we are stronger together in that regard," Madix continued.
She also said that they like to bounce ideas off each other, and they had a lot of fun creating the recipes for the cocktails.
Madix admitted that they still fought from time to time while working on the book, but she shared that having a third person involved helped to create a buffer.
Allie, Madix's partner on the book, brought a much-needed professional opinion about what will and won't work in the book. "Allie [has been a] great tiebreaker and a great professional," Madix said.
Where do they get the inspiration for the 'Fancy AF' cocktails?
Madix said inspiration can come from all kinds of places. She said that it can come from "thinking of a situation" such as if you are drinking with a friend and think "what is a good buddy cocktail?"
Madix thinks "crafting cocktails is about bringing your own flair" to the experience. The couple feels that making cocktails is about having fun and being creative. These two definitely had fun choosing "Sugar Baby," "Basic B***h," and "the One Upper" as names for their cocktails.
Are any 'Vanderpump Rules' cast mentioned in the book?
There is a reference to the "infamous fight" that James Kennedy and Lala Kent had in Season 6 about "pasta" that fans took to mean cocaine.
Sandoval said that a drink inspired by Kennedy and Kent called, 'I Don't Do Coke,' "is for someone who doesn't like to put anything up your nose, but you want to be able to hang out with friends and last."
Sandoval decided to throw shade his ex Kristen who he said, "cheated on me while watching Drive with my best friend while I slept in the other room" by naming a cocktail he describes as "messy, bitter, spicy, and salty," 'Bitter Ex.'