Tommy Lee Is OK With 'Pam & Tommy' but Pamela Anderson Thinks It's a Joke
Fans will always remember Tommy Lee's music with Mötley Crüe as being loud and wild. But fans will also likely remember Lee's high-profile relationship with Pamela Anderson just the same. The ex-couple practically invented the term whirlwind romance. They met in 1994 and took a vacation together six weeks later. 96 hours later, they were married in Cancun, Mexico. But things weren't always a walk in the park with them. Their relationship turned out to be as shocking as a live wire.
They made an infamous sex tape (way before Kim Kardashian West made a tape with Ray J), and it was stolen from their home and leaked. Following the birth of their sons Brandon and Dylan, Lee started feeling left out. He attacked Anderson while she was holding Dylan, an altercation that sent Lee to jail for six months. Now their marriage, specifically the events surrounding their sex tape scandal, is being turned into a limited series called Pam & Tommy. Lee is OK with it, but Anderson allegedly isn't.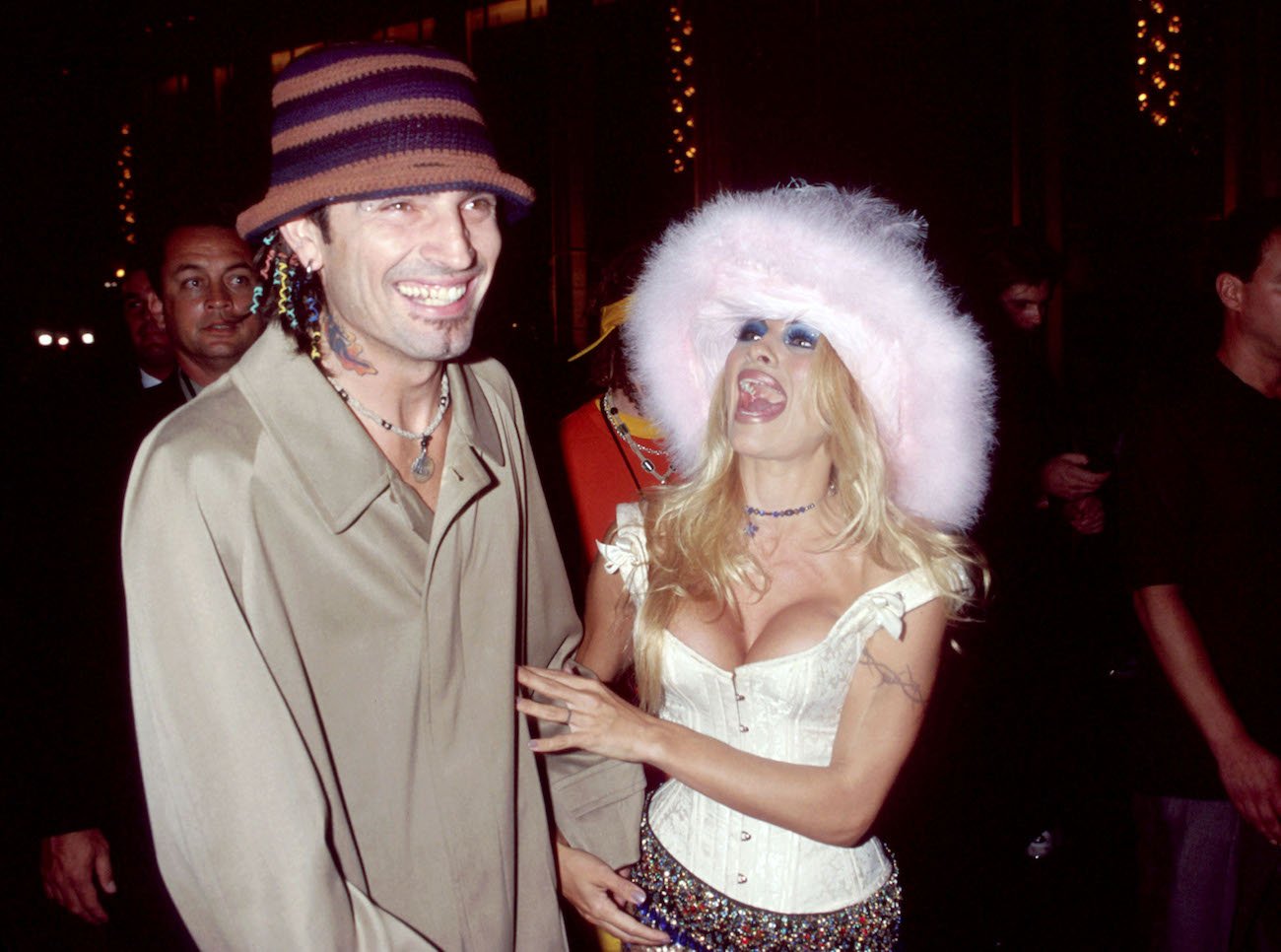 What is 'Pam & Tommy' about?
Hulu's Pam & Tommy stars Lily James as Anderson, Sebastian Stan as Lee, and Seth Rogan as the man who stole the sex tape. It's directed by I, Tonya's Craig Gillespie, and it drops sometime next year. Filming for the limited series began in April, but we've already seen some photos of the cast, and they look uncanny to their real-life counterparts.
We've seen a photo of James in Anderson's red bathing suit, which she wore during her time on Baywatch, and another of her biting Stan's nipple, a recreation of a similar photo of Lee and Anderson.
Deadline reports that while the sex tape scandal will play a big part in the film, Pam & Tommy is set to mainly focus on Anderson and Lee's "whirlwind romance that started with them marrying after only knowing each other for 96 hours in 1995." We don't know at what point in the couple's lives the film stops.
Tommy Lee approves of 'Pam & Tommy'
Considering the touchy subject material of Pam & Tommy, you'd think that Lee and Anderson would have a problem with it going forward. However, not Lee; he's "cool" with it.
Backstage at the MTV Video Music Awards on Sept.12, Entertainment Tonight asked Lee what he thought of the upcoming limited series. "I know Sebastian, he's playing me. From what he's told me, really beautiful story," Lee said. "I think a lot of people would think it's one thing, but it's really about privacy and how things got crazy then. There's different laws now."
Pam & Tommy won't dredge up bad memories for Lee because he thinks the story is worth telling. "The story's actually cool. What actually happened wasn't, but [Stan] tells me it's pretty wild," Lee added. "I feel like it was forever ago. But it's a cool story and people need to know. It's cool. I'm stoked."
However, Lee is used to being portrayed on screen now. Machine Gun Kelly played him in the 2019 Netflix film The Dirt. Anderson, on the other hand, isn't used to it.
Pamela Anderson might not be as pleased with 'Pam & Tommy'
According to the Daily Mail, Anderson is not best pleased with the series. Insiders have said she thinks Pam & Tommy is "a joke and cheap knock-off." However, the publication did not get a direct quote from Anderson herself.
Meanwhile, Anderson's good friend, Courtney Love, Kurt Cobain's widow, has come out to speak for her friend in a since-deleted social media post (per Harper's Bazaar). She called Pam & Tommy "vile" and wrote, "I find this so f—ing outrageous. My heart goes out to Pammy ♥️♥️ further causing her complex trauma. And shame on Lily James whoever the f–k she is. #vile."
She also discussed her friend's sex tape with Lee, saying, "It was disgusting. I banned anyone discussing it. . It destroyed my friend Pamela's life. Utterly."
Now that Lee has commented on the series, we're wildly curious about what Anderson actually has to say about it. It's different for Lee; he doesn't seem phased by it. On the other hand, Anderson went through a lot during that period and probably doesn't want to think about it ever again.
How to get help: In the U.S., call the National Domestic Violence Hotline at 1-800-799-7233 or text START to 88788.