'Tomorrow' and 7 K-Dramas To Stream In April
April will start off strong with the premiere of Rowoon's newest K-drama 'Tomorrow' on the first of the month. The K-drama will be followed by dramas such as 'Green Mothers' Club' and more.
When it comes to riveting Korean dramas, 2022 has not been a disappointment. With April soon approaching, the wave of binge-worthy K-dramas will not let up as Netflix, tvN, and other popular networks have new content to keep an eye on. From supernatural fantasy, romances, and a thrilling serial killer mystery, here are all the K-dramas to look foward to.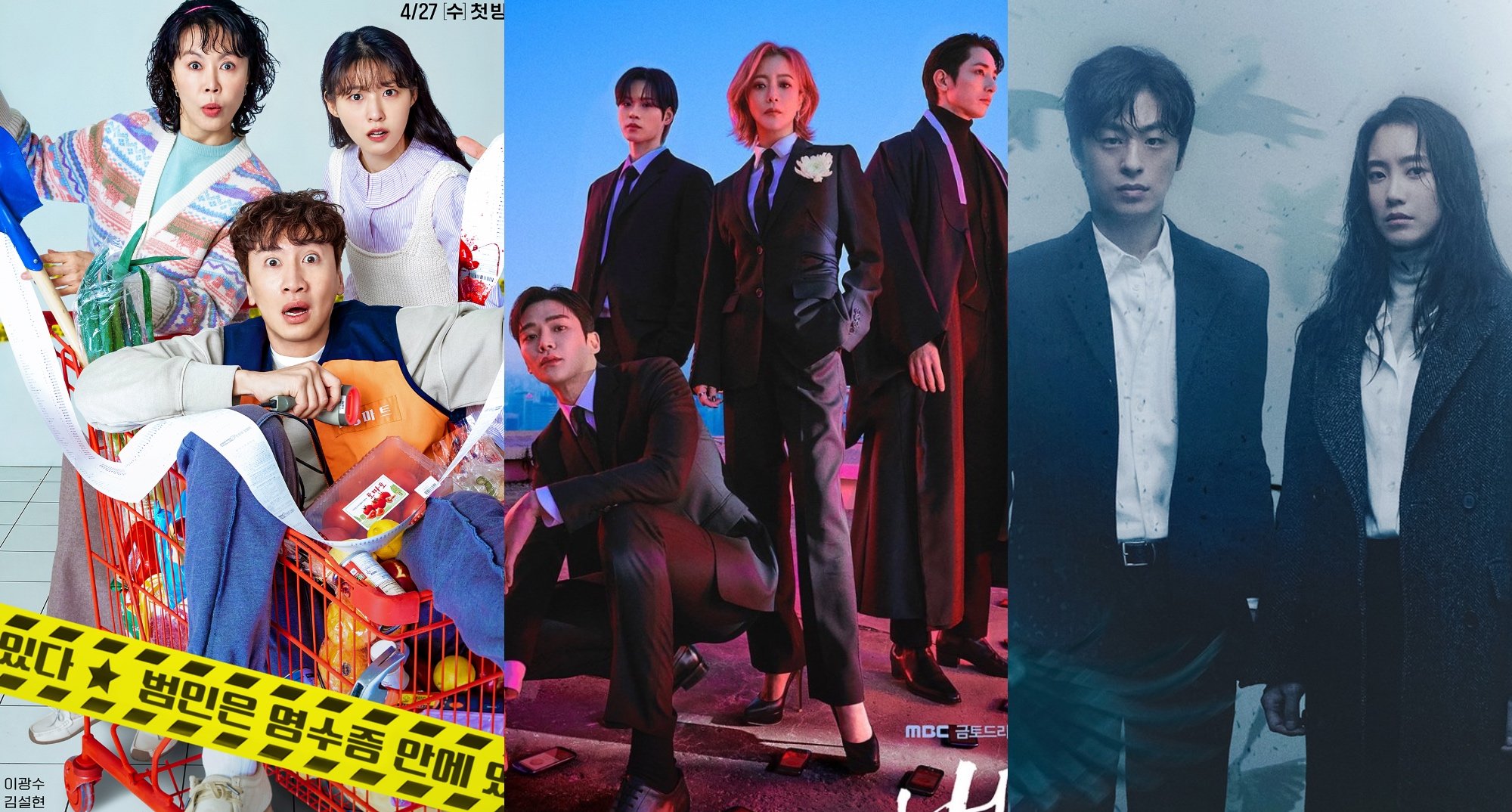 'Love All Play' combines sports and love in an April K-drama
Fans are transported into the world of badminton in Love All Play. Park Tae-yang, played by Park Ju-hyun, was a star badminton player until an incident occurred. Three years later, she returns to the sport she once loved by joining the team, Eunice.
She soon meets Park Tae-joon, played by Chae Jong-Hyeop. Tae-joon sees being a badminton athlete as a normal job and joins Eunice after being let go from his team. He starts to see badminton differently when wanting to impress a girl.
Love All Play will premiere on April 20 on KBS2 and possibly to audiences on Disney+. The K-drama will comprise 16 episodes and premiere every Wednesday and Thursday at 8:30 a.m. EST.
'Green Mothers' Club' focuses on the demands of being a mother
The upcoming JTBC K-drama is all about the ups and downs of being a mother. Green Mothers' Club focuses on five mothers, each with children in elementary school. They meet and form a bond as they help each other figure out their problems.
Actor Lee Yo-won stars as Lee Eun-pyo, a highly educated mother who gets caught up in dilemmas. Actor Choo Ja-Hyun plays the role of Byun Chun-hee, a powerful mother full of beauty and information. Kim Gyu-Ri stars as Seo Jin-ha, an elegant mother with a foreign husband and gifted son. Lastly, Jang Hye-Jin is Kim Young-mi.
Green Mothers' Club is scheduled to premiere on JTBC and Netflix on April 6. The K-drama will be 16 episodes and air every Wednesday and Thursday at 9:30 a.m. EST.
'My Liberation Notes' is about three siblings and a stranger
The Netflix April K-drama My Liberation Notes has a familiar leading cast. The main cast includes actors Lee Min-ki, Kim Ji-won, Lee El, and Son Seok-koo. Yeom Chang-hee (Lee) is the middle sibling who wants to escape his small town but has no future ambitions.
Yeom Mi-jung (Kim) is the youngest and wants an escape from her boring life. Her shy personality makes it difficult as she starts to feel lonely. Yeom Ki-Jung (Lee El) is the oldest and is hot-tempered. She is tired of commuting to Seoul for work and wants to find love. Mr. Goo (Son) arrives as a mystery in the village. He is always drunk and is one day approached by Mi-jung.
My Liberation Notes will stream on Netflix and JTBC on April 9. The 16-episode drama will air new episodes on Saturday and Sunday at 9:30 a.m. EST.
'Monstrous' is an April K-drama full of chills and mystery
For fans looking for a K-drama that delves into darkness and a haunting storyline, Monstrous is on the list. The April K-drama stars D.P. actor Koo Gyo-hwan as Jung Ki-hoon. An unexpected case causes Ki-hoon to put aside his career as an archeologist researching supernatural phenomena.
He travels to Jinyang County at the behest of his ex-wife Lee Soo-jin (Shin Hyun-bin). They uncover and research "Gwibul," a Buddhist statue possessed by an evil spirit. Soo-jin, Ki-hoon, and the local villagers become embedded in a fearful phenomenon.
Monstrous is set to premiere on TVING on April 29 at 11:00 a.m. EST. The limited K-drama will have six episodes.
'Shooting Stars' takes falling in love with a celebrity to new territory
Shooting Star will be the talk of the town with its interesting take on an office romance. Weightlifting Fairy Kim Bok-joo and Dr. Romantic 2 star Lee Sung-kyung stars as Oh Han-byul. She is the head of the public relations department known for solving every mishap behind-the-scenes in the music industry.
Actor Kim Young-dae stars as Gong Tae-sung, a hot and famous music celebrity. To the public, he is dazzling and charming. According to his PR team and Han-byul, he is hot-tempered. He and Han-byul form a natural rivalry, but it soon becomes something more.
Shooting Stars will be available to stream on tvN and in select regions on iQiyi and Viki. The K-drama will premiere on April 22 and air every Friday and Saturday at 9:40 a.m. EST. It will premiere 16 episodes.
'The Killer's Shopping List' is an April K-drama about an unlikely detective
What happens when a murder is committed in a small neighborhood? Dae-sung (Lee Kwang-soo) has failed his 9th-grade public official exam for three years but continues to study with determination. In the meantime, he works in his neighborhoods MS Mart with his mother. His girlfriend, A-hee (Seol Hyun), is a police officer.
A murder takes place in a nearby apartment building with MS Mart close by. As A-hee investigates, Dae-sung uses his impressive memory to help. The only clue in the mystery case is a shopping receipt from MS Mart.
The Killer's Shopping List will premiere on April 27 on tvN and stream on iQiyi to select regions. The K-drama will air every Wednesday and Thursday at 9:30 a.m. EST.
'Our Blues' marks Kim Woo-bin and Shin Min-ha's first K-drama as a couple
Our Blues is a highly anticipated K-drama due to its impressive leading cast. South Korean actor and Hollywood star Lee Byung-hyun will star as Lee Dong-seok, a seller in a small town in Jeju Island. He gets develops a relationship with newcomer Min Sun-a (Shin Min-a).
Choi Han-soo (Cha Seung-won) moved away from the small town to the city but returns. He remeets his first love Jung Eun-hee (Lee Jung-eun). Go Mi-ran (Uhm Jung-hwa) also returns to Jeju after growing tired of city life. Lee Young-ok (Han Ji-min) is a female driver and rumors follow her. She meets Park Jung-joon (Kim Woo-bin), a native of the town who looks for love.
Our Blues is scheduled to premiere on tvN and Netflix on April 9 at 8:10 a.m. EST. The April K-drama will premiere new episodes every Saturday and Sunday and have a total of 20 episodes.
'Tomorrow' stars SF9's Rowoon in a fantasy K-drama about death
Fans are in high anticipation to see actor-turned idol Rowoon in a new Netflix K-drama. The actor recently captured attention in Netflix's The King's Affection. He will star as Choi Joon-woong in Tomorrow. Joon-woong is looking for a job and is fruitless despite having a good education and family.
One night, he accidentally meets, Goo-ryeon (Kim Hee-sun). Goo-ryeon is an angel of death or a grim reaper. Joon-woong meets a group of grim reapers known as Zumadung. They are on a special mission of suicide prevention. Joon-woong becomes their youngest recruit vowing to help their cause.
Tomorrow will premiere on Netflix and MBC on April 1 at 9:00 a.m. EST every Friday and Saturday. Fans will get a total of 16 episodes.