'Too Hot to Handle': David Birtwistle Explains Why He Became Emotional While Gazing Into Rhonda Paul's Soul
UK native David Birtwistle and New Jersey-based model Sharron Townsend were best friends while filming Too Hot to Handle. Therefore, when they both fell for the same girl, Rhonda Paul, things became tense between them, especially since Sharron's ex left him for his best friend. During a soul-gazing workshop, David became overwhelmed with emotion while staring into Rhonda's soul. In an interview, he explained why he teared up and what the exercise taught him.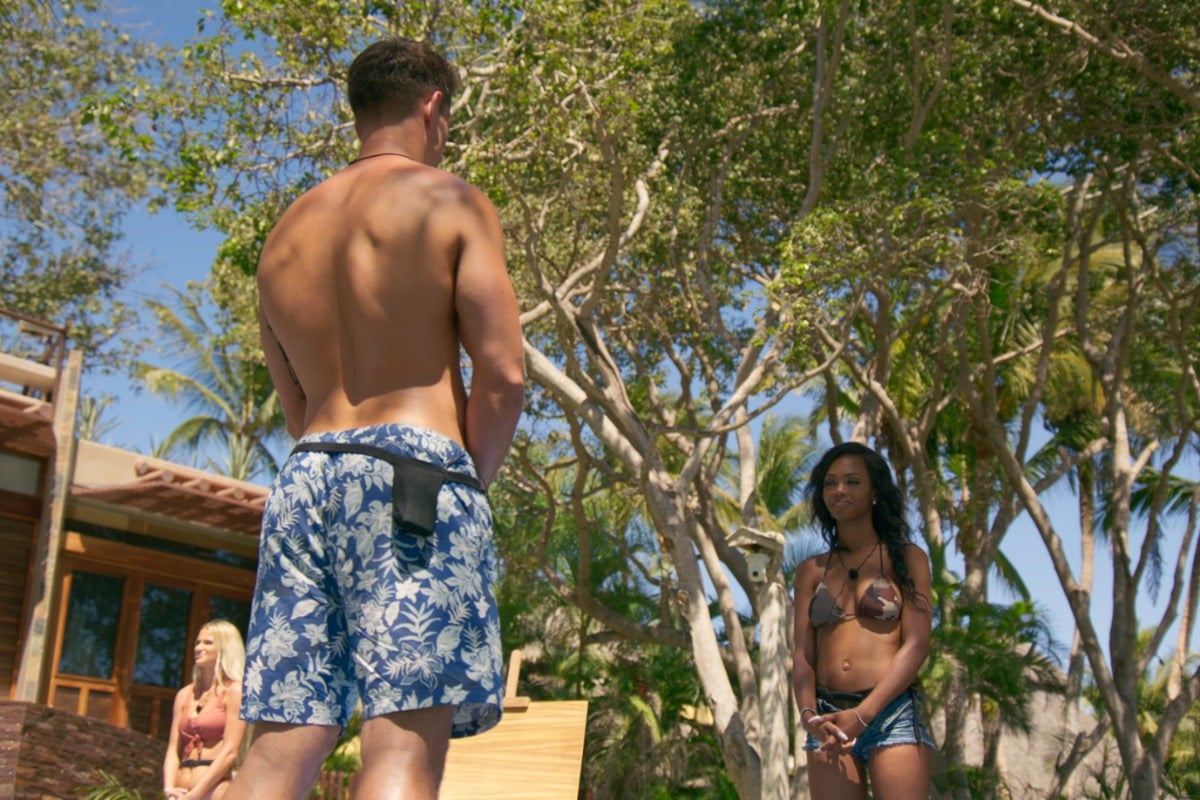 David Birtwistle initially fell for Rhonda Paul
London-native David Birtwistle and Georgia peach Rhonda Paul were the first to make a romantic connection as he rubbed sunscreen on her butt while she laid outside.
The two were interested in each other, and Rhonda thought he could "handle" her. The self-described "quintessential UK gentleman" decided not to kiss her because "it's a marathon, not a sprint."
However, Sharron Townsend joined Rhonda soon after, and the two made out while cuddling. Even though she pegged David as her type, the Georgia peach called Sharron her "ideal guy."
While Rhonda continued exploring her feelings for the New Jersey-native, David set his sights on UK sweetheart Chloe Veitch. The two went on a date together and sucked chocolate off each other's fingers but didn't break the rules.
They were paired together for the first workshop, but Chloe admitted she didn't think she had serious feelings for him. Sharonda also took a step back in their relationship as Sharron revealed "scarred" issues from his past that prevented him from lowering his guard.
David Birtwistle backed off for Sharron Townsend
Therefore, David and Rhonda reunited to see if they had a connection and paired up for the next workshop where they had to gaze into each other's eyes to see their partner's soul.
The quintessential UK gentleman became overcome with emotion and started crying while staring into Rhonda's eyes as he thought of all the beautiful things about her spirit.
After the workshop, the New Jersey native began ignoring his friend, who tried to explain the situation. Finally, the two privately talked, and David admitted he did have feelings for Rhonda.
He also noted that Sharron acknowledged his inability to open up and distanced himself from the Georgia peach. However, the New Jersey model argued back that he has made progress and will continue to as he genuinely wants to be with Rhonda.
Therefore, David made the difficult decision to "step aside" and allow his friend and former love interest to continue their relationship. Unfortunately, distance played a factor, and Sharonda didn't last long after the show wrapped.
Additionally, David developed a connection with newcomer Lydia Clyma in the final episodes, but the two didn't work out, although they are still friends.
David Birtwistle explains why he became emotional with Rhonda Paul
In an interview with People TV, the UK native revealed why he became emotional during the "powerful" soul-gazing exercise. David explained that looking at someone for a long time is initially awkward until one can "push through it."
Once he broke that barrier with Rhonda, he saw her "depth" and soul and began to understand her more. After learning several "pieces of information" about the Georgia peach, including things she went through, he saw all these "amazing characteristics" about her while staring into her eyes, which caused him to get emotional.
The workshop also taught him that everyone "operates on a surface level," and one has to go to that "uncomfortable feeling" to progress. While David didn't leave the show in a relationship, he left with his share of the $75,000 grand prize and a new outlook on love.
Too Hot to Handle is available on Netflix.