'Too Hot to Handle': Fans Think Rhonda Paul Picked the Wrong Guy
'Too Hot to Handle' fans think Rhonda Paul chose the wrong guy as he left with Sharron Townsend instead of David Birtwistle.
As one of the first couples to make a connection, Rhonda Paul and Sharron Townsend were viewed as "goals" on Too Hot to Handle. However, distance proved itself too big of a factor, and the couple shortly broke up after the show. Many fans believe Rhonda made the wrong decision and should have given David Birtwistle a chance instead.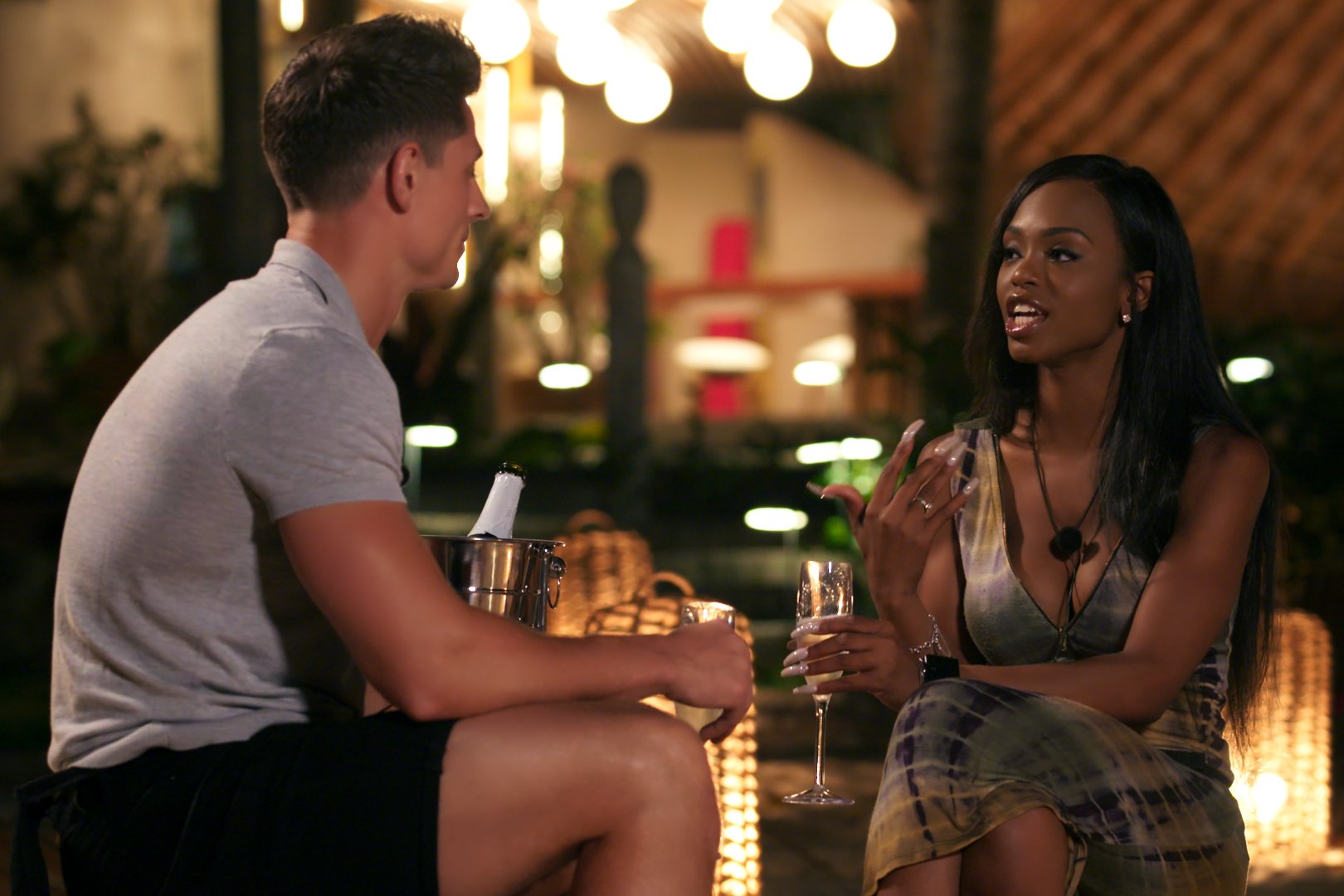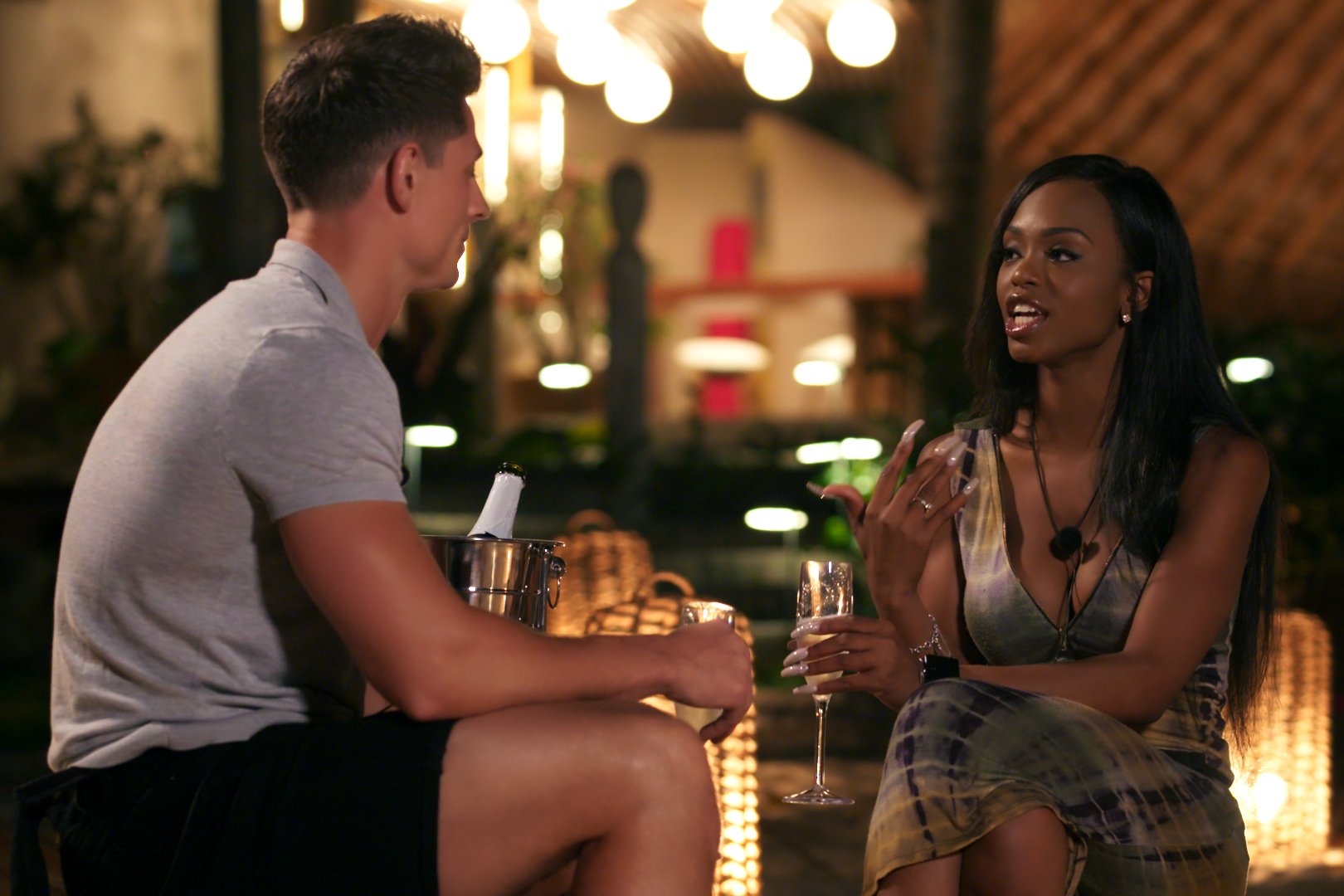 Rhonda Paul in a love triangle with David Birtwistle and Sharron Townsend
The self-described "quintessential UK gentleman" David Birtwistle and Georgia peach Rhonda Paul were physically interested in each other very early in the show.
They talked while he rubbed sunscreen lotion on her butt, and he chose not to kiss her because "it's a marathon, not a sprint." Shortly after David left, New Jersey-based model Sharron Townsend joined Rhonda, and the two cuddled on the same lounge chair.
They eventually made out, and the Georgia peach noted that while David is her type, Sharron is her "ideal guy." While Sharonda nurtured their relationship, David set his sets on UK beauty, Chloe Veitch. The two went on a date and were paired together for the first workshop, but Chloe cut it off as she didn't feel any deep feelings toward David.
Shortly after, Sharron pumped the brakes on the relationship with Rhonda as he recently experienced heartbreak from an ex leaving him for his best friend.
Not wanting to get hurt again, he admitted he wasn't ready to open up and chose to distance himself from the Georgia peach. Therefore, she and David paired up for the following workshop where they had to gaze into each other's souls.
The UK gentleman became emotional and teared up as he saw all the beautiful things about Rhonda. Jealous, Sharron began ignoring David. Eventually, the friends talked, and the UK native decided he would "step aside" to let the New Jersey model attempt to connect with Rhonda again, as Sharron promised he would start opening up.
Rhonda Paul chose Sharron Townsend in 'Too Hot to Handle'
Sharonda went on a date where he explained why he shut down and promised to let his guard down. The open communication between the two earned the couple a night in the private suite.
Even though Sharron wanted to be intimate with Rhonda from the time they made out, he resisted the urge to sleep with her as he wanted to continue growing. However, the two engaged in other sexual acts that cost the house $16,000.
Toward the end of the series, Rhonda opened up about her son, and Sharron met him via Facetime. Although the New Jersey model asked the Georgia peach to be his girlfriend during the final date, they ended their relationship once filming wrapped due to the long distance.
On the other hand, David fell for a newcomer, fellow UK native Lydia Clyma, in the final days of the show. While the two shared a $3,000 kiss and seemed into each other, they didn't continue a relationship after the show.
In a YouTube video, Lydia noted the two are still great friends and have hung out in London.
Fans think Rhonda Paul chose the wrong guy
Because he came off as "more mature and emotionally well-rounded than the other contestants," David became a quick fan-favorite. Many applauded him for his decision not to continue pursuing Rhonda because he valued his friendships with both of them.
However, they "wish he didn't back down" as they wanted him and the Georgia peach to end up together. For example, several Reddit users noted David seemed more "mature" and "playful" than Sharron and thought the model had "too much baggage."
Additionally, Rhonda acknowledged that she could have a relationship with David in the real world and would have to "work hard for Sharron." However, she "didn't come here to take the easy way out."
Therefore, one user thinks she might have been "taken aback" by David's ability to open up easily and likes to "fix" people, so she went for a "damaged" Sharron. In an Instagram Live, Rhonda replied to a fan's comment that she should have chosen David and explained she's happy with her decision as everything worked out that way it was supposed to.
Too Hot to Handle is available on Netflix.