'Too Hot to Handle': Are Francesca Farago and Harry Jowsey Still Together?
Francesca Farago and Harry Jowsey hit it off during Netflix dating series Too Hot to Handle and couldn't keep their hands off each other, costing the house over $30,000. They claimed they developed a true genuine connection and talked about moving in together. Are they still together?
[SPOILER ALERT: This article contains information revealed in Too Hot To Handle Season 1.]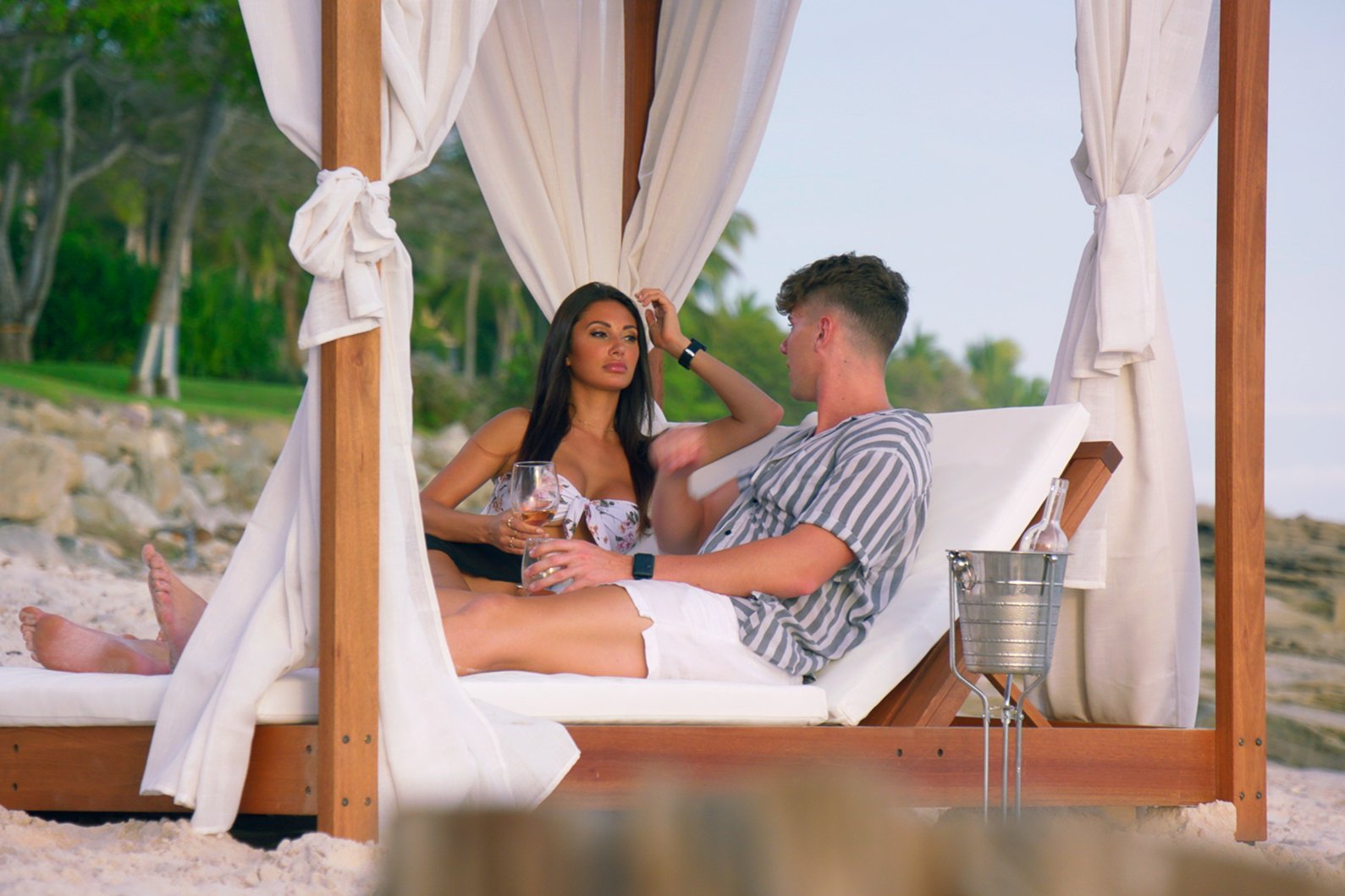 Francesca Farago and Harry Jowsey on 'Too Hot to Handle'
Vancouver-based Instagram model Francesca Farago almost immediately caught Australian-native Harry Jowsey's eye when she walked in the Mexican villa.
In his first confessional about her, he hinted he "has big plans for her." The two hit it off on the first night after they kissed during a blindfold game and were the first to cost the house money as they made out alone by the beach.
Harry instigated the $3,000 kiss but didn't want anyone mad at him, so he lied and claimed Francesca kissed him first. She called him a "shady piece of s**t," and her best friend in the house, Haley, stood up for her.
Even though she didn't appreciate his lying, Francesca admittedly still had feelings for him and went to Harry to talk. However, once he saw her in the bed talking to Rhonda, she got upset and purposefully made out with Haley to lose money for everyone.
Francesca then turned her sights to former linebacker and the group's "accountant," Kelz, and they participated in the second workshop together. The two also went on a date and nearly kissed as well as showered together, but Kelz rejected Francesca's advances, determined not to lose any more money.
The rejection embarrassed Francesca and helped her realize that she had unresolved feelings for Harry. Therefore, the Vancouver model broke things off with Kelz. She finally revealed her lingering feelings to Harry, but he was reluctant to take her back due to his stubborn nature.
He agreed and asked her to want him "110%," communicate with him, and not break the rules. However, they had sex that night in the private suite, costing their castmates a steep $20,000.
She then went on a date with new arrival Kori, someone she considered her perfect type, but turned him down as she didn't want to "jeopardize" her relationship with Harry.
The two broke the rules again but had the chance to earn it back if they spent the night together in the private suite without any touching. Surprisingly, they passed, and the 10 remaining contestants shared $75,000.
Are Francesca Farago and Harry Jowsey still together?
The cast shot Too Hot to Handle around March 2019, and Harry posted pictures of himself in Francesca's hometown, Vancouver, Canada, from June to August. He captioned one photo, "this place feels like a movie," and shared another of himself with a kiss on his cheek.
Additionally, the couple took a picture in front of the same distinct green Lamborghini but geotagged different locations. Even though Francesca tagged Las Vegas, Nevada, the car has Vancouver license plates, so the two were likely in her hometown.
The Instagram model also seemingly visited Harry in Australia as they both posted pictures of themselves as a wildlife sanctuary on the same day. Again, the presumed couple used separate geotags.
Additionally, both have Los Angeles as a second city in their Instagram bios, which means the couple might get an LA-based apartment together. The two have also hinted at their current status in Instagram comments.
For example, a friend commented on one of Harry's photos, asking when they could see his leading lady, and the Australian-native promised he would "drop" pictures and videos once they're "allowed" to.
The couple, alongside Harry's friends, have joked about wanting to quarantine together and attending their wedding. They are currently not practicing social distancing together during the coronavirus (COVID-19) pandemic, as Francesca is in Vancouver with Harry located in LA.
Even though the couple claimed they were single in Valentine's Day 2019 posts, it's assumed they are still together and will make an official announcement at a later date. Too Hot to Handle is available on Netflix.