'Too Hot to Handle': Francesca Says She 'Did Not Get the Apology [She] Deserved' From Harry
Francesca Farago starred in Netflix's first-ever season of Too Hot to Handle. Right away, she connected with Harry Jowsey. The two shared the first rule-breaking kiss that cost the group $3,000.
When the couple's housemates grilled them about who initiated the kiss, Harry pointed his finger at Francesca (even though the footage shows him doing the convincing). The group easily believed Harry and wrote Francesca off as manipulative.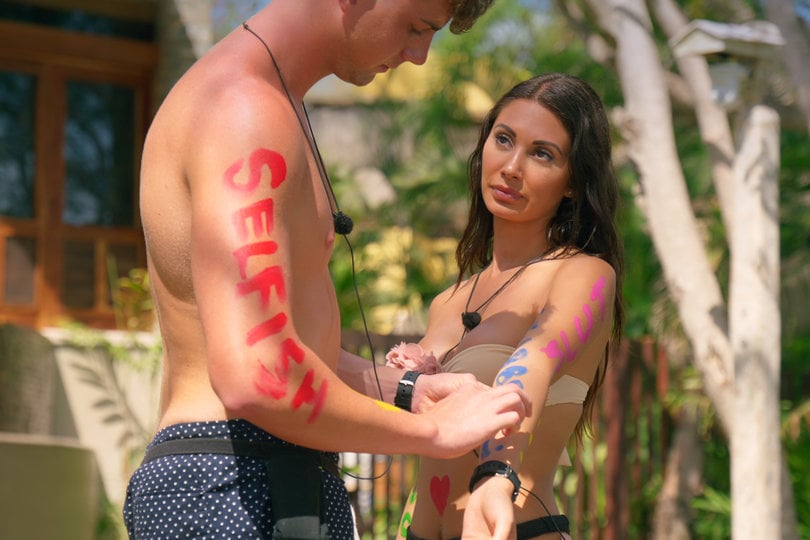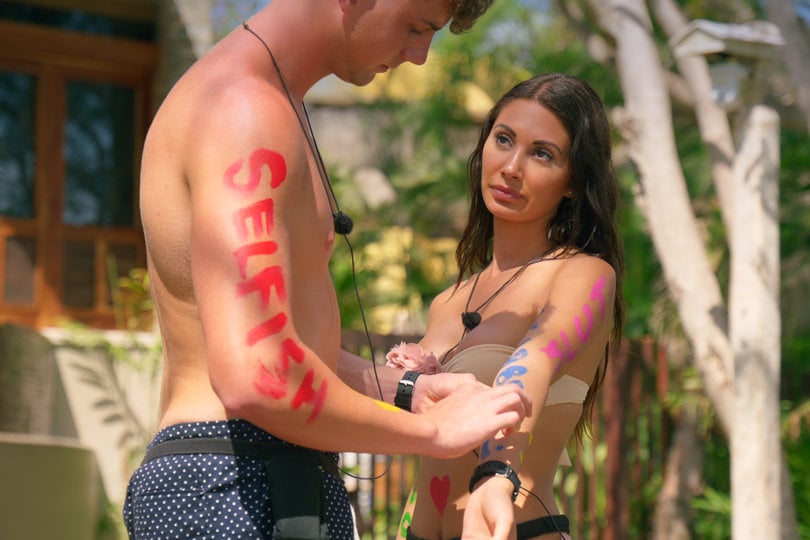 When Harry blamed Francesca for their first rule-breaking kiss
In an interview with Esquire that went live on April 23, Francesca said she feels like everyone believed Harry because he's "very lovable and his laugh is infectious and he's so cute and so easy to get along with."
"It was easy for people to blame me and like just brush me off as the bad guy, because I'm not that lovable big Australian guy with a massive smile on his face 24/7," she said.
"When Harry threw me under the bus, I got all the sh*t for it and I was so mad about it, and I ended up forming a connection with a different person in the house," she continued.
Francesca says she never got a proper apology from Harry. She blames it on his immaturity.
"I did not get the apology I deserved but now knowing Harry, he is younger than me and he handles situations still to this day differently than I do. So when he reacts a certain way, I don't take it personally, I kind of just realize he's acting a certain way because that's how he handles situations," she said. "Sometimes I don't even need an apology because I just understand the way he works to the degree where I'm like, alright, this is just you being you. But no, to answer your question, I didn't get an apology, I didn't feel like I needed one because I know how Harry is and I know he's just a little bit immature."
Getting back at Harry
To retaliate, Francesca shared a kiss with Haley Cureton that cost the group another $3,000. She says her falling out with Harry caused her and Haley to grow close.
"[Haley] and I really connected when Harry and I had a falling out, and I leaned on her. We had a mutual understanding of like, let's just cause some trouble, let's have fun with this. She was my partner in crime. We would work out together in the mornings, gossip to each other, and plot ways to piss everyone off," she said.
Francesca says it was "really hard" when Haley left because she was her main friend on the show, but it did "allow [her] to form stronger relationships with other people in the house."
In the end, Francesca feels she "evened the playing field" with Harry by going for Kelz Dyke.
Today, Harry and Francesca are still together.
Read more: 'Too Hot to Handle': Francesca Thinks Only the Contestants Who Grew Deserved to Win (Like Her and Harry)